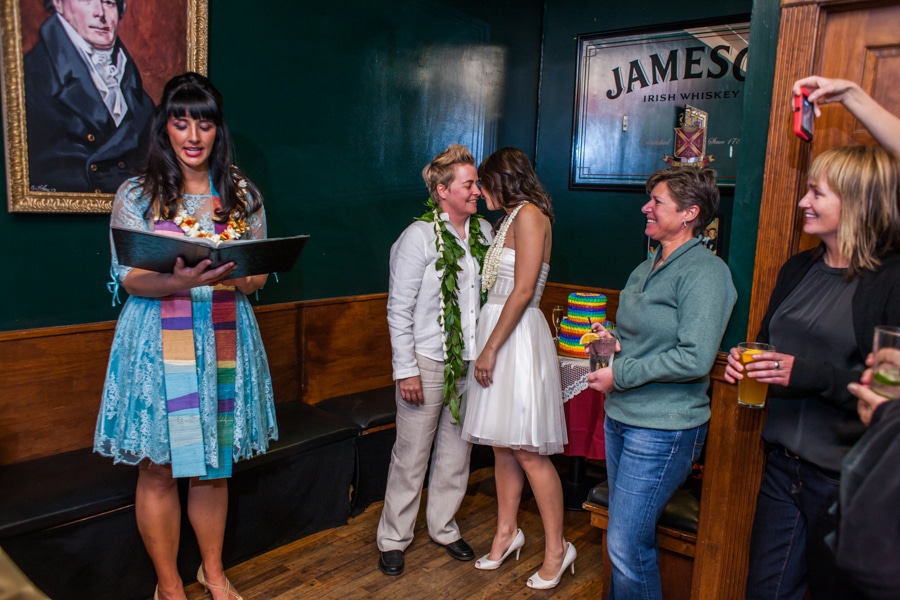 Celebrant Alisa Tongg officiates one of the first legally recognized same-sex marriages in the State of New Jersey, Jersey City 2013. Douglas James Studios.
Equal Dignity Pop Up Nuptials
Free wedding ceremonies for All, especially those who are concerned about their right to marriage equality. Hosted at Pomme Radnor, Philadelphia's Main Line.
(November 4, 2020) Wedding industry professionals and Philadelphia businesses have come together to provide free wedding ceremonies for couples who desire to make their partnerships legal in the Keystone State, over the long Thanksgiving family-holiday weekend, especially those who are concerned about their equal right to marriage.
Celebrant Alisa Tongg, Rev. Cynthia Cherish Malaran and Humanist Celebrant Cynthia Manchester will be officiating the civil wedding ceremonies for free to all couples on a first come, first joined in marriage basis, Sunday November 29th, 2020 12 Noon-4pm at Pomme Radnor, wedding and events venue on Philadelphia's Main Line.
This will be the third pop-up marriage equality event created by Alisa Tongg. Her first, prompted by her sister's need to make her marriage legal, was held just days after marriage equality was adopted in New Jersey in 2013.

Marriage equality became the law of the land in all 50 states in June 2015, with a 5-4 United States Supreme Court decision in the landmark civil rights case, Obergefell v Hodges, which ruled that the fundamental right to marry is guaranteed to same-sex couples as well as opposite-sex couples.
"No union is more profound than marriage for it embodies the highest ideals of love, fidelity, devotion, sacrifice and family. In forming a marital union, two people become something greater than they once were…." Justice Anthony Kennedy, Obergefell v Hodges Ruling 2015
Tongg says, "I've quoted part of Justice Kennedy's Obergefell v Hodges ruling in every wedding ceremony that I've conducted since June 2015. Unfortunately, with the recent shifts in the Supreme Court, American's equal right to marriage with their chosen partner is still being debated. One of the phrases used in the landmark ruling is about our inherent right to "equal dignity" under the law, and an environment of equal dignity is what I aim to create with this event."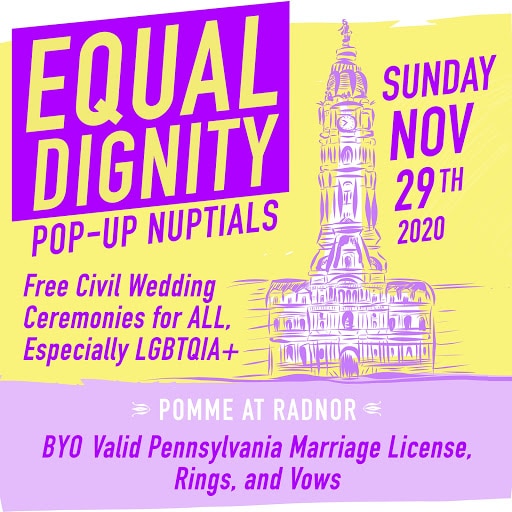 "As humans and as a company we believe that everyone deserves equal rights and the right to marry the person they love," says Rebecca Mulholland, owner of RAM Floral, a Philadelphia-based floral styling company will be creating a ceremony arch fitting of the moment. "I'm participating in this beautiful day because of that reason. What an honor to be thought of as an ally. If I get nothing more from the experience of this day, simply being thought of as someone who supports humanity and love before anything else, is all I could ask for."
Several other Philadelphia-area florists have offered to donate bouquets and boutonnieres to the LGBTQIA+ couple participants.
Several, fine art and wedding photographers have also volunteered to be on hand to capture the nuptials; among them, award-winning editorial, portrait and wedding photographer Alison Conklin.
Couples who wish to participate in the free civil ceremonies, may bring up to 10 witnesses with them and are encouraged to pre-register for a time slot. Those who prefer to walk-in will be married on a first come first served basis.
COVID PRECAUTIONS
Every guest and volunteer will be required to complete health screening questionnaire before arriving, getting temperature checked, and wearing masks unless they are the couple saying vows.
PENNSYLVANIA MARRIAGE LICENSES
Pennsylvania requires a three-day wait to issue a marriage license. And with the pandemic backlog in many courthouses, we suggest that you start this process as soon as possible. Bucks County has implemented a pretty smooth online marriage license application process, check them out!
Information about how requirements and locations a marriage license may be applied for and obtained may be found at: http://www.usmarriagelaws.com/search/united_states/pennsylvania/
Equal Dignity Pop-up Nuptials Sunday, November 29th, 2020
Free Civil Ceremonies Officiated by Celebrants Alisa Tongg and Cynthia Manchester, and Rev. Cynthia Cherish Malaran.
-One Day Only-
First come, first joined in marriage
Pomme at Radnor
12noon-4pm
All Couples Invited. Must present a valid PA marriage license.
BYO: witnesses, vows, rings, glass to stomp, broom to jump or other wedding ceremony tradition.
alisatonggcelebrant.com
clovereventco.com
www/pafa.org/event-rentals
ramfloral.com
djcherishtheluv.com
alisonconklin.com
cynthiamanchester.com