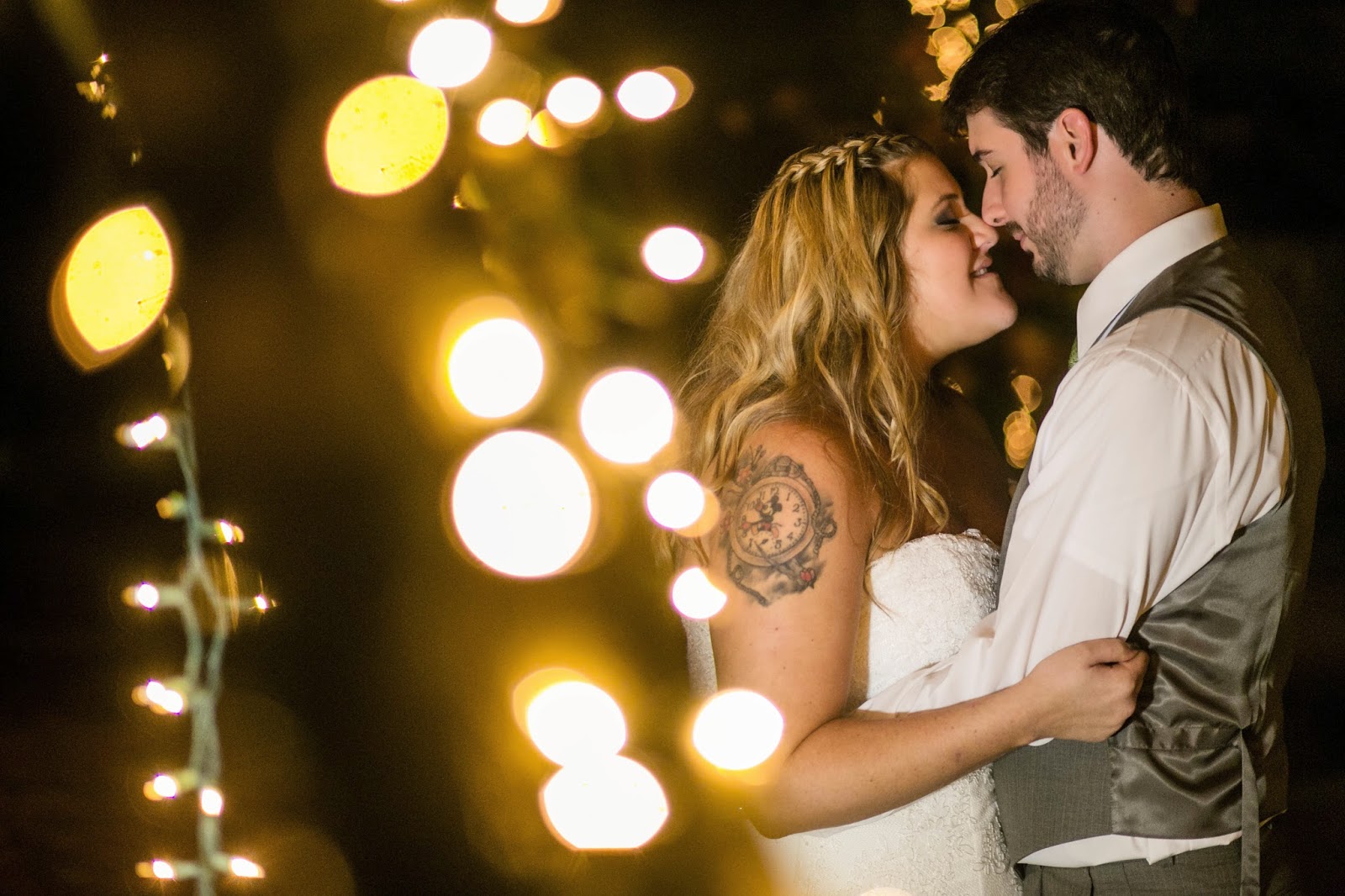 Lauren and Ryan first met as students while at Bloomsburg University. "I knew he was the one from the moment I met him" Lauren admits, "Every time I saw him I would get butterflies, and it still continues to this day." And after they met, Ryan says, "the rest was history".
Lauren and Ryan exchanged vows under a beautiful fall-inspired flower and branch chuppah at HollyHedge Estate in New Hope, Pennsylvania. At the end of the ceremony, Ryan enthusiastically stomped on the glass to the delight and cheers of "Mazel Tov" from their guests.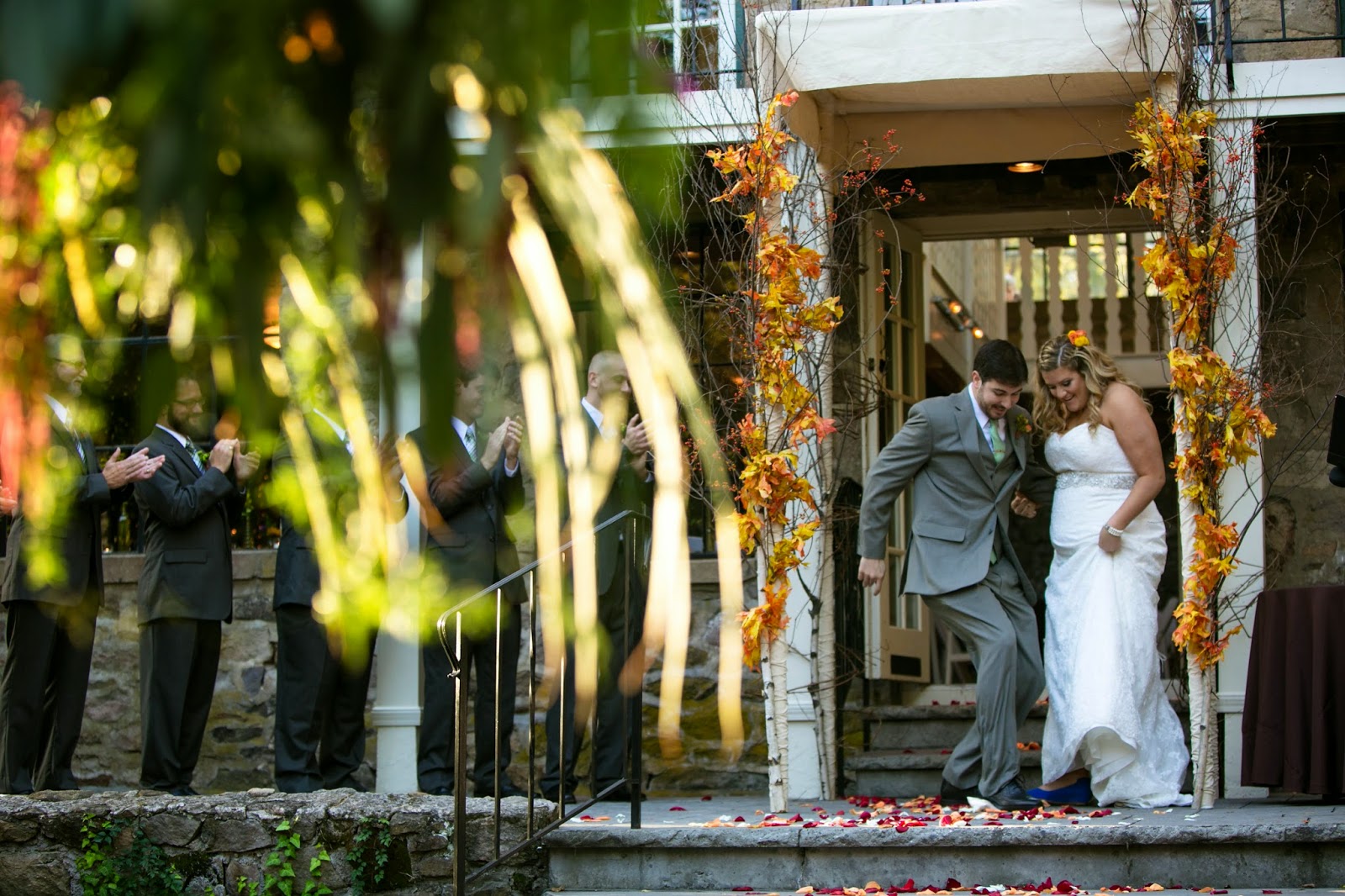 ---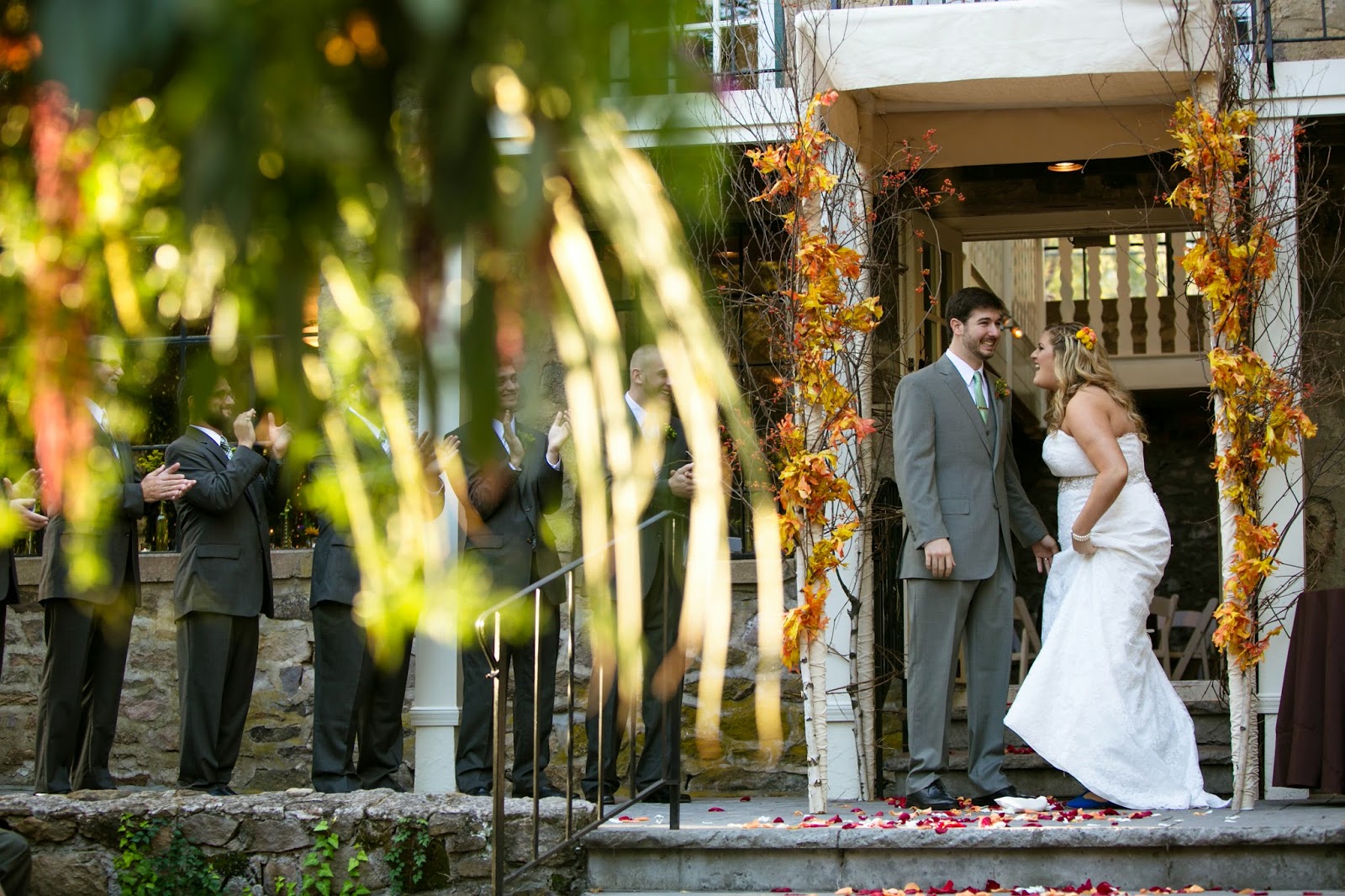 Ryan and Lauren had both lost beloved grandparents and relatives, and wanted to make sure each lost loved one was remembered at the wedding.
Lauren reflects back on where they found meaning as they planned their wedding, "I really wanted to involve a lot of remembrances into our wedding ceremony and reception. Ryan and I are both very sentimental people and hold deep meaning with objects or things passed down to us from our family. We wanted these little details to be a part of our day, and while some of our guests might not have known the meaning behind them, we still knew they were there and it was those little details that I loved so much throughout our day!"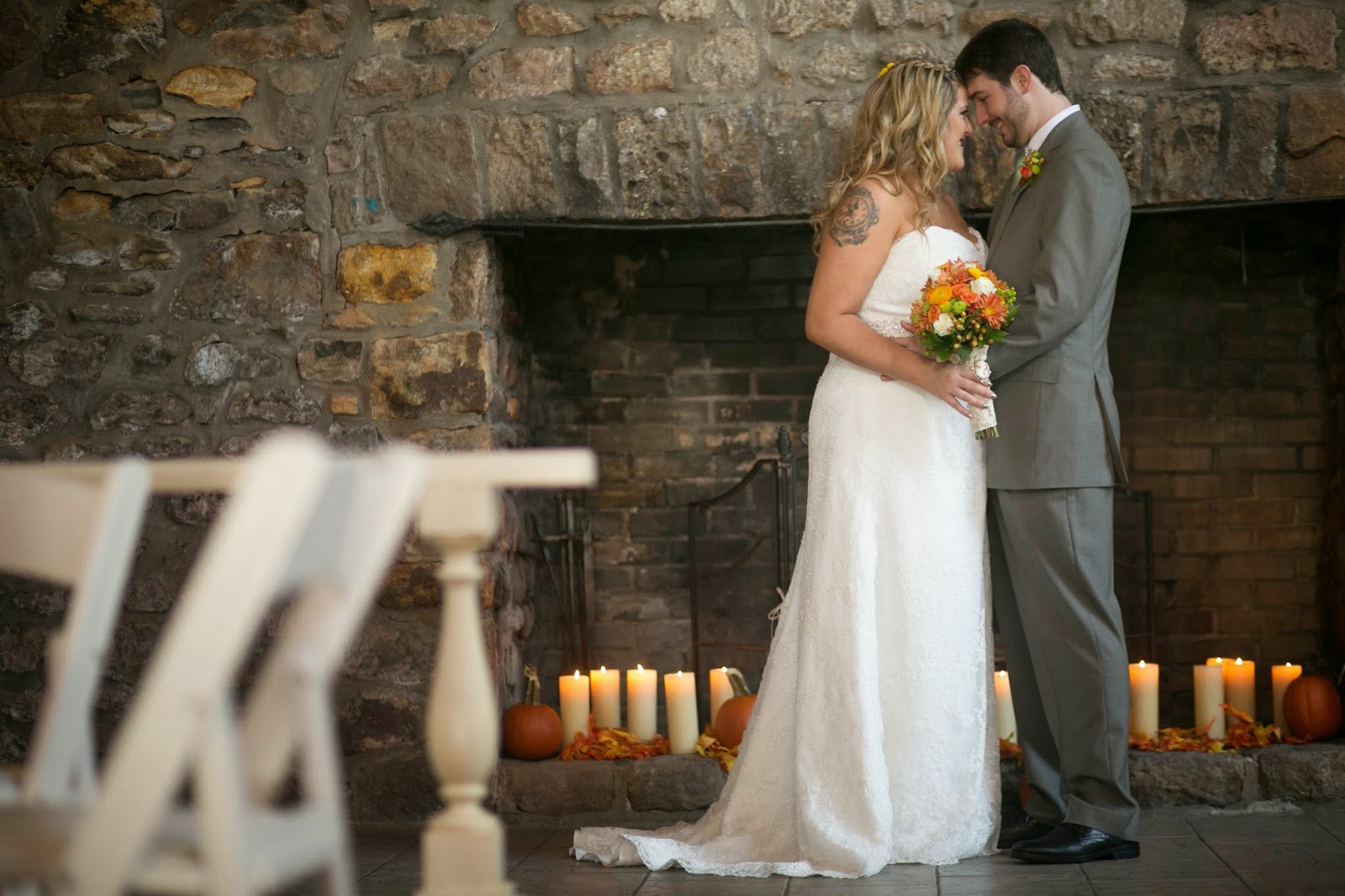 "These are the hands that leave you little love notes around the apartment and bring you your favorite chocolate when he returns home. He's your soul mate, and your perfect counterpart. This is the man with whom you want to spend your life."—Alisa Tongg, Celebrant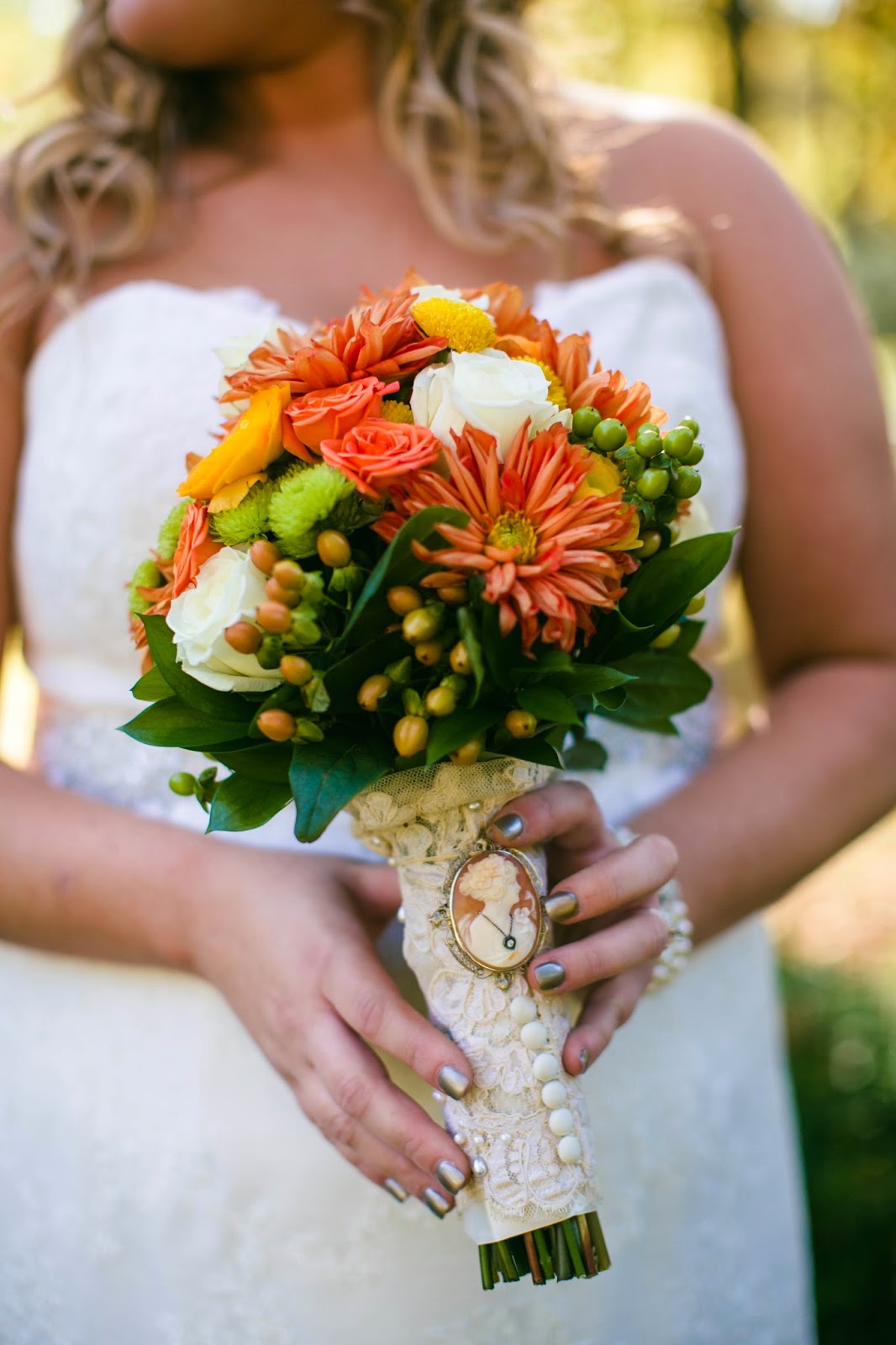 "Her bouquet was wrapped with a piece of beaded lace sleeve taken from her mother's wedding dress and secured with a beautiful heirloom cameo that had belonged to her great-grandmother on her father's side."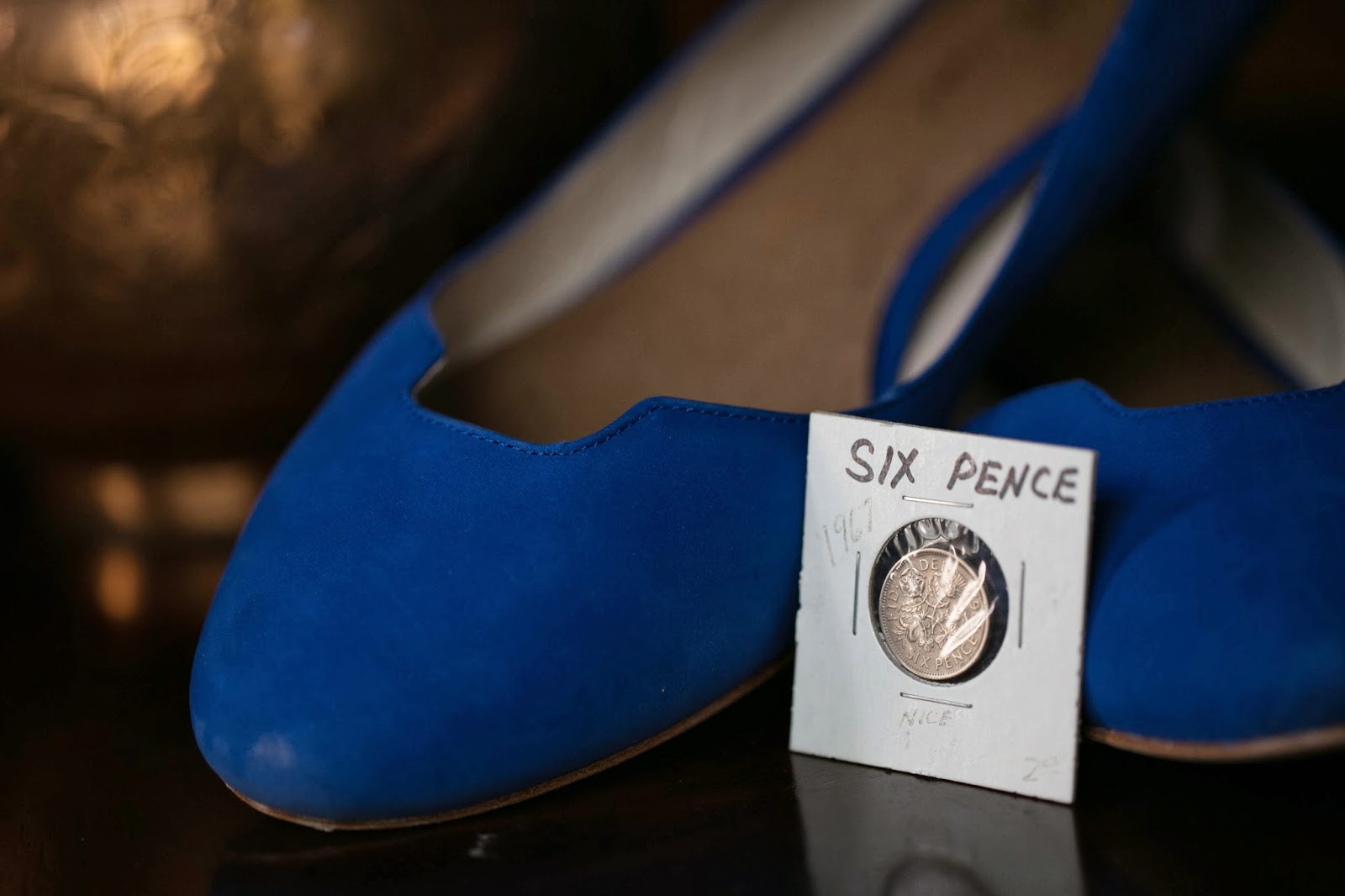 Lauren says, "I knew from that beginning that I wanted to wear blue flats as my something blue. I had found a perfect pair and can thank my cousin for giving me the 'sixpence in my shoe.' When I was wedding dress shopping with my cousin and Matron of Honor, we learned quickly that there is more to the saying — 'Something old, something new, something borrowed, something blue… and a sixpence in your shoe' for extra good luck!!!"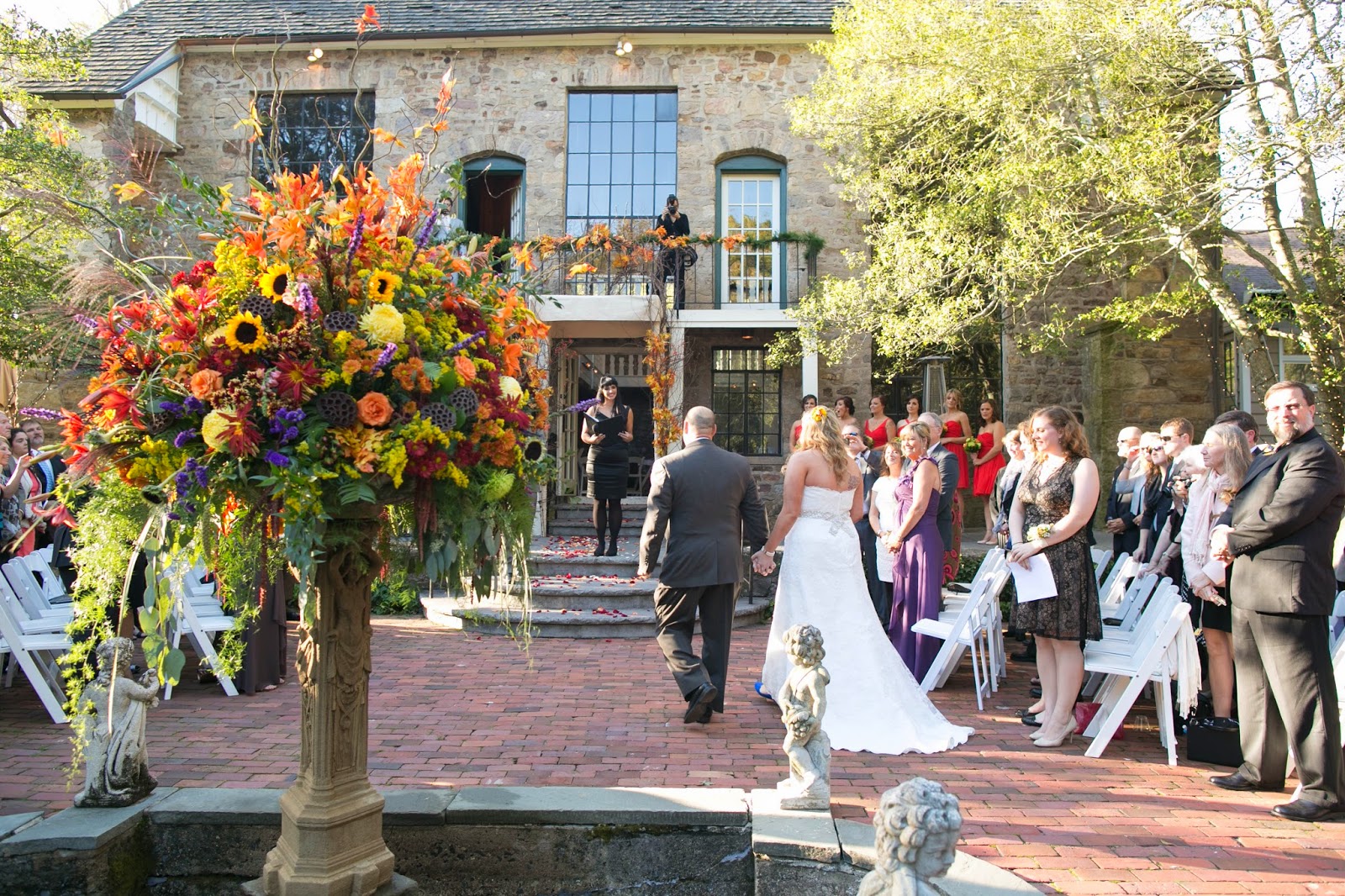 A thoughtful and family-oriented bride, Lauren had a piece of her grandfather Edmund's handkerchief sewn into her dress, her bouquet was wrapped with a piece of beaded lace sleeve taken from her mother's wedding dress and secured with a beautiful heirloom cameo that had belonged to her great-grandmother on her father's side.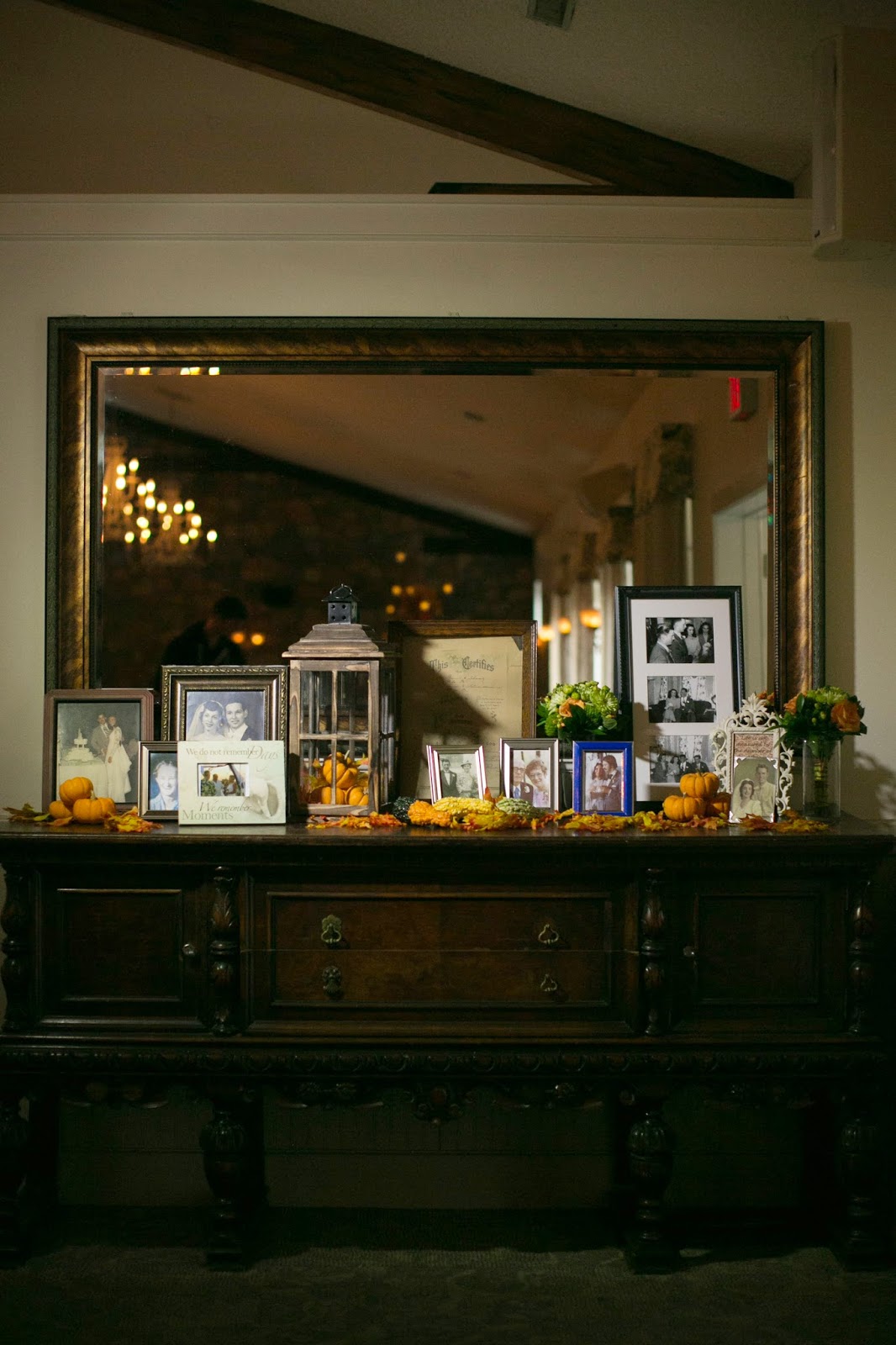 At their reception, Ryan and Lauren had a table prominently displaying framed pictures of their parents, grandparents and great-grandparents on their wedding days, and even had marriage certificates over 100 years old as well as framed quotes about love and family. One of the framed quotes was from Maya Angelou: "Life is not measured in the number of breaths we take, but in the moments that take our breath away."
Another quote that Lauren loved was from a Mumford & Sons song called Awake My Soul, "In these bodies we live, in these bodies we will die. And where you invest your love, you invest your life"; we used it to introduce their wine sharing ritual within their wedding ceremony.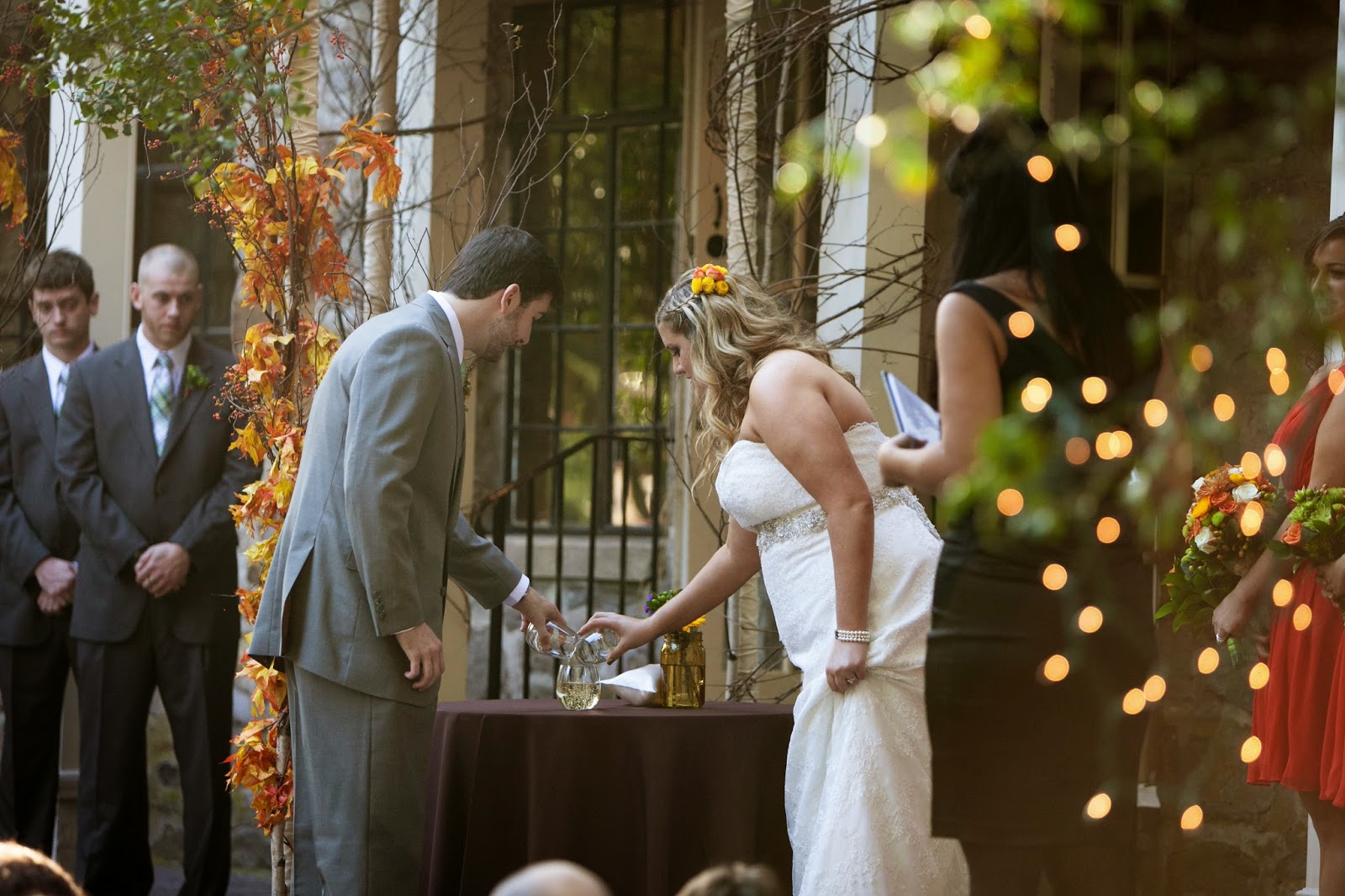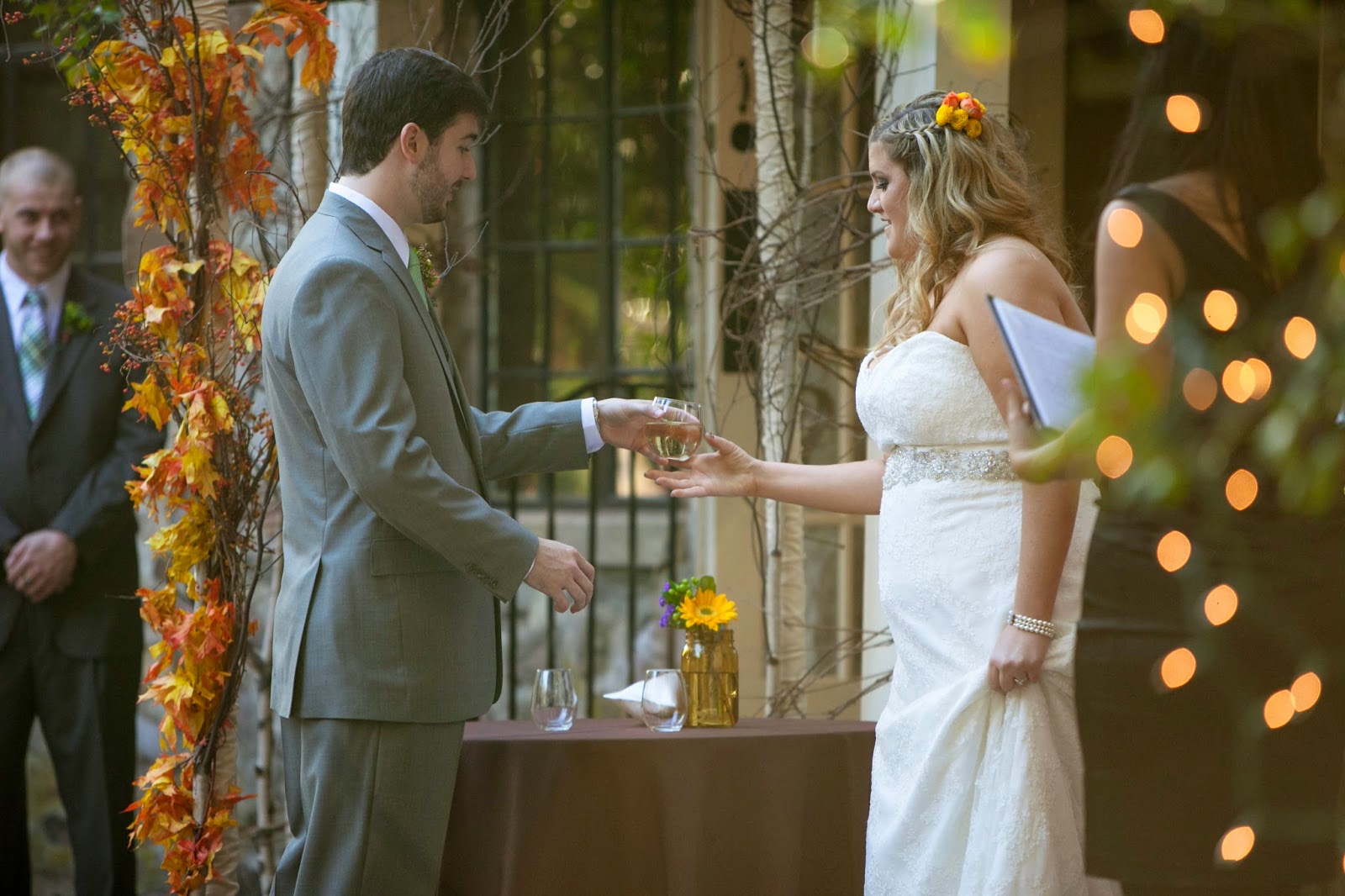 It's not uncommon on days of great happiness and joy to think of those who cannot be present, so Ryan and Lauren also included, a formal Remembrance in their wedding ceremony where their loved ones who were no longer living were acknowledged; their names were said aloud for all in attendance to hear.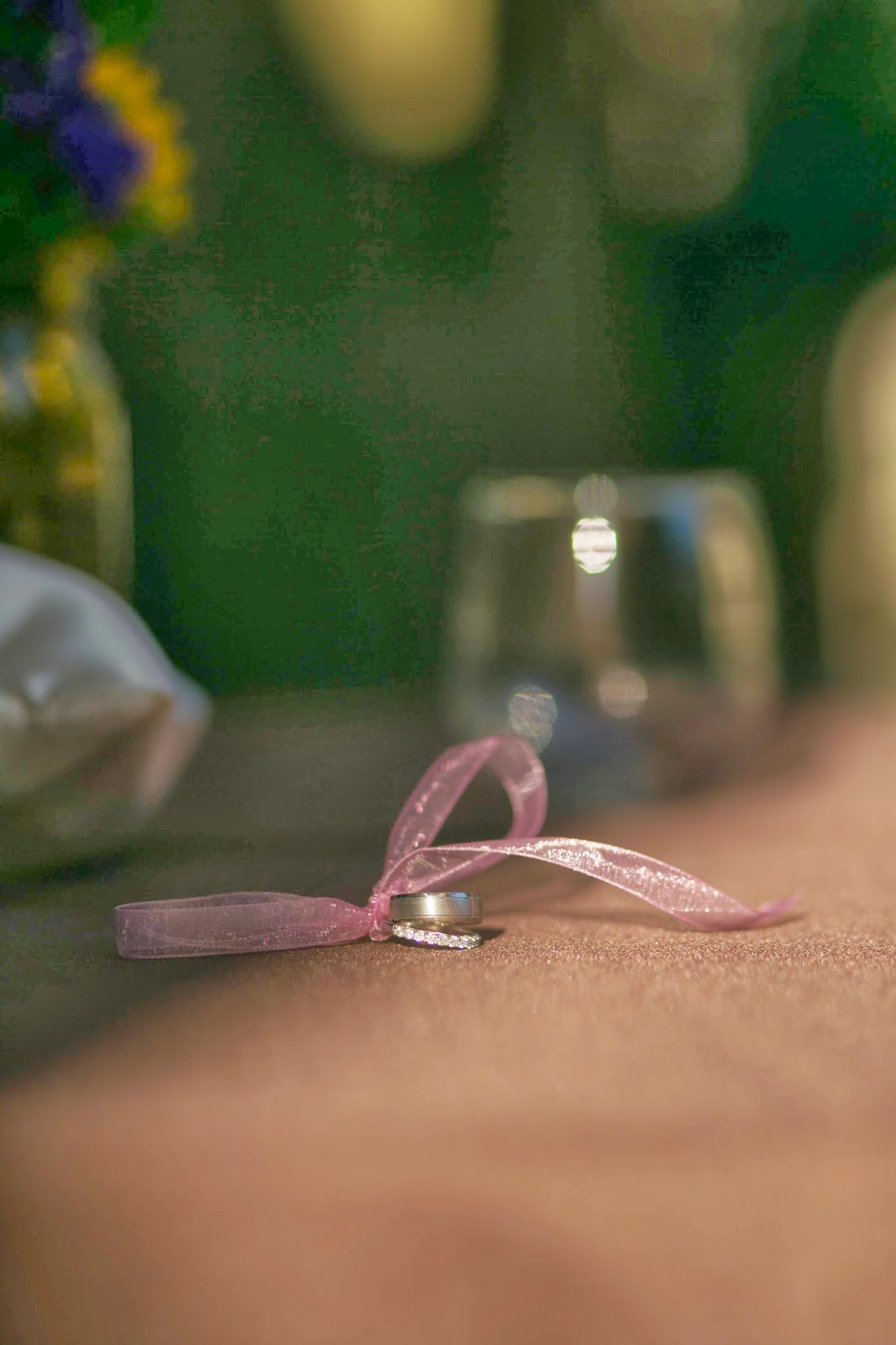 ---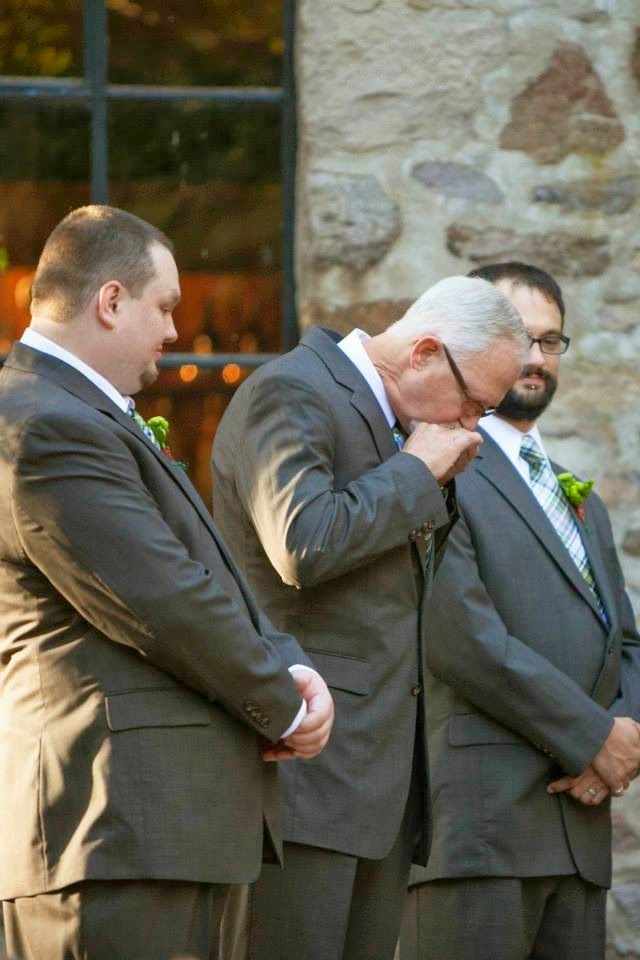 Father of the Groom, John Mowatt, kisses the happy couple's rings during the Ring Warming.
Guests were also invited to participate in a Ring Warming. Ryan and Lauren's rings were passed through the crowd, giving each person the opportunity to place their personal blessings and prayers into the rings before the couple exchanged them later in the ceremony. Lauren says, "We included a lot about everyone who was no longer with us, but it meant so much to us to have all of our friends, family, and loved ones put their love and positive vibes into the rings that we wear everyday."
The most meaningful remembrances however, aren't always publicly orchestrated demonstrations; they are often private symbolic gestures whose meaning can be lost on an outside observer. When Lauren first called me to talk about the wedding she was planning, she informed me that she and a few of her bridesmaids would all have visible tattoos in their dresses, and then asked if I had a tattoo policy? It didn't take long to realize in that initial call, Lauren was a very tender and loving person; she had a reason for everything.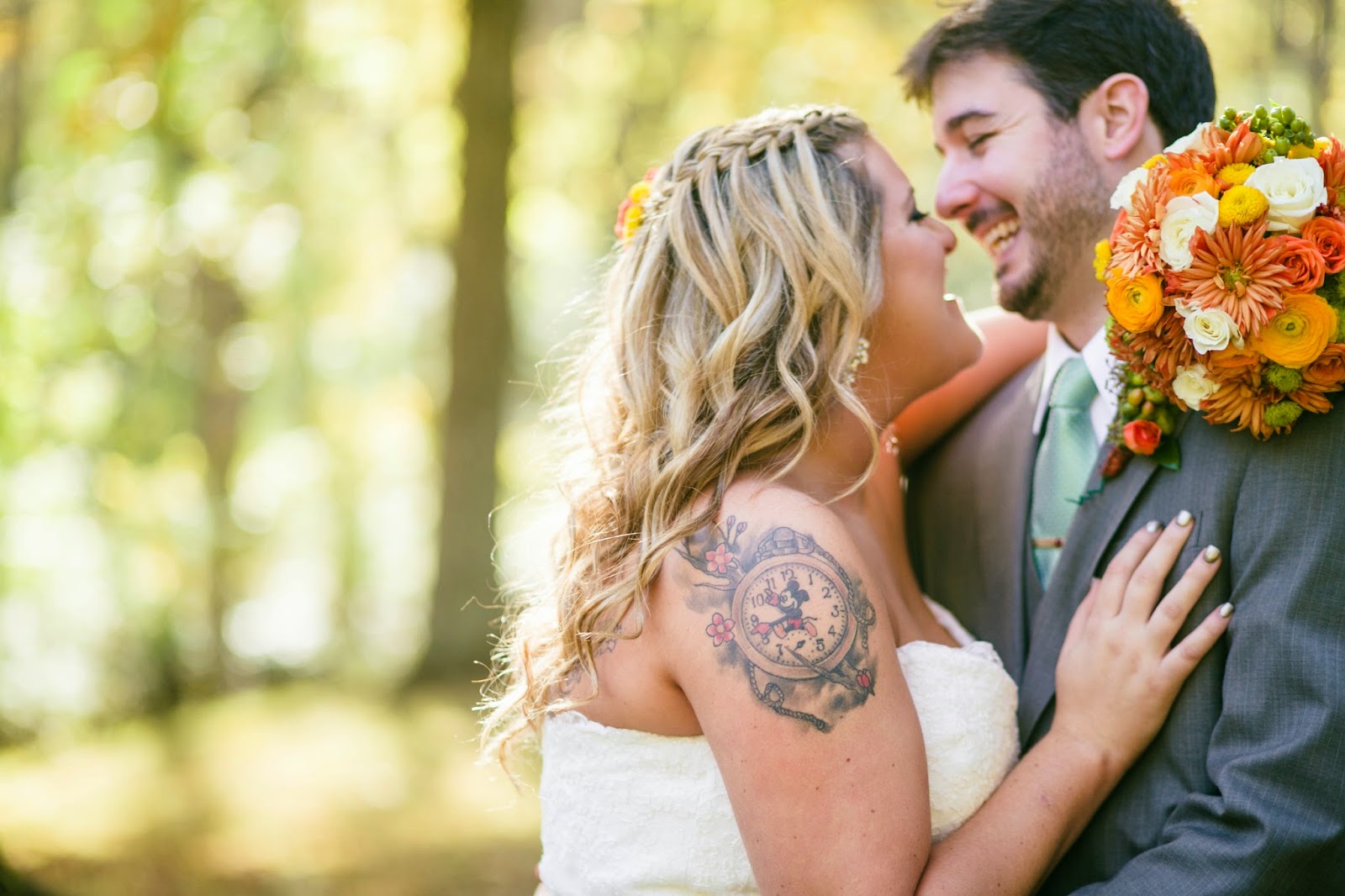 "The tattoo on my shoulder holds a lot of meaning for me and helped me believe that my Grandfather, Big Ed was there in spirit. I was extremely close to him and we lost him unexpectedly in August 2010. I decided to get a tattoo of a Mickey Mouse pocket watch in his honor and it helped me get over the devastating loss for our family. When my brother, cousin, and I were younger we all chipped in and got my Grandpa a Mickey Mouse watch (Mickey and Big Ed share a birthday!) and he never took it off. Big Ed was there on my wedding day, I see him in every picture of me.
It's funny because before Ryan and I met, each of our family's have said that our lost loved ones become butterflies. There were plenty of butterflies around the day of our wedding while the girls and I were getting ready and it was just an incredible feeling know that we were surrounded by love!"
Lauren and Ryan assembled an amazing team of artisans to bring their dream wedding to life:
Flowers/Chuppah: Mark Mainville and Tony Verdi http://chartreuseflorist.com with help from Barbara Hammond (a family friend) 215-439-8665
Makeup: Tina Collins at Make Me Glam
Hair Stylist: Stephanie Voce (267)939-2861
Isabel March Photography artfully captured the magical moments of this family wedding and celebration.