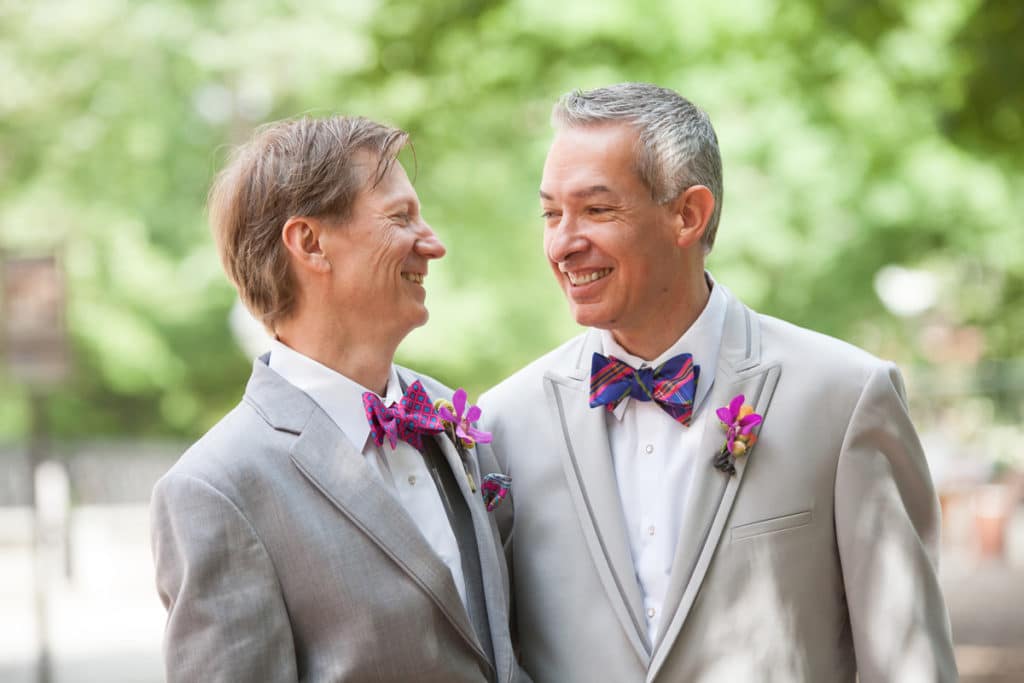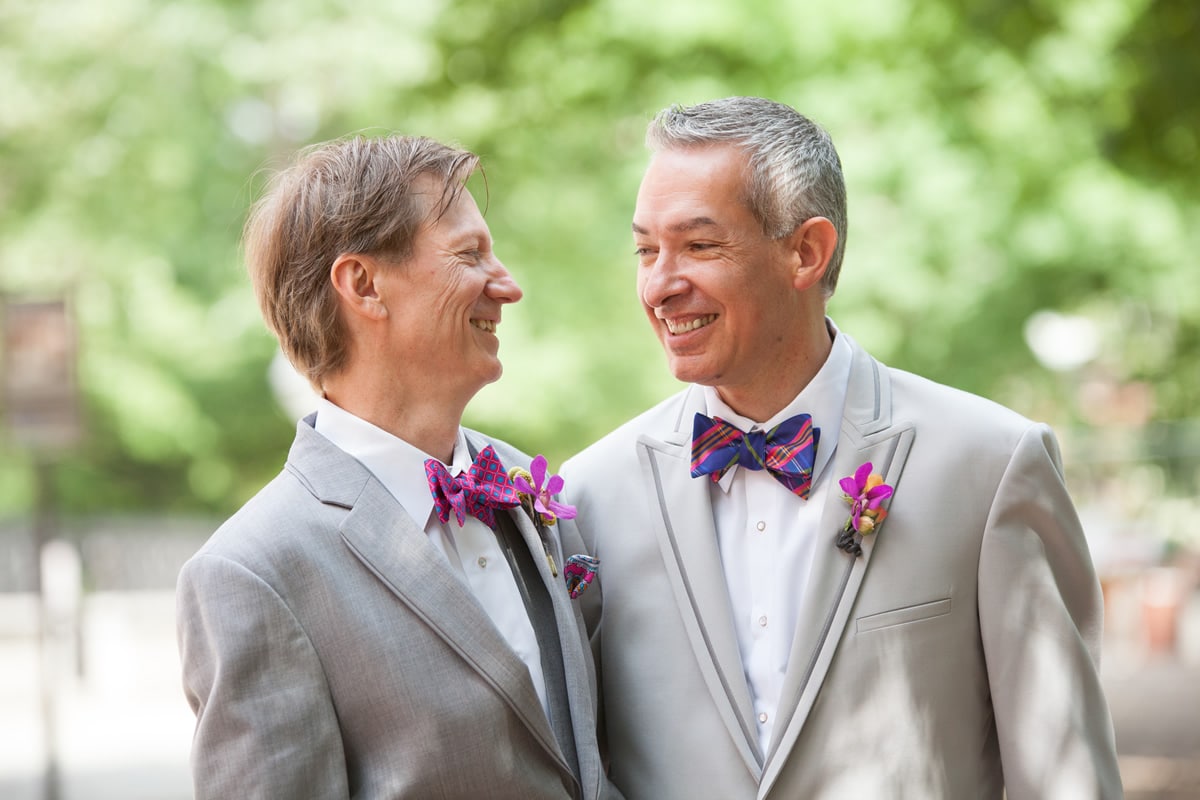 Javi and Bobby have been building a life together over the past 24 years and this May, in the presence of the many generations of their families and closest friends, they became husbands to each other at a bright and colorful wedding at Philadelphia's pet-friendly and chic Hotel Monaco.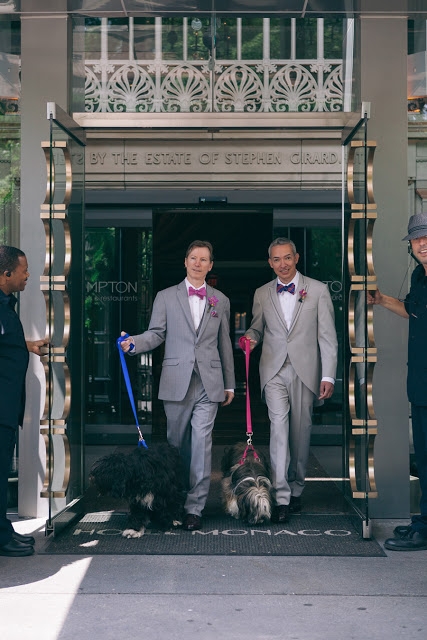 The grooms' two pups, Bodhi + Bailey, put on their most dapper outfits and were walked up the aisle by Maggie and Yvette (their best friends and next door neighbors) to "Somewhere Over The Rainbow" just before Bobby entered-nestled between his two parents- and Javi holding the hand of his mother.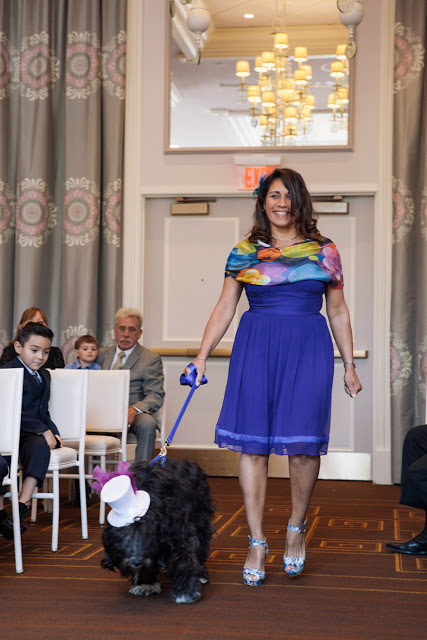 ---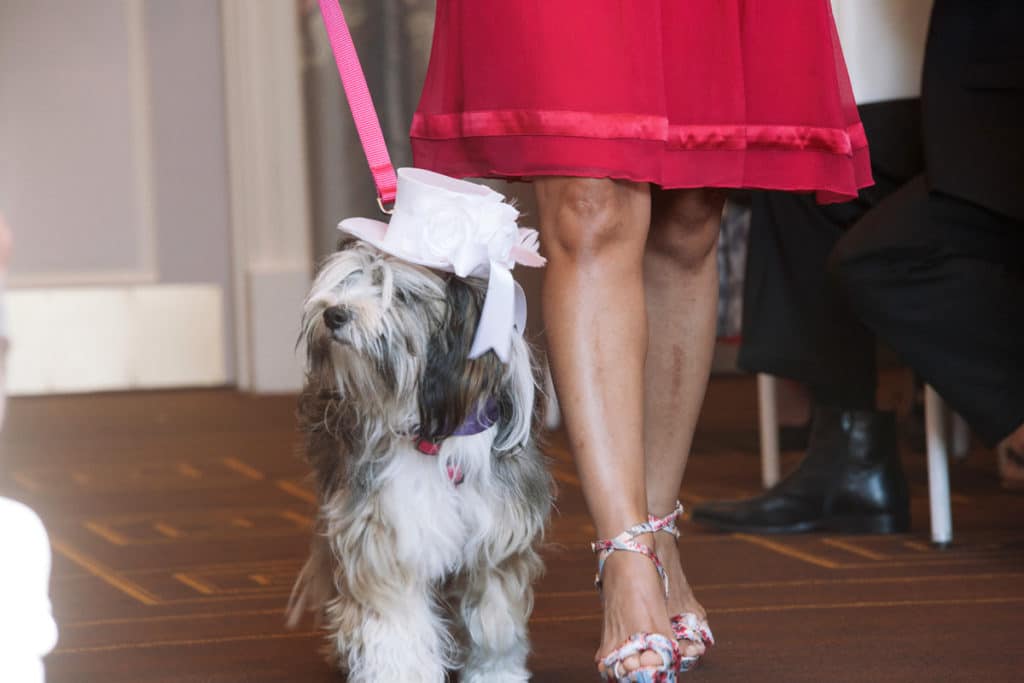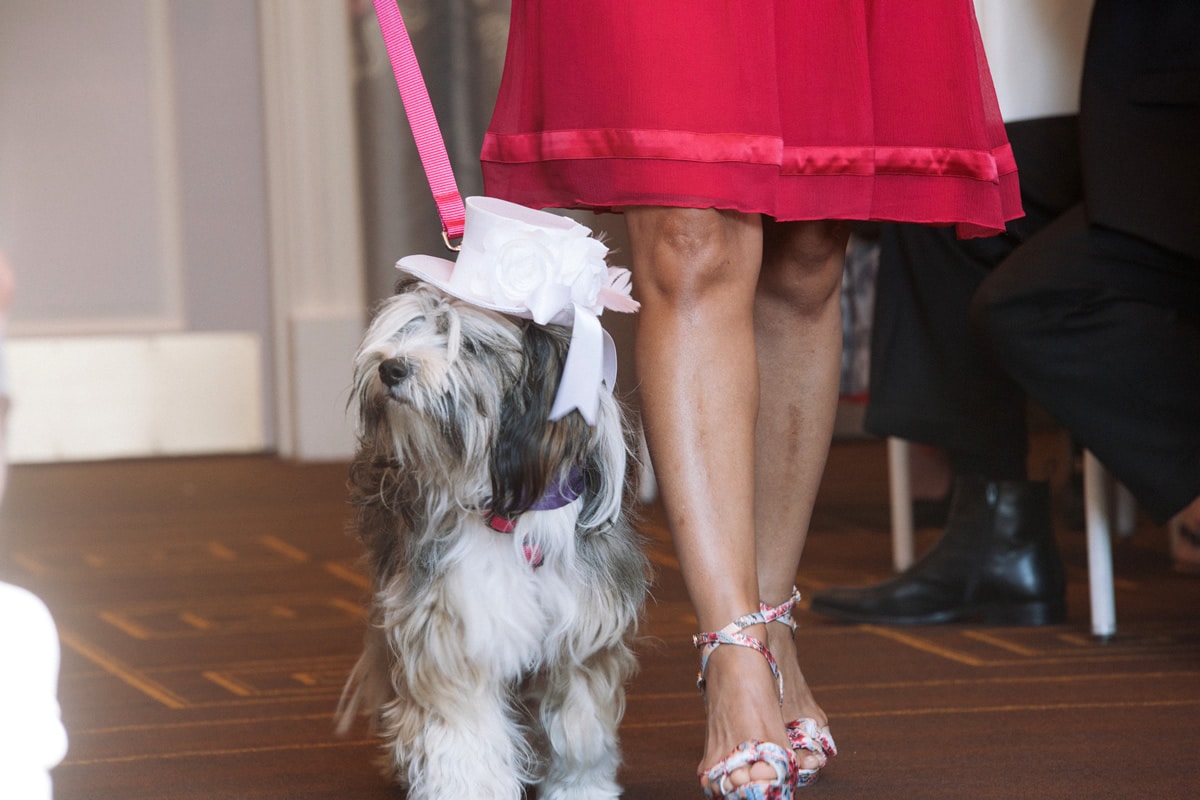 ---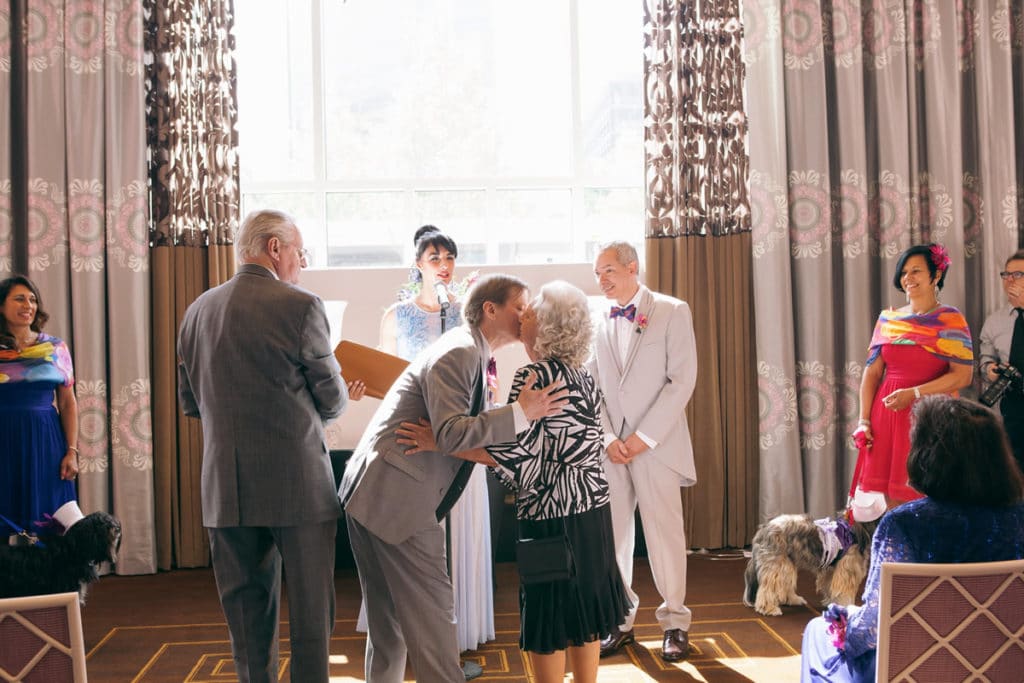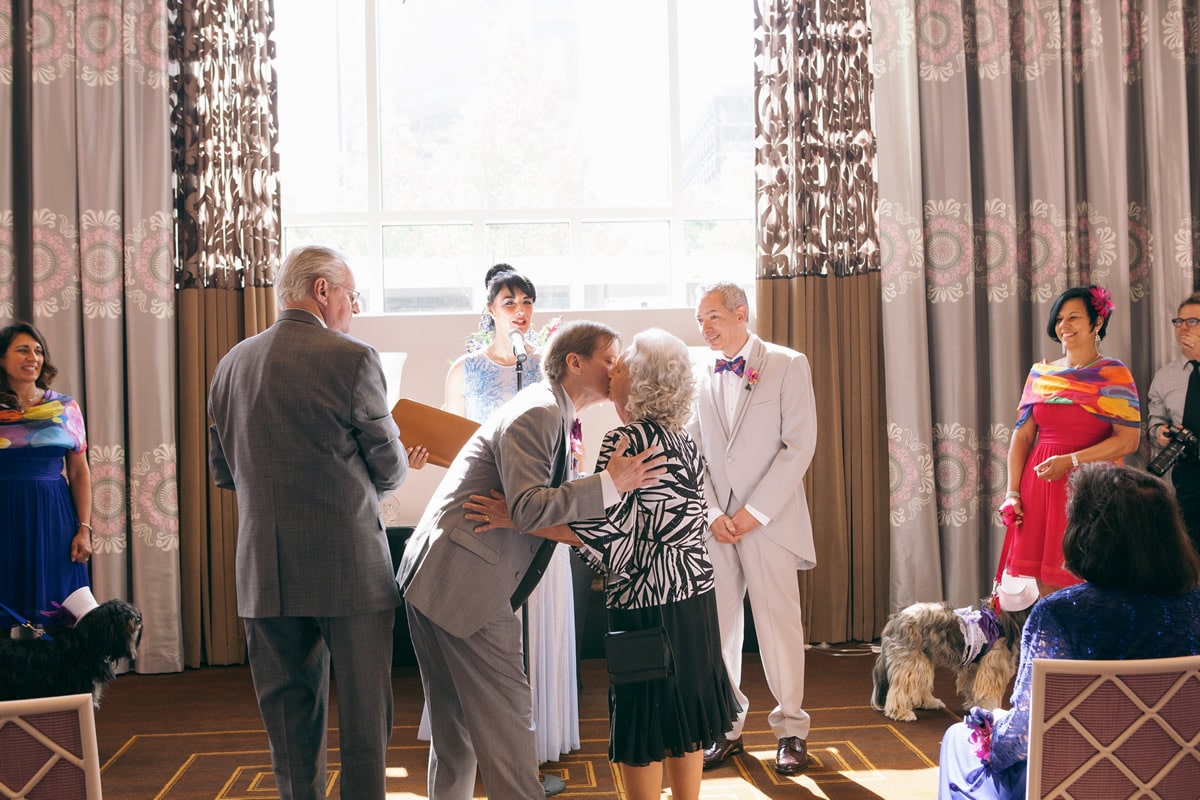 ---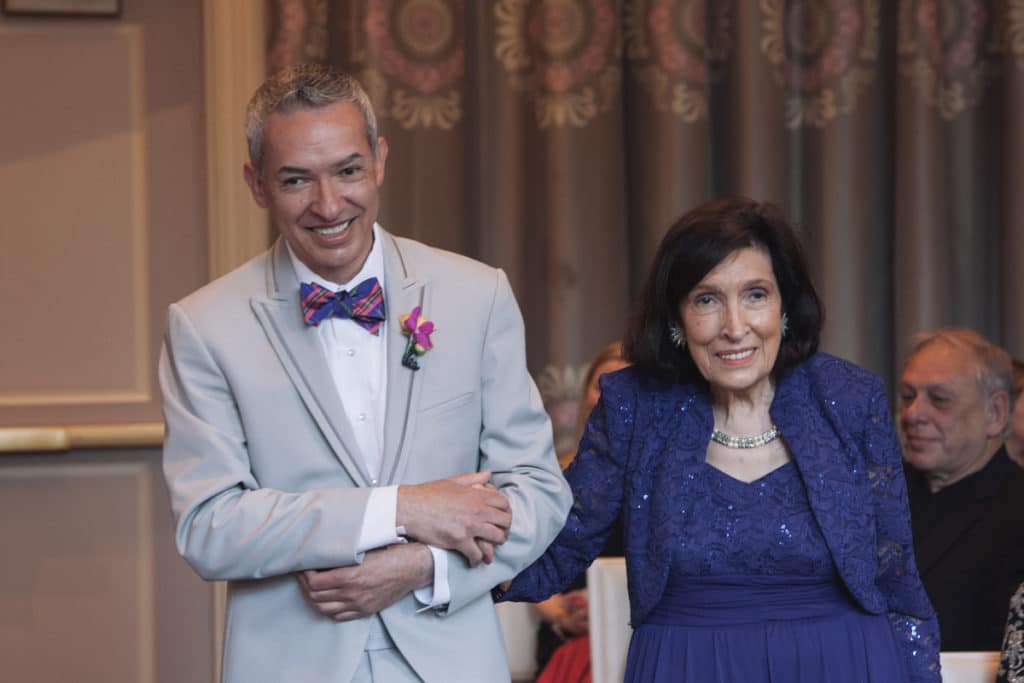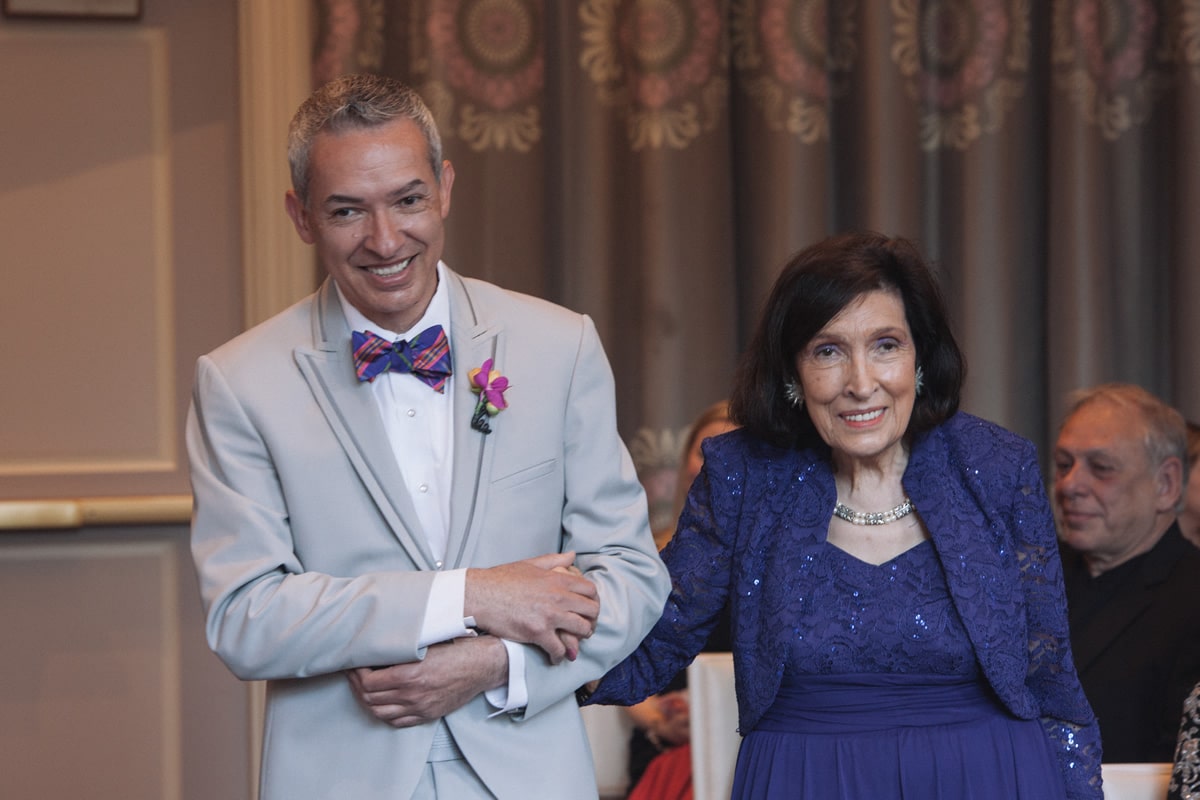 Javi and Bobby wanted to make sure that their guests knew just how important they were, so we included a Passing of the Peace ritual where everyone gets up from their seats and greets the people around them and across the aisle with a hand shake, hug or a kiss. As I watched the people Bobby and Javi cherish most greet and embrace each other, I started to giggle when the love fest just kept going—-no one wanted to stop, there were people crossing the room to embrace new friends and family. This was truly, one of the most special moments I had the pleasure of witnessing during Javi and Bobby's nuptials.
LOVE STORY (an excerpt from their ceremony)
When Love brought these two together, your typical OCD meets ADD story ensued. 24 years ago, this month, Javier—who was painfully shy and reserved–had challenged himself to go out once a week to his neighborhood club in New Brunswick, he'd have a couple drinks, listen to music and hopefully meet people.
It was on one of these nights that Javier first noticed Bobby, dancing by himself on the dance floor, he was enthralled. Bobby noticed Javier's gaze too, and remembers that, "Javi followed me around that night, but I turned the tables and said 'Hi' first." Conversation came naturally, and Robert and Javier spent the rest of the night talking "like two old friends who had been reunited again."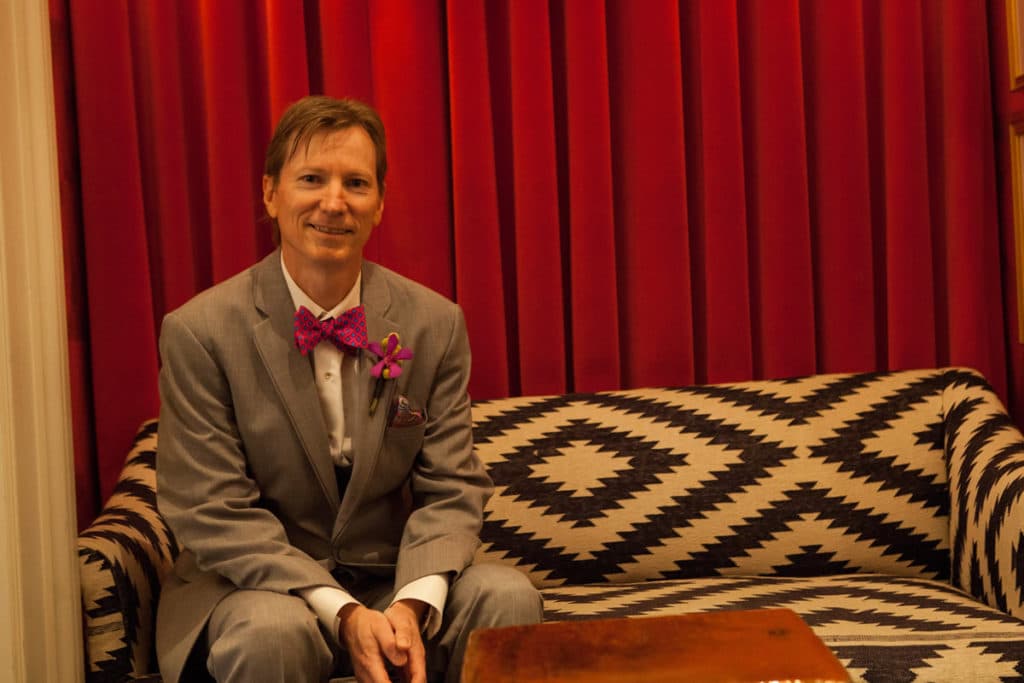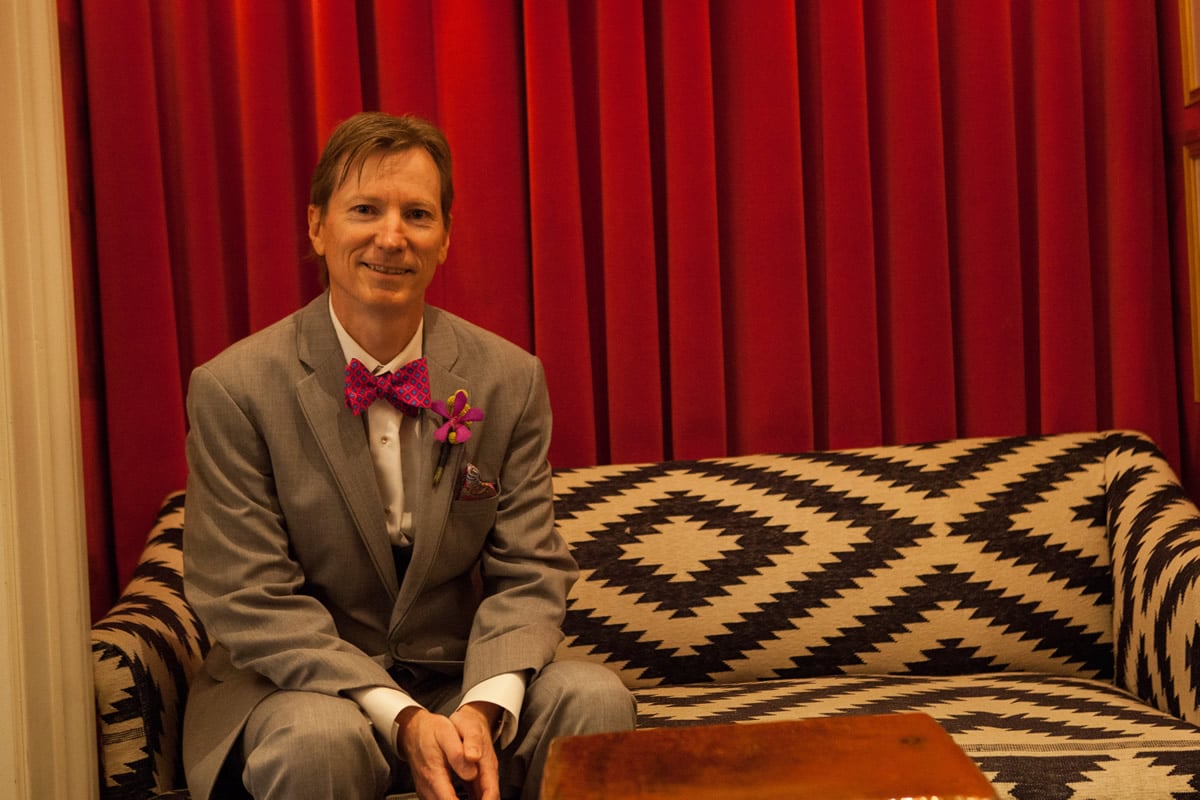 It didn't take very long for these two to realize they were spending more time together than apart, and that what was starting between them was something special. A few weeks in, Javi remembers trying to think of the perfect birthday gift for Bobby, he says, "I wanted to get him something meaningful but something that wasn't over the top since we had just met." On a business trip to Boston, Javi found two t-shirts with animal prints on them, and remembering that Bobby loved nature, he felt confident that he had found the perfect present.
And he was right, Bobby loved the t-shirts but Javier noticed that Bobby seemed to always be wearing just one of them. Concerned that Robert wasn't pleased with his gift, Javier bravely asked, "didn't you like the other shirt I got you?" Bobby quickly allayed Javi's fear. He reassured Javier that he did in fact "love both shirts", but so did his brother Michael… and Michael was now wearing the other shirt full-time.
Javi says they were just getting to know each other. He says he started to understand what it meant that Bobby was from a big family, with different boundaries and expectations and in this case, communal property.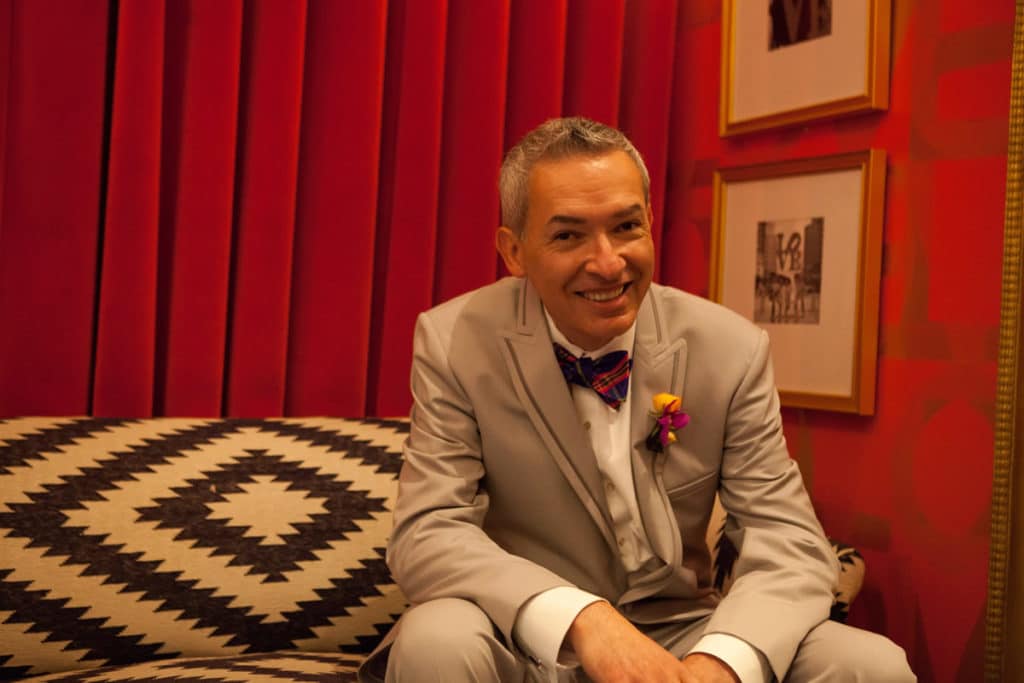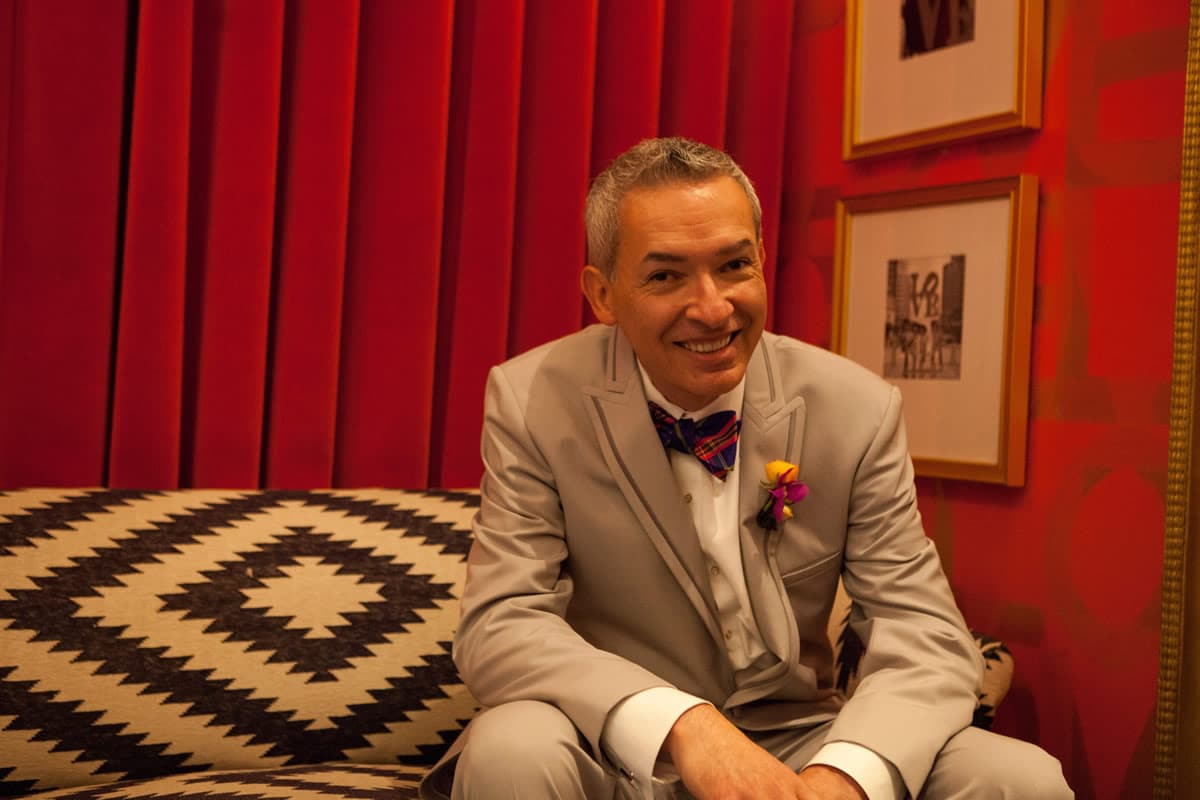 A few weeks later, these two had another opportunity to learn more about each other when Javier was traveling to Las Vegas for his brother Hugo's wedding. Kind of head over heels already, Bobby asked to accompany Javi to the airport. In those last precious moments together in the terminal, Javier wanted to make sure to leave Bobby with instructions for contacting him while he was away, he asked Robert to hold his boarding pass and toss a used gum wrapper for him while he wrote down his Las Vegas contact numbers. When it was time to board, Javi and Bobby embraced and said their goodbyes, and Javier asked Bobby for his ticket.
"What ticket?" Bobby asked confused.
"The one I asked you to hold for me…" Javier replied.
"Oh, that? I tossed it in the garbage!"
Upon this confession, Bobby then got to witness a very germaphobic Javi franticly going through the garbage can in search for his ticket.
This was one of the first and most memorable moments in Javier and Bobby's relationship where they realized that not only did they have so much in common, but that their differences could serve as a complement to each other.
Javier says, "We complement each other, it's not so much that opposites attract, more like filling the gaps to make each other whole. Our lives are fulfilled and we are better people because we have each other."
And Bobby agrees, when I asked him what it is he loves about Javier, he said, "He's adorable. I'm not kidding he really is. His accent is perfect. His way of thinking is different, smart, strange and complements mine. He's orderly when I am chaotic. He's courageous and proud in wanting a good life for us when I'm a "just happy to be here" sort of person. I would be fairly lost without him. He's neurotic and I am pretty easy going and he's more relaxed now, because of me…"
Over the past 24 years, Bobby and Javier have made each other more courageous as they create a relationship built on trust, appreciation and acceptance of each other. Through it all, Bobby says, the secret to their relationship, is they continue to choose each other every day.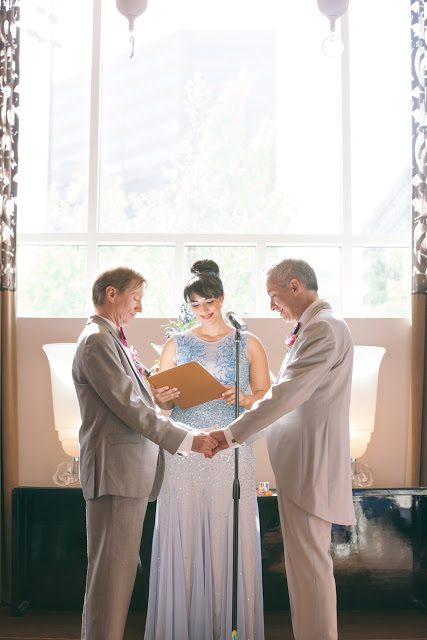 "Your perfect partner and complement, these are the hands of the man who treats you like a prince and chooses to build a life with you everyday."–Alisa Tongg, Celebrant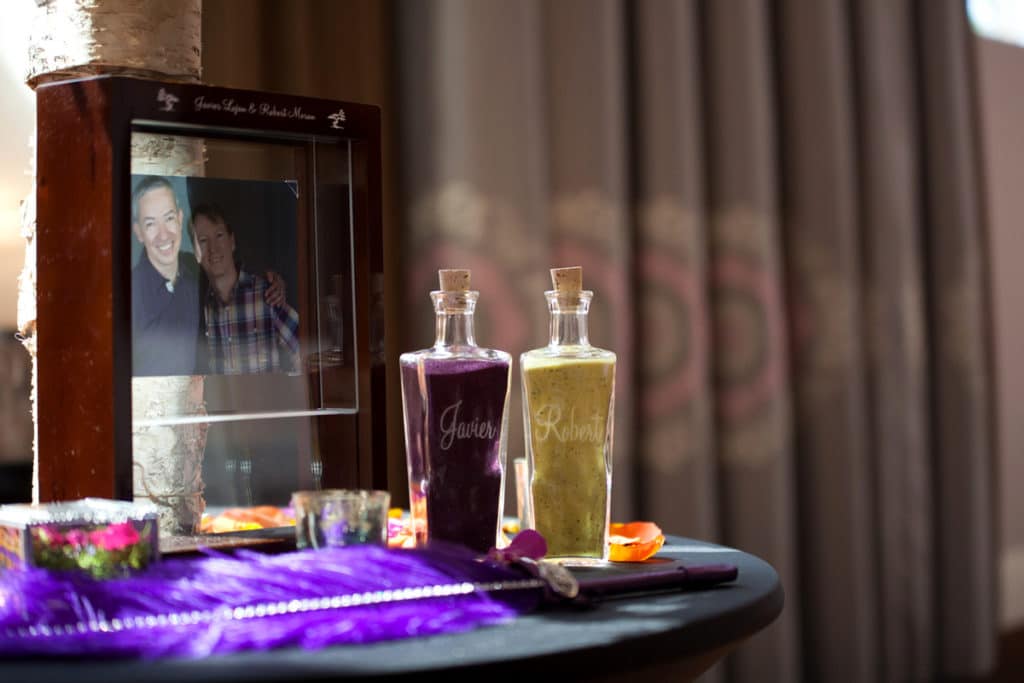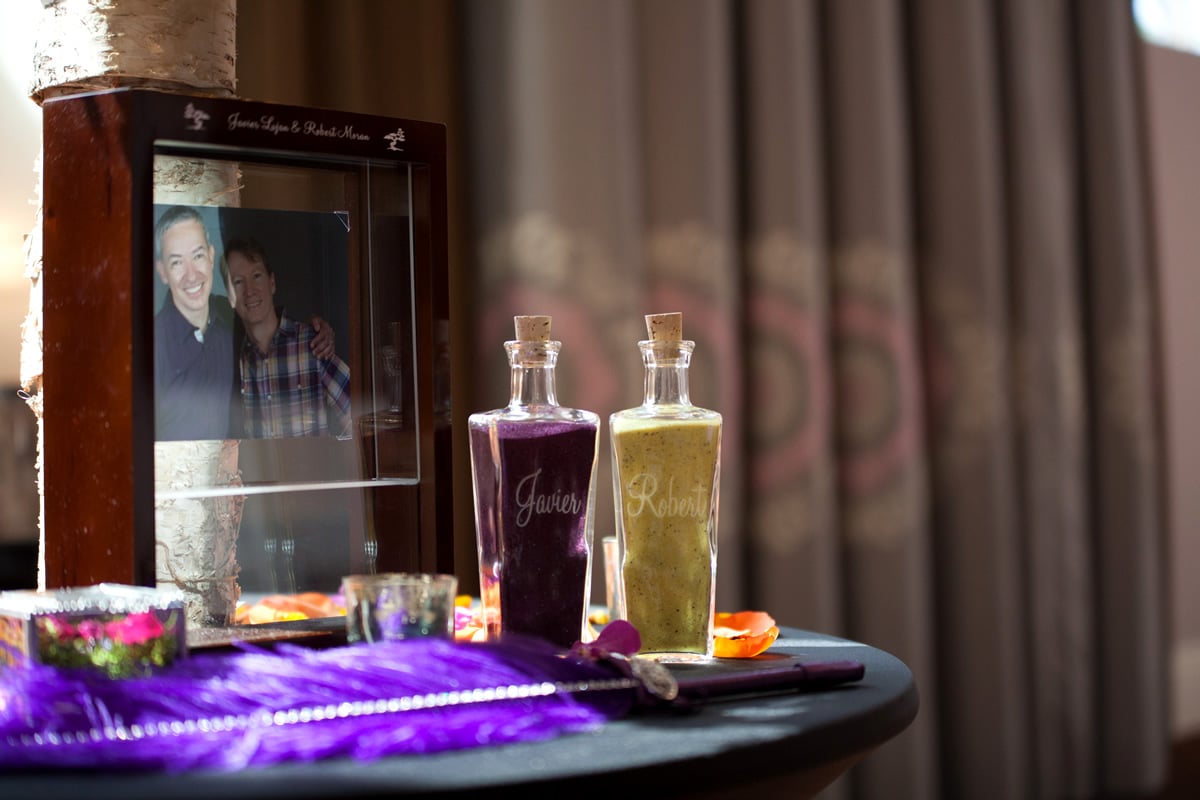 Sand Ceremony- Javier and Bobby selected the sand ceremony to demonstrate their unique partnership and commitment for a lifetime.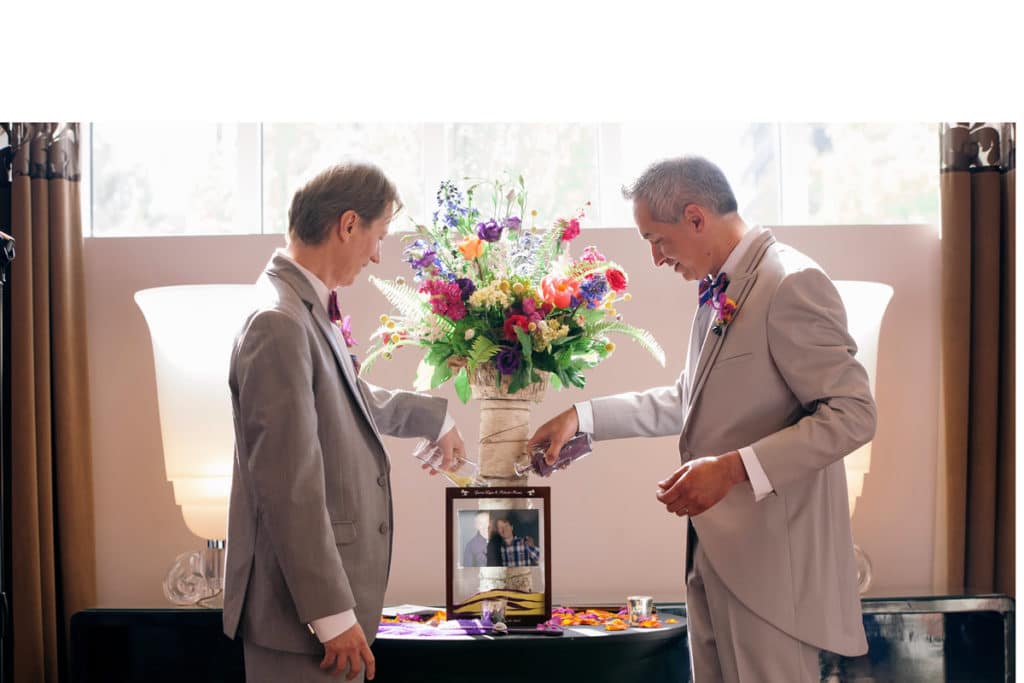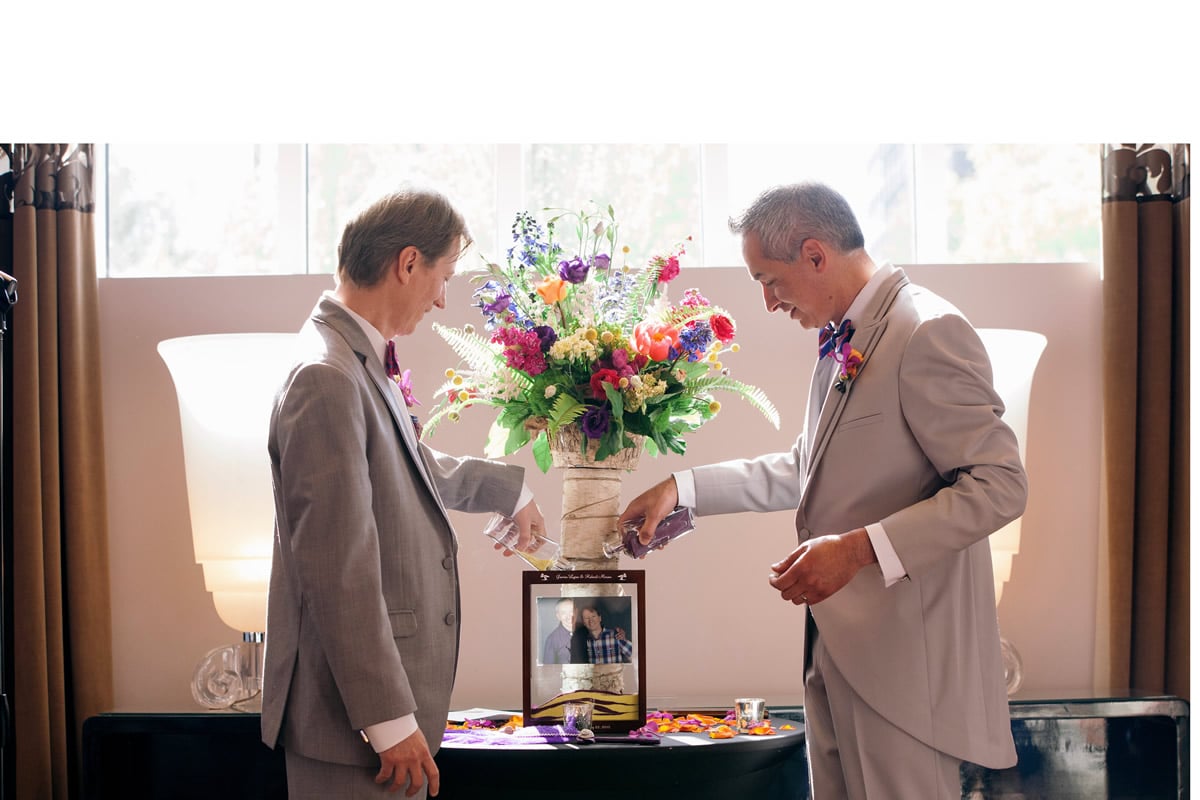 Sand, a symbol of time is used to honor the time they have already spent together as well as the times they look forward to sharing in the future.
Then it was time for Bobby and Javi to sign their marriage certificate, making their lifelong commitment one recognized by law as well. When I asked Bobby and Javier what message they wanted conveyed during their wedding ceremony, Bobby didn't hesitate to say "Love Wins."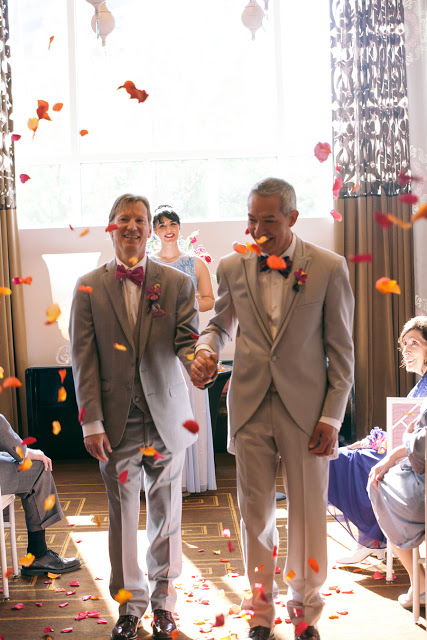 As Javi and Bobby took their first steps into married life together, seven guests bestowed one blessing each on the newlyweds who were showered with beautiful fragrant rose petals.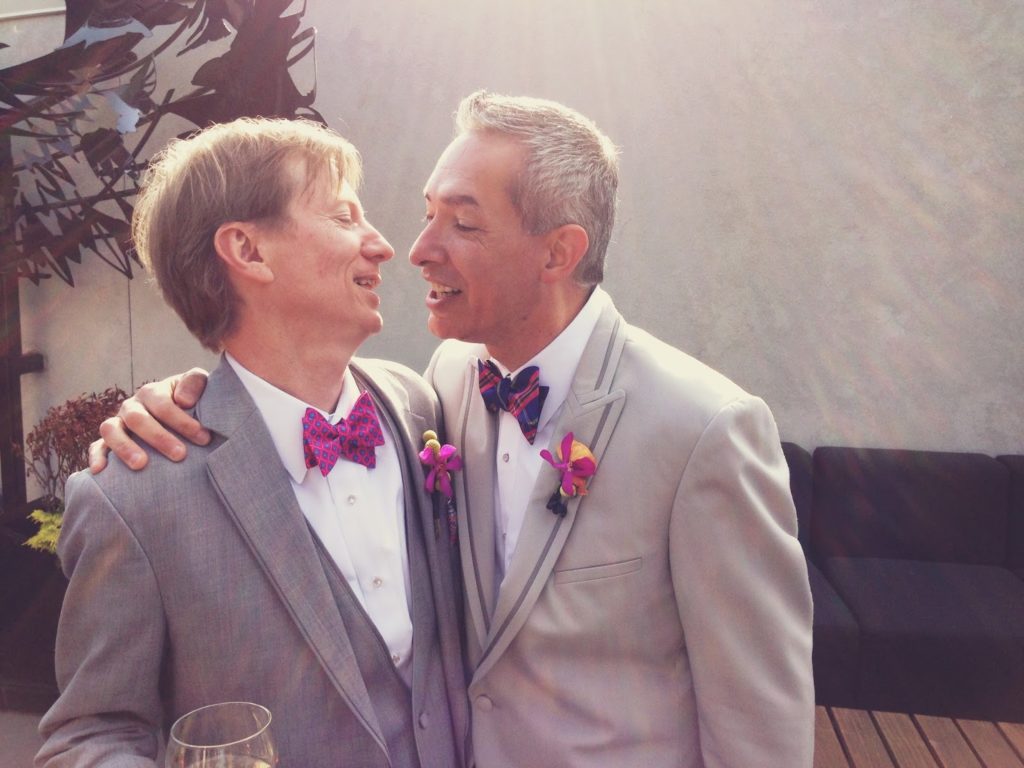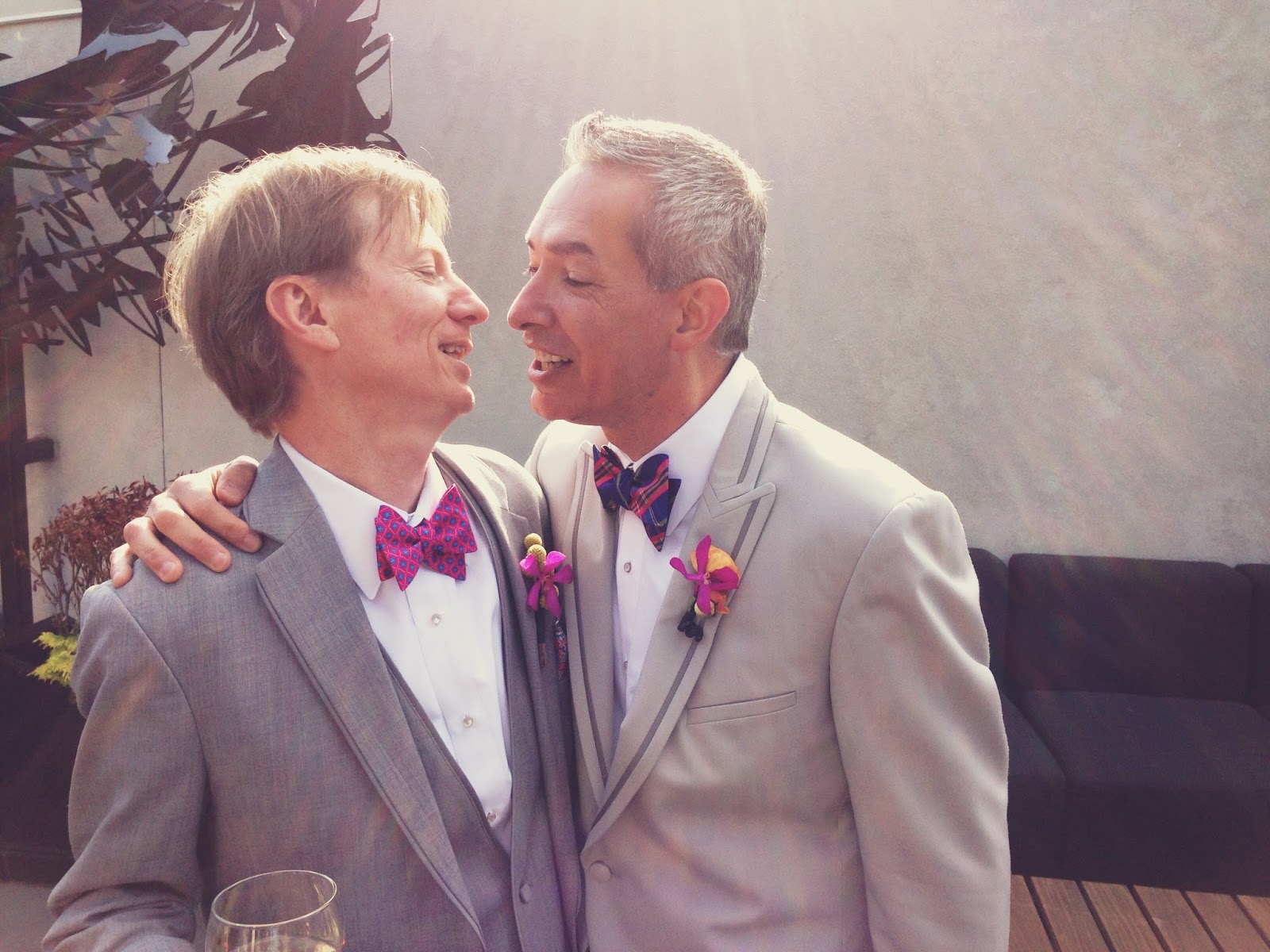 The newly married, life partners and husbands to each other, Javier and Bobby!!! (iPhone photo up on the roof deck just after their ceremony)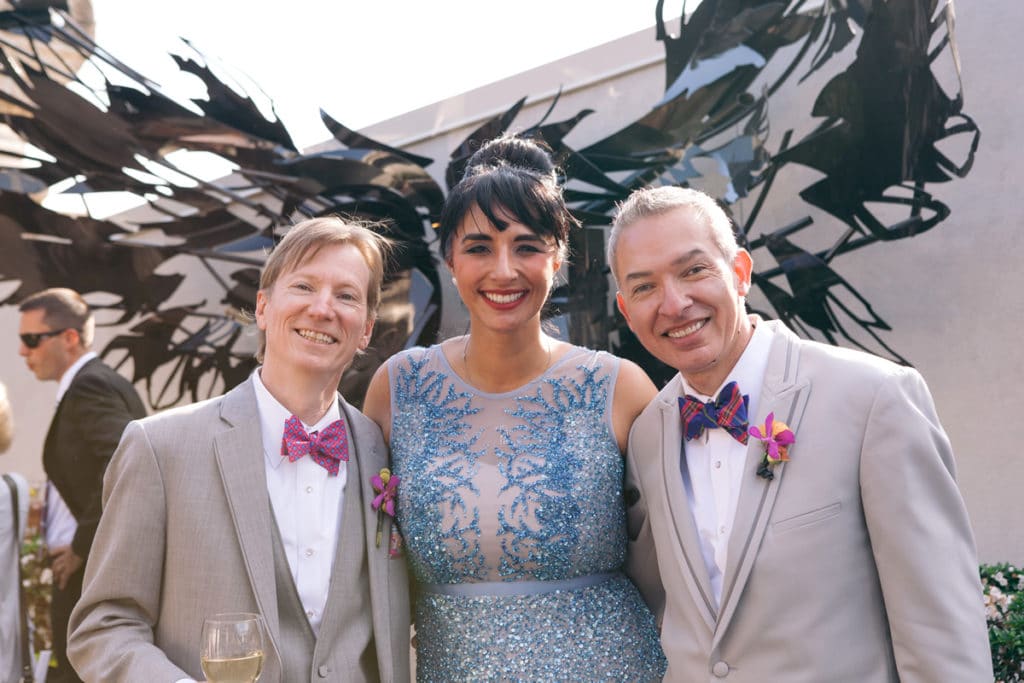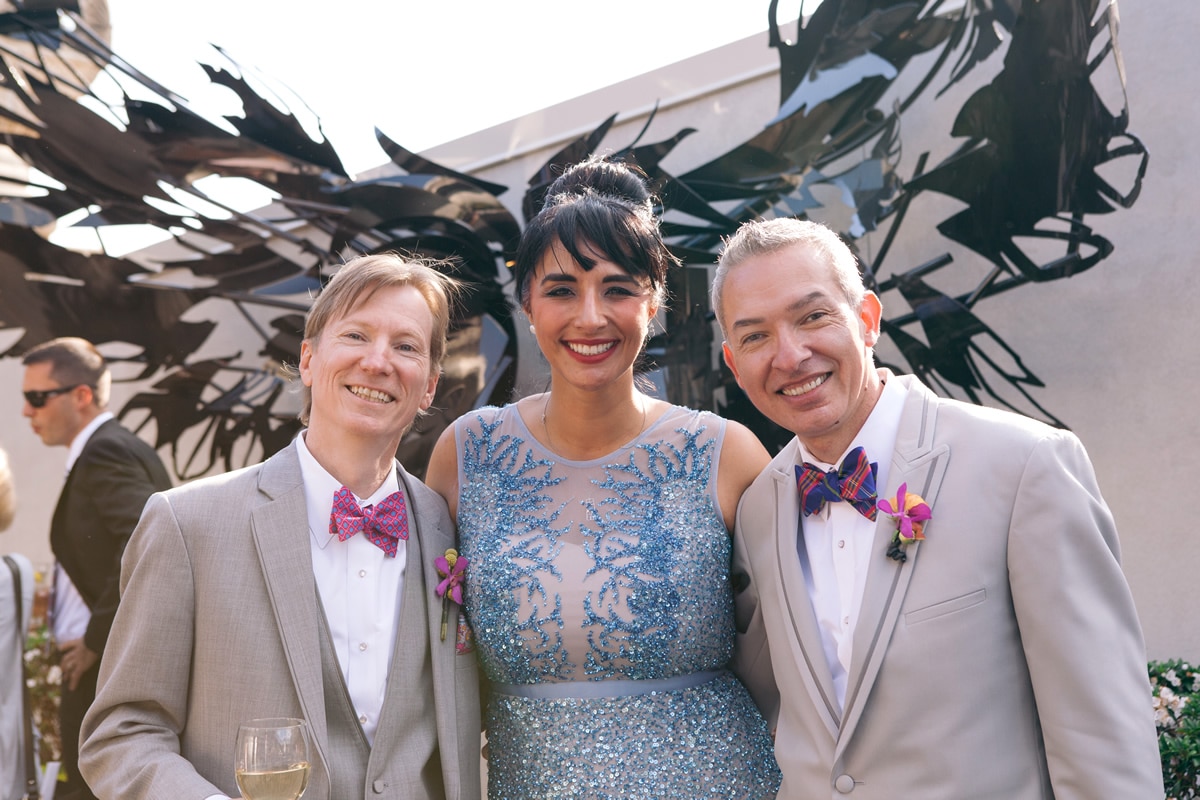 venue| Hotel Monaco Philadelphia
photographer| Elaine Zelker Photography
celebrant officiant| Alisa Tongg, Celebrant