In the early part of 2008, still in the trenches planning the Delaware River Food + Wine Festival for that fall, I had heard of an artist who had gained some notoriety for creating a series of sainted kitchen appliances and aprons…the exact subject matter this Julia Child-admiring, vintage-apron-collecting, recent-Kitchen-Aid-owner was interested in. I knew I had to meet her.
When I stepped into Jennie Traill Schaeffer's gallery and studio I discovered that she was full of colorful surprises–the kind of surprises that make you feel really good on the inside. The day I met her to talk about her larger-than-life coffee makers, Kitchen-Aids, egg beaters and striped aprons, I saw that she was in the middle of working on a portrait of a wedding cake. Before I left her gallery that afternoon, I had made arrangements for my own commission, for the most thoughtful, amazingly unexpected anniversary present, a portrait of my own wedding cake.
In the initial planning stages Jennie and I talked about composition and concept. I remember being kind of proud that every layer of our cake was a different flavor and the frosting was made of marzipan (not fondant) because we wanted every bite to be delicious and I wanted that to be reflected. The other element I wanted incorporated in the painting was the maile lei I wore during a surprise wedding hula, but I was comfortable with Jennie using her own creative license to figure out exactly how it all came together. (You can see exactly just what she created at the bottom of this post).
Several years have passed and I am no longer married, Jennie has since moved her studio closer to the Atlantic than the Delaware, she now paints and teaches private lessons in West Orange, NJ. This month her Wedding Cake Portraits just launched a brand new website and to celebrate, I asked her to share a few of the stories behind a few of her favorite commissions.
A preliminary sketch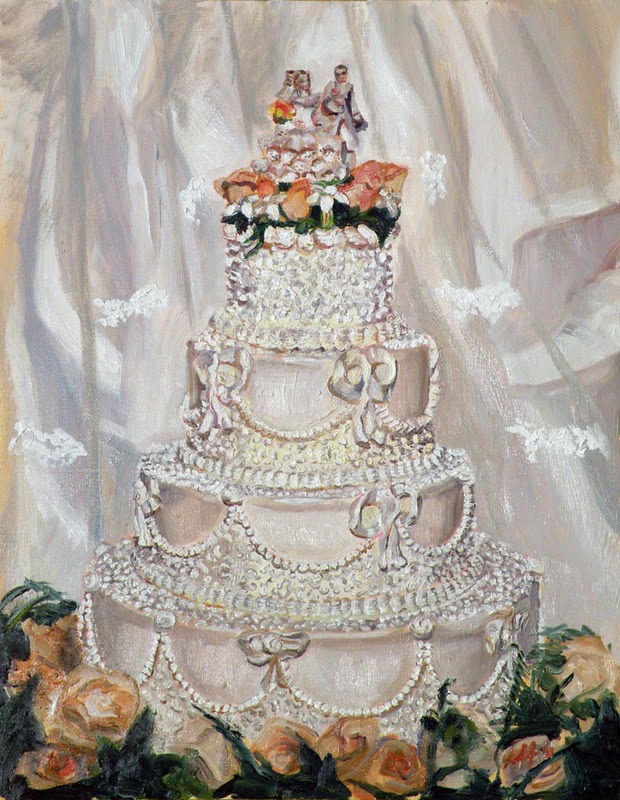 JTS: This painting depicts the wedding cake of a collector who I've come to know very well. Jill commissioned this as a Christmas gift for her husband in 2011. Jill's son had been a long-time art student of mine and she had been interested in having me paint her wedding cake for awhile. In 2011, their home was devastated in a fire. After the fire, she commissioned the painting and once it was complete, it was one of the first new pieces of art added to her rebuilt home. They are a special family to me and I'm honored that this painting held so much significance for them as they rebuilt their home, but had an heirloom to remind them of their beginnings when they were married in 1994.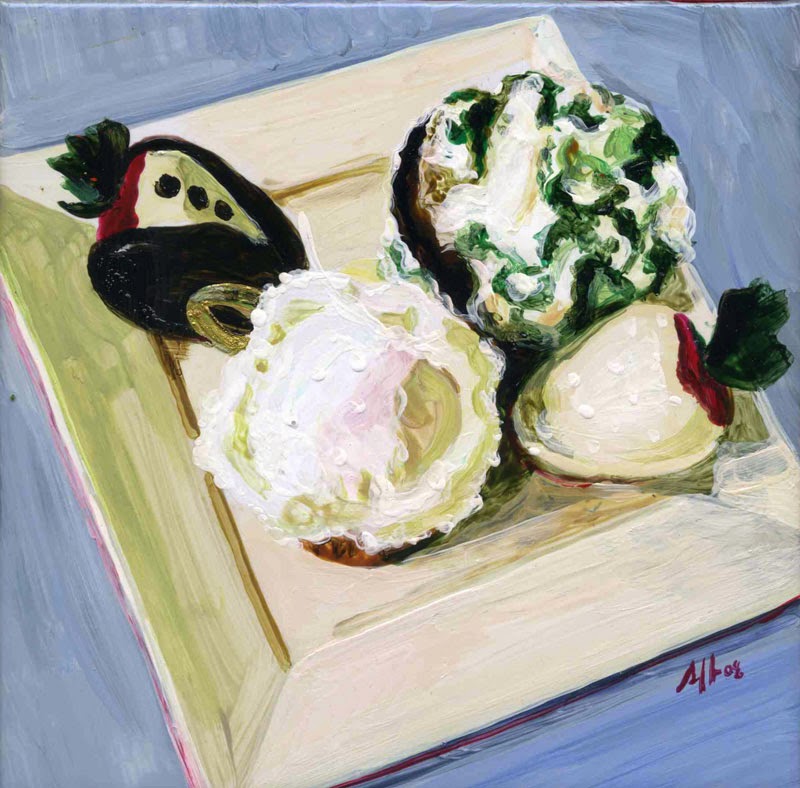 JTS: This is an unusual painting because it is not glorious or refined, and some of it is hard to make out. But this was commissioned by my former hair stylist (who also happened to be very creative) for her daughter and son-in-law. She was a no-fuss bride that wanted everything simple and in lieu of a wedding cake wanted chocolate covered strawberries and cupcakes that were decorated as brides and grooms, made by the former Cheddar Alley in Newton. The wedding I believe was in Essex County and during delivery, the decorations on the cupcakes shifted. While most brides would be upset, she was not and so my hair stylist wanted to commemorate the day as it was, less than perfect, but filled with love.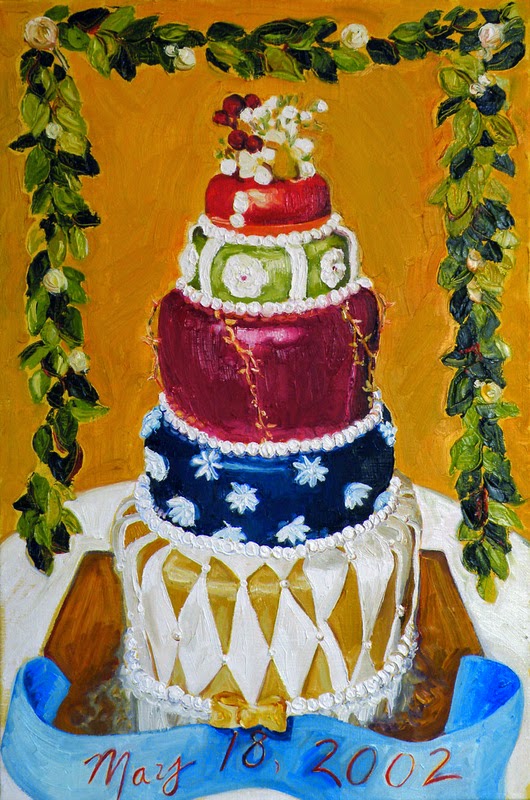 JTS: Your cake is of course, one of my favorites. I was happy to work with such a vibrantly colored cake as subject matter, and have the openness from you to incorporate the date of your wedding, referencing the ex-voto element of the scroll used by Frida Kahlo. In spite of the parameters that you wanted for your portrait, I had a lot of creative freedom which made for a painting that was not only interesting upon completion, but that I also really enjoyed creating.
This past fall, I had the opportunity to travel to Mexico City with AFAR Magazine for one of their curated Experiences.  There were many different occasions when I was up close and personal with the work of Frida Kahlo–and it had a profound affect on me. The art of Mexico, vibrant in color and rich in symbolism, was something I knew I wanted more of in my life. The "ex-voto" I've come to learn, is a tradition of personal storytelling through images to tell narratives of gratefulness and appreciation for when a miracle takes place or a wish is granted. When I look at this portrait now, I love it even more! This portrait, is more than the sum of it's parts, it's definitely more than the sugar and flour that I had such fond feelings for at the beginning, over time it's come to represent so much more.
For a catwalk of cake fashion, head over to www.weddingcakeportraits.com
And on Facebook at https://www.facebook.com/WeddingCakePortraits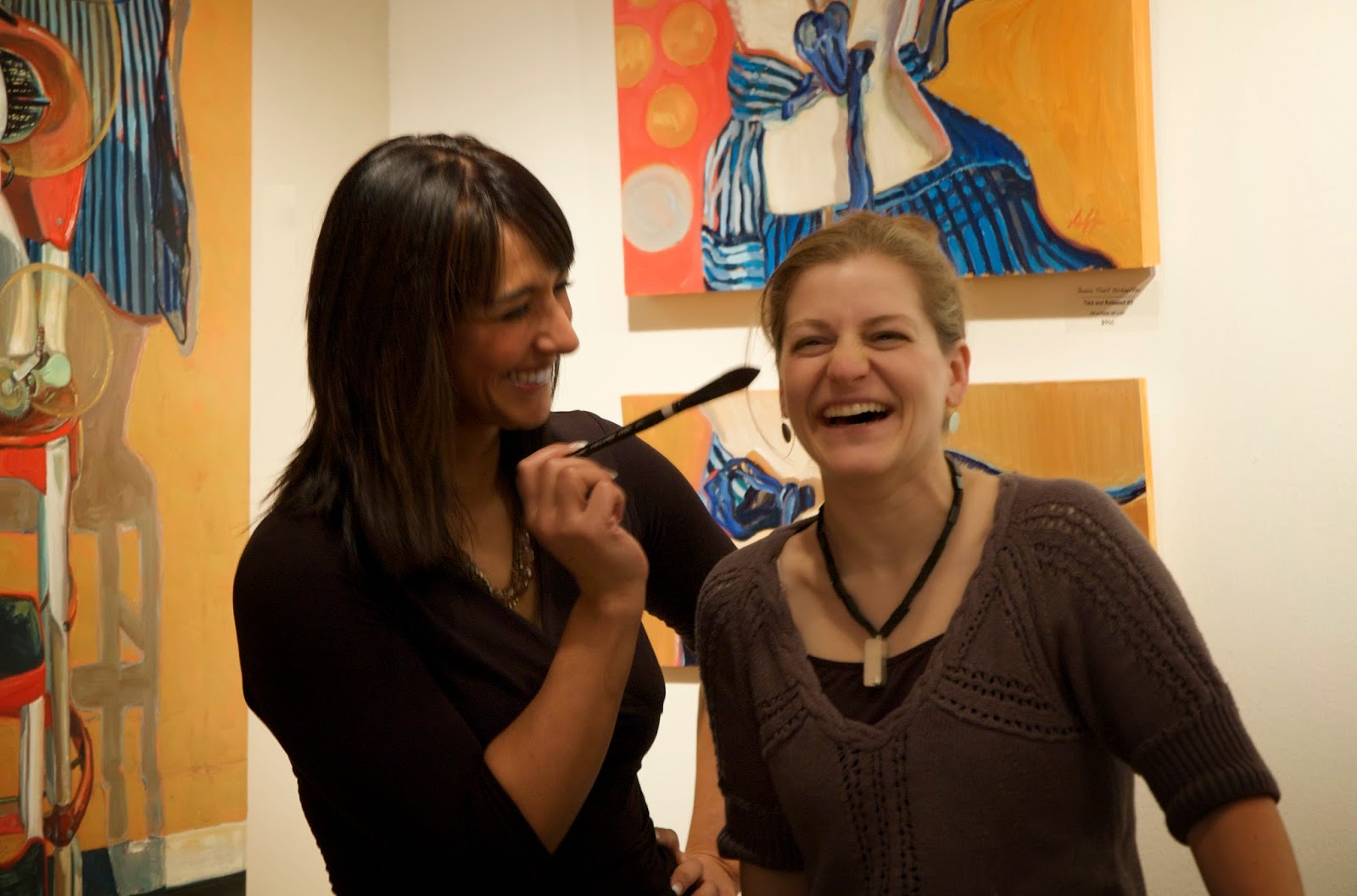 On a personal note, I loved Jennie's lens from which she sees the world so much, that I signed up for a series of lessons with her too. In our lessons, I learned how to build and stretch a canvas (totally got blisters that day) and learned to paint with a knife. I love painting landscapes, sugarcane fields, the Delaware Water Gap and farm lands. To learn more about Jennie's work as an award-winning artist and teacher visit TraillWorks.