Matthew Robbins (center) and Heather Arak (left) at a book signing June 2012.
Last year I had the privilege to assist my good friend Heather create collateral for what she called "fantasy dream weddings". Heather and her husband Nate, run the most special couture stationery shop–
Arak Kanofsky Studios
–and were working with
Matthew Robbins
to put together his new book, Inspired Weddings: Designing Your Big Day with Favorite Objects & Family Treasures.
Inspired Weddings gives couples a handful of gorgeous examples of how to take an object of personal meaning and design the entire wedding around it. Invitations, venue location, flowers, table settings, favors, and (my favorite) menus—are all touched by something special about the inspiring object.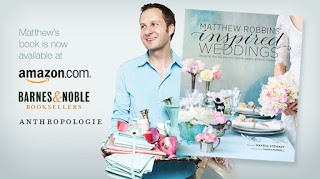 My part in "assisting" was small—I got to create what I considered the most perfect menus for these inspired couples. Now, that my professional focus has shifted from writing and fantasizing about food to writing, fantasizing about LOVE and crafting ceremonies, I'm ready to help Matthew add a new component for his next edition—Inspired Ceremonies!
Matthew jokes (but not really!) that he likes to dress "in palette" when he's with his book.
Our treasured objects and family heirlooms could easily be incorporated into the ceremony and, when appropriate, used in a ritual that would add another layer of meaning to these highly personal symbols. An heirloom cup used in a wedding could be used in other rites of passage and ceremonies: baby namings, house blessings, anniversaries and funerals. Things, and what they become to us, can add a deeper level of meaning to our daily lives if we take a moment to honor their symbolism and our connection with them.