Although each of my couples inspires a unique ceremony, one thing remains relatively constant—the way each ceremony ends. No matter the religious beliefs, ages, size of the wedding or particular journey the couple took to get to this moment, all of my weddings end with the Declaration-where I announce that they are now officially and legally recognized as a married couple. Then they kiss. 
Most people recognize this part–the kiss–as the end of the ceremony. Crossing this threshold of life together, the couple kisses, the crowd cheers and claps, cue some awesome uplifting song and the glowing couple exits.
Although a couple will probably end up with many pictures together kissing and canoodling on their wedding day, there's something really special when the stars align and a photographer can capture this moment as it is happening.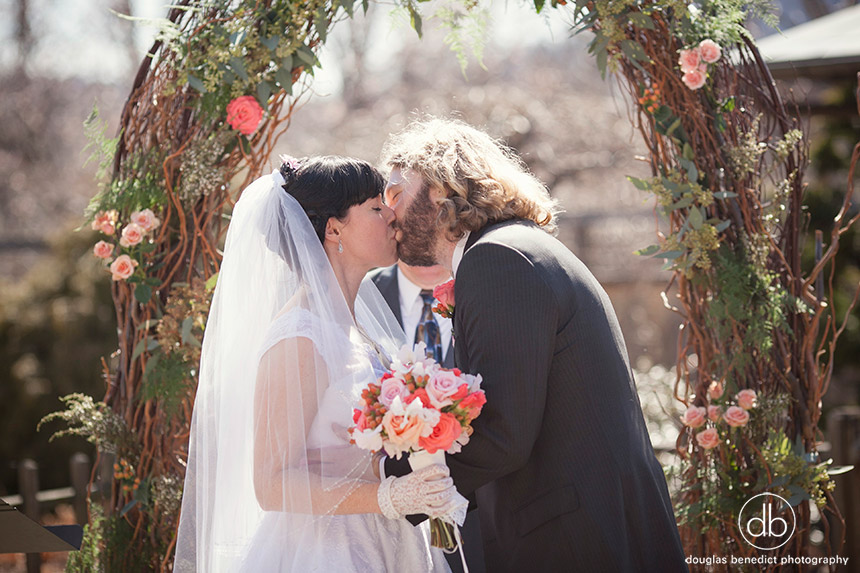 Here's some highlights from my Q&A with Lehigh Valley-based Photographer Douglas Benedict about his kissing advice and where he finds inspiration…
Alisa Tongg: Do you have any general advice for couples who want to have their ceremony kiss captured?
Douglas Benedict: Sometimes it's as simple as making sure they don't have their backs to the audience and the camera.
AT: When you're out on shoots alone with a couple, do you have any hints for helping them to relax and get lost in the moment? When being photographed most people feel like they have to pose, look a certain way, or get stuck in a hard smile (that happened to me recently, thanks for easing me back off the ledge C.J. Dewolf). Do you have a mantra or something that you share with people to help them enjoy?
DB: Very few people genuinely want to have their photo taken but everyone wants good photography. Wedding days are easier because couples tend to be all wrapped up emotionally in the day. On those days, I am all about the candid–catching moments as they really happen, staying out of the way and letting reality unfold.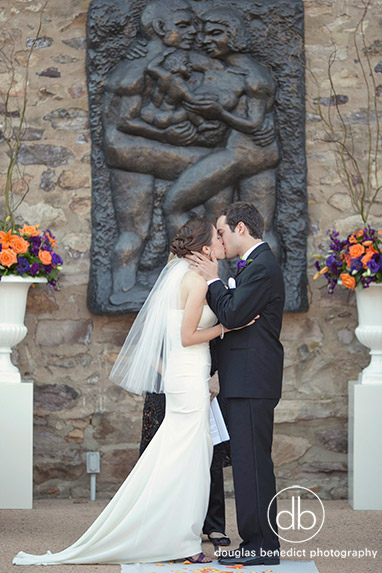 "The body language in these photos show a moment of true intimacy between the couple. They are the only people in the world at that moment. The trick? It's the same trick you need for the entire day: Be lost in the moment. Dial out all the wedding day noise and let yourself get lost in the day. Don't worry about how your kiss will look – just kiss! You just got married!"–Douglas Benedict
Douglas Benedict Photography, LLC is a small independent studio in Bethlehem, PA. They accept a limited number of weddings each year in order to give each couple the personalized attention needed to capture their story in an artistic a beautiful way. For more information visit his website
http://www.douglasbenedict.com/