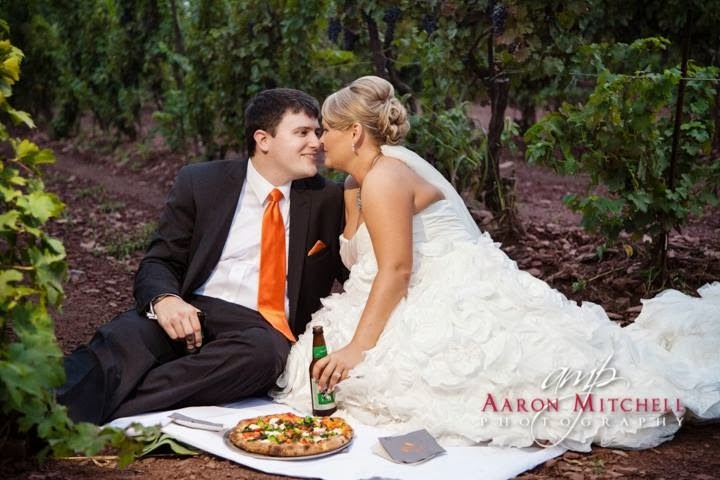 At the end of summer, Krystle and Jason exchanged vows and celebrated the formal start of their new union at Sand Castle Winery, which is situated along the banks of the Delaware River in Pennsylvania's historic Bucks County. With the majority of Krystle's family living in the Midwest and her parents having met her groom on only two occasions (the second of which was a funeral), she wanted "to have our story told" so their guests could have the opportunity to learn more about who they were as a couple.

For Jason, it was important that they honor their families and that their guests see how important his and Krystle's partnership was.
"In the case of Jason and Krystle, it took about two years, a lot of prompting, prodding and fixing up attempts before love started to brew, because as Jason puts it, 'he was a professional.' Don't misunderstand he wasn't blind.

He first noticed Krystle about the time she started working at National Life. Jason had swooped in to save the day and help Krystle set up the AV on a presentation she was to give.
As the months went on, he continued to pay attention when his boss Darcy suggested that Krystle sit in on a bunch of meetings with him for an on-going project. And, as a 'professional' in the field of 'information' he was absolutely invested when Krystle was interrupted in the middle of a training session and asked (kind of not professionally) if she was single?
The Professional/Personal lines can get blurry and complicated in the modern day workplace. But now that Jason knew that Krystle was single, he was ready to take action, "I called her office line and got her voicemail, so I hung up. I called back, got her voicemail, and hung up. Around this time, she had returned to her office and assumed we had broken something, so when I called back a third time and asked her to lunch, I got an excited "Sure!"
But as Jason hung up the telephone, he wasn't sure if she understood that he had just asked her out on a date. They had been working on a long term project together, after all. Thinking that Krystle, (the real professional), might be under the impression that this was a working lunch and not a date, Jason prepared himself for the very likely event that Krystle might bring along a colleague. So when the moment of truth came for their lunch date, he was relieved that when Krystle arrived—she came alone.
After two years of being 'professional' and not talking to each other, on a Wednesday afternoon over lunch at a local Italian restaurant-the conditions were finally right. Jason courageously pitched his metaphorical yeast and Love finally started to brew between this couple. And you know, there's nothing more worthwhile in this life than sharing a plate of spaghetti and your dreams with someone.
What started with a Lady And The Tramp-style lunch, Jason and Krystle's courtship soon involved amazing camping trips (something they both had fond memories doing when they were younger with their own families), beer festivals, visiting countless microbreweries (Jason proposed at Wisconsin's New Glarus Brewing Company, Krystle's favorite brewery) and a Memorial Weekend Trip to Pennsylvania to visit Jason's family. Krystle says, "I knew I wanted to be with him for the rest of my life after that trip…I felt like I belonged in his family and I always enjoyed traveling to new places with Jason."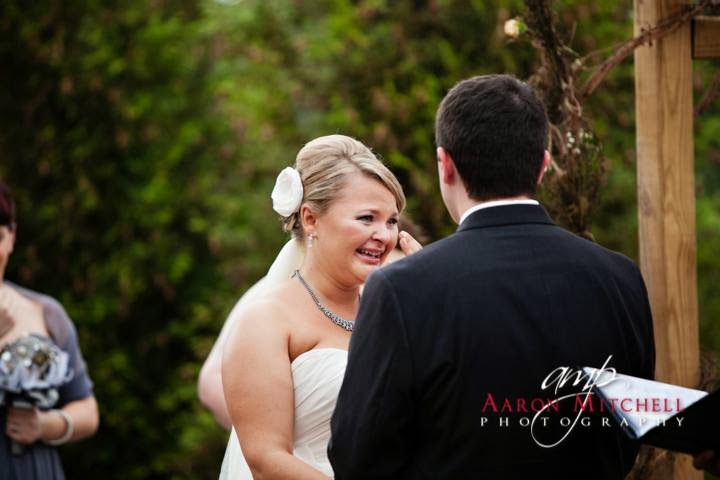 For their ceremony, family and friends were treated to a touching and emotional performance as the bride and groom took turns reading a favorite passage about relativity from Albert Einstein:
Gravitation cannot be held responsible for people falling in love. How on earth can you explain in terms of chemistry and physics so important a biological phenomenon as first love?
Put your hand on a stove for a minute and it seems like an hour. Sit with that special girl for an hour and it seems like a minute. That's relativity.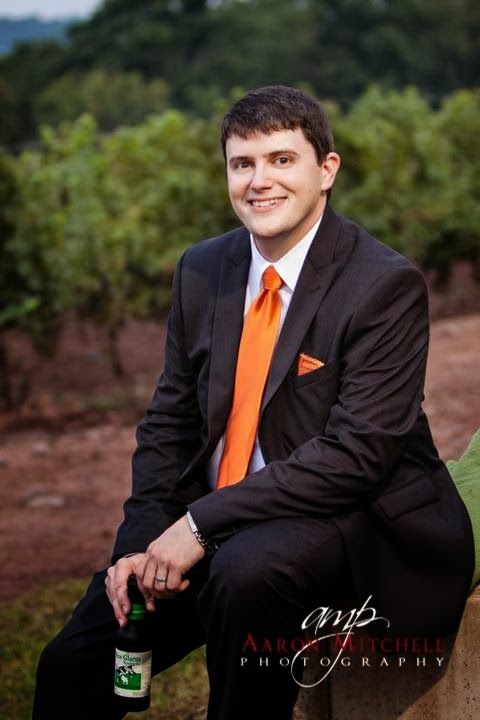 Anyone who knows Jason, knows that he's passionate about brewing beer and one day hopes to start his own brewing company as well as a family with Krystle.

So it would make sense that the themes of beer and partnership would be woven throughout the entire wedding.
Jason and Krystle included a Libations Box + Love Letters section in their ceremony, where they placed love letters and a bottle of lambic in a wooden box made by Jason's father from wood provided by Krystle's family's lumber company. At their reception, guests were treated to a selection of beers, ales and lagers that Jason brewed just for the occasion.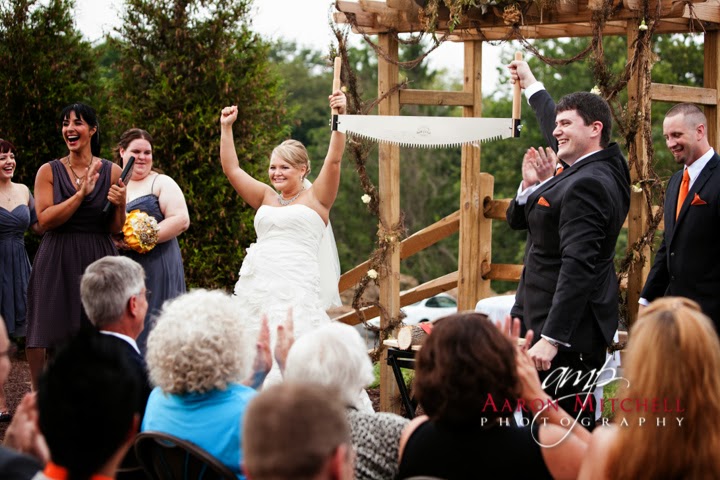 ---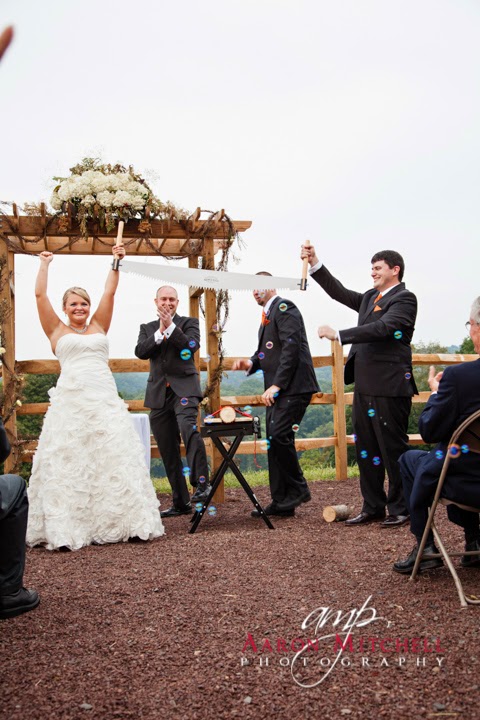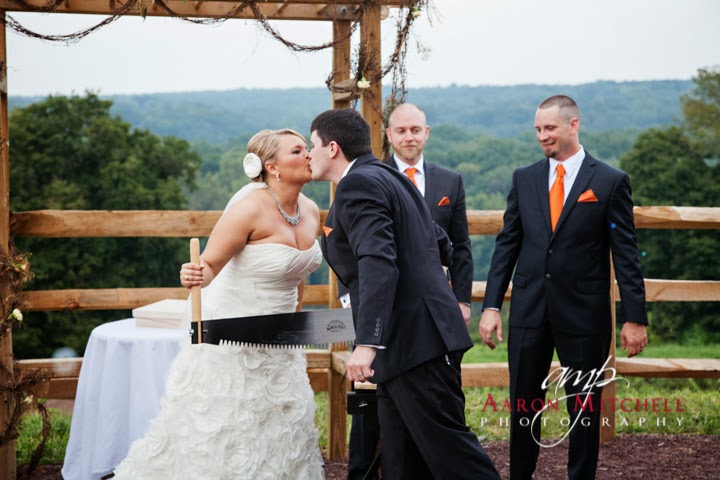 And to kick off the official start of their marriage by emphasizing the importance of their partnership, Krystle and Jason chose to partake in the German tradition where a newly wed couple saws a log in half. "This act is a physical representation of their promise to overcome life's obstacles together and is also a good reminder to appreciate how your differences can compliment your relationship. Krystle and Jason you'll need to be equal partners in order for your tools to work and to ultimately accomplish this task."
I am happy to report that, with a little help from their friends, Krystle and Jason were successful in overcoming this first obstacle together as a married couple. May all who know and love Jason and Krystle raise a glass to their happiness!
A special thank you to Aaron Mitchell Photographyfor capturing so many wonderful moments at this wedding celebration. I just love Krystle's infectious smile!