Amity and Jesse knew that they wanted their guests to feel "togetherness and warmth" and included during their wedding ceremony. Jesse says, "I feel that our love for each other is very big…having all of these people we care about celebrating us will get our marriage off to a meaningful start." The couple accomplished this in spades, by inviting many of their closest friends and family to participate formally in their wedding ceremony as readers as well as serving in their wedding party.
A few ceremony highlights that made this a unique experience for all in attendance were a reading in honor of their first child, a chocolate tasting and prayer flag waving ceremony finale.
Guests picked up their own prayer flag with modern blessing as they entered the ceremony space.
---
Ceremony space under the birch and prayer flag blessings.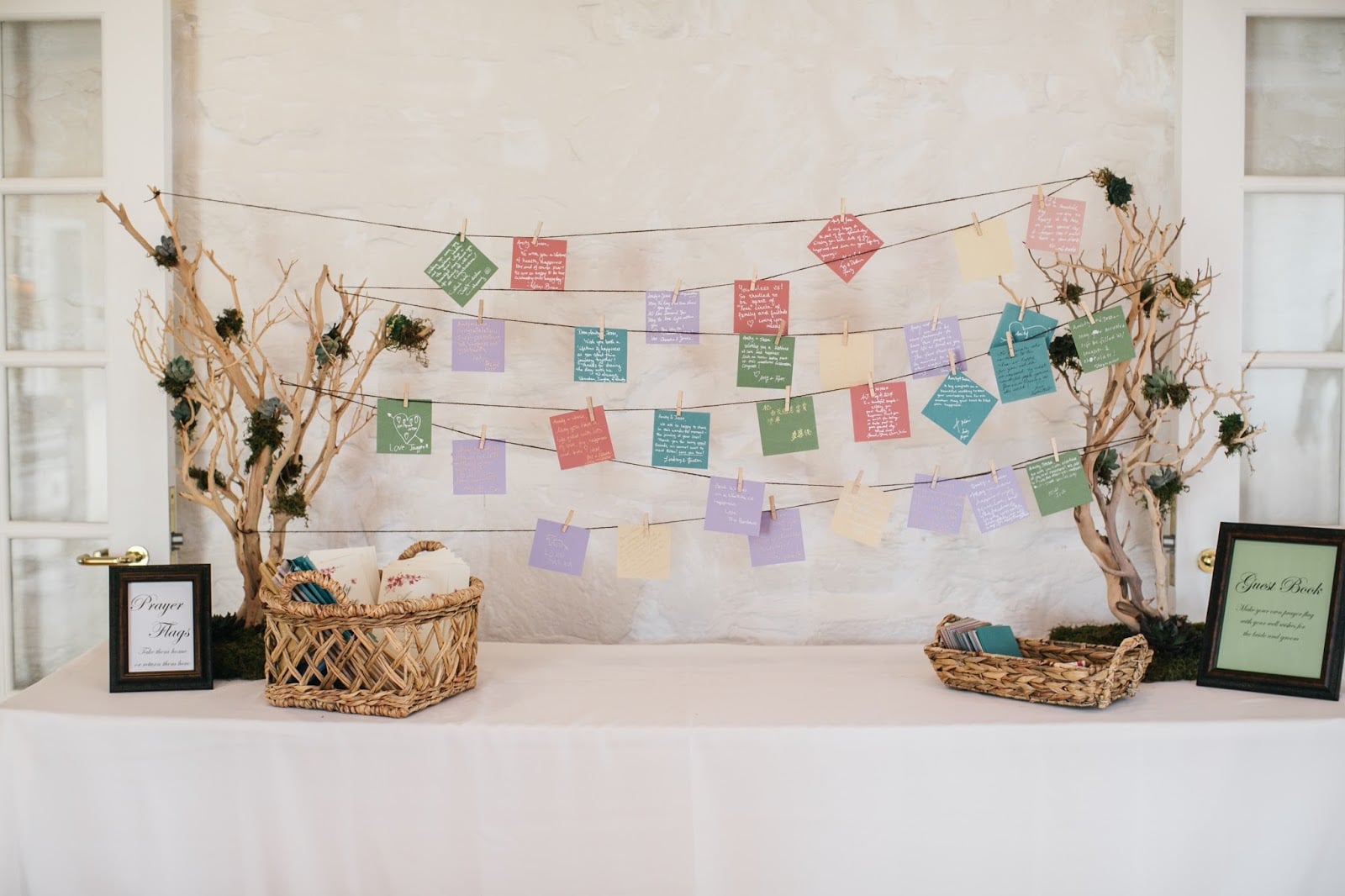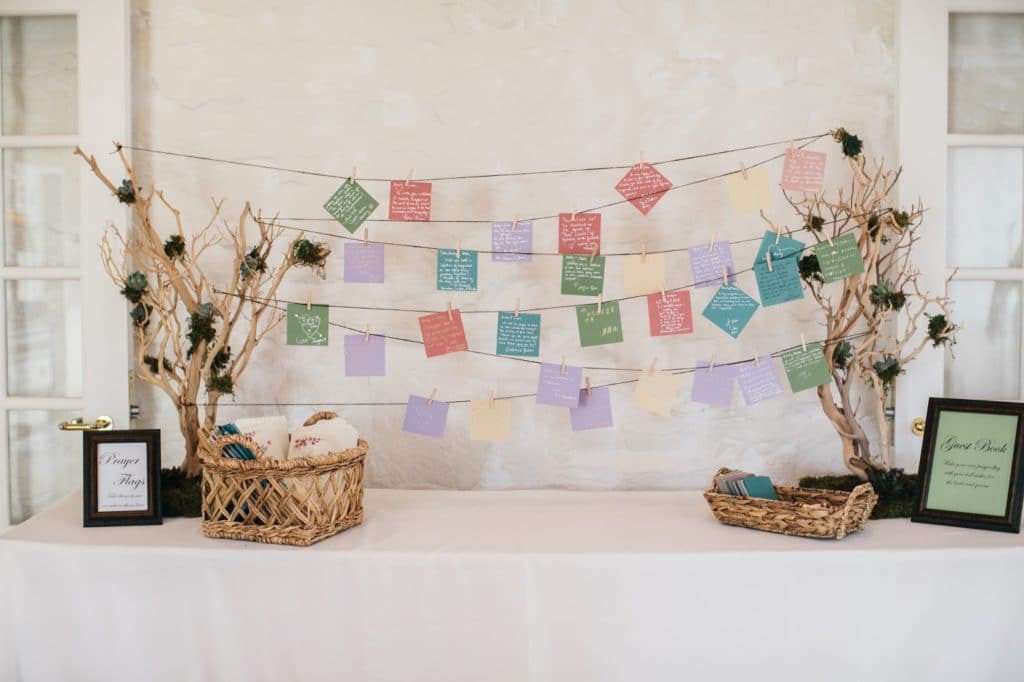 Prayer flag inspired "guest book"
Reading for Rilke, a poem was read and dedicated in honor of the much-anticipated arrival of their first child, a son, Rilke Everett Swain, who this summer just celebrated his first birthday. When the baby Rilke's name was announced, Amity who was in her second trimester of pregnancy shares, that she suddenly felt the baby give a hard kick "as if to say, 'That's me!'"
After exchanging vows and heirloom rings, (the bride wore Jesse's grandmother's wedding ring) the couple partook in a chocolate tasting ritual illustrating the traditional promise to love "for better or worse" inspired by Jesse's passion for chocolate. I've written about their Chocolate Tasting Ritual here.
Perhaps the most significant moment came at the end of the ceremony at the Seven Steps into the Sunset finale, where guests were invited to wave their prayer flags (that had been printed with custom blessings for the couple as a family DIY project) as the couple took their first steps together into married life.
---
---
In a momentous moment, just as I explained that "according to tradition, prayer flags are imbued with the power of the symbols printed on them", and that "Tibetans believe that the wind, like a magnificent horse upon which blessings ride, blows the prayers and well-wishes to all in the surrounding space, spreading love and positivity to all", gusts of wind filled the space and the tent billowed beautifully around everyone.
---
---
Each prayer flag was printed with one of seven modern blessings the couple had family members bestow upon them at the conclusion of their wedding ceremony.
When I look back on the moments Emily Wren captured throughout the day, my heart swells seeing loved ones continuing to wave their blessing prayer flags to demonstrate their best wishes toward the couple. Congratulations Jesse + Amity!!!
---
Emily Wren Photography
Robertson's Flowers
The Manor at Prophecy Creek, Ambler PA