We need you now! We are almost there! Our Pennsylvania Civil Celebrant Bill SB 833 has been introduced by Sens. Farnese, Fontana, Blake and Brewster and the bill is similar to the NJ Civil Celebrant Law R.S.37:1-13 amending their marriage statutes to expand their list of who is authorized to solemnize marriages in the state. Along with judges, mayors, and clergy, they added a new category of people professionally trained to create and perform ceremonies–Civil Celebrants. For that to happen, they need your help to advance this bill up for a vote!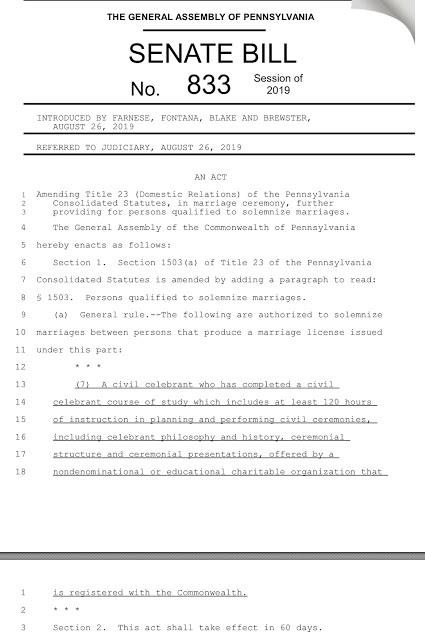 https://www.legis.state.pa.us/CFDOCS/Legis/PN/Public/btCheck.cfm?txtType=HTM&sessYr=2019&sessInd=0&billBody=S&billTyp=B&billNbr=0833&pn=1142
Last year, only 1:4 weddings took place in a traditional religious institution, that means that the overwhelming majority of modern couples are hosting their weddings and ceremony in a venue or out in nature, not in a church.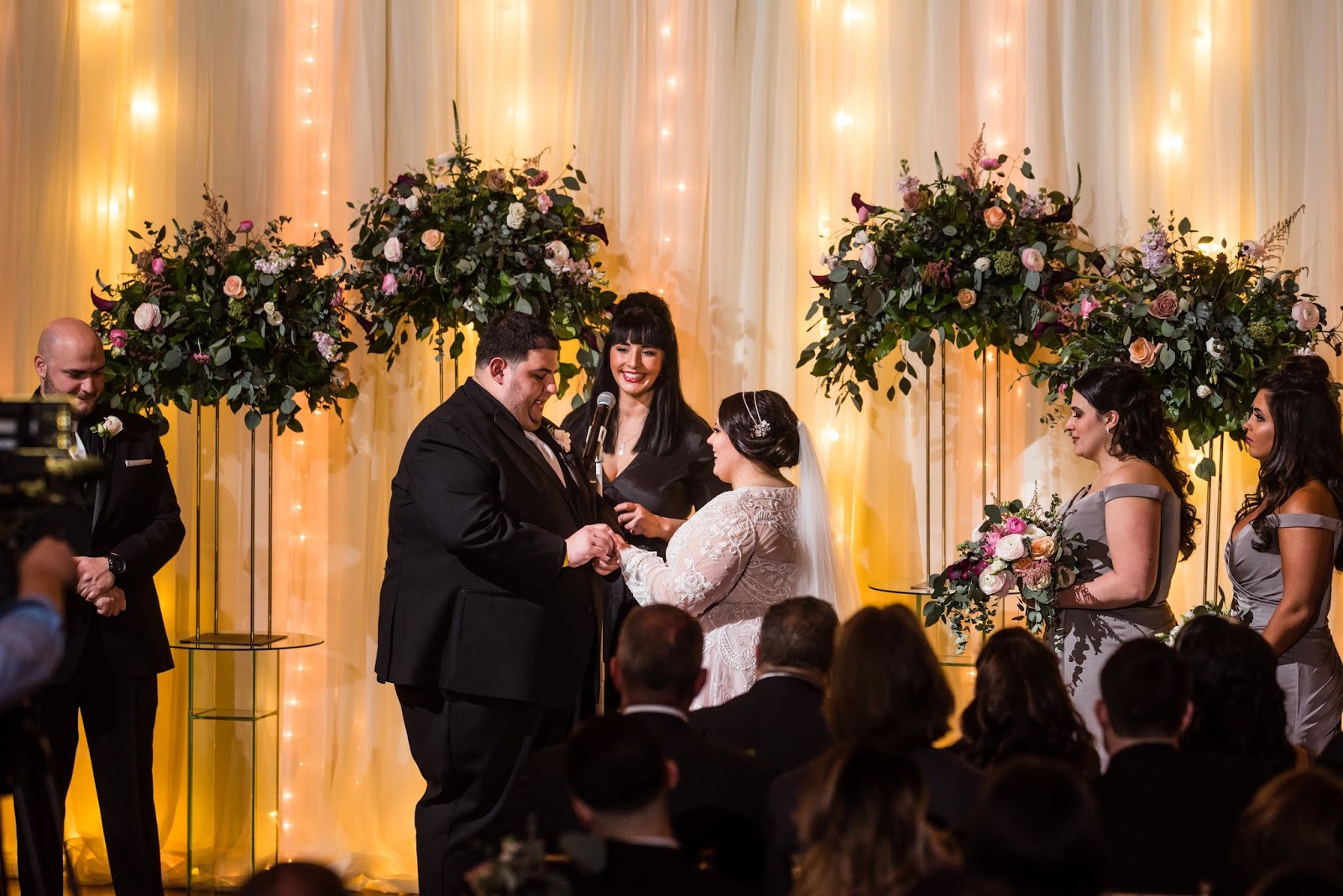 Alexa & Frank at their wedding and ceremony in the Philadelphia Union Trust Building, Laura Napoli Photography
Nearly 40% of Pennsylvanians 30 years old and younger are "Unaffiliated" with a religion. The religiously unaffiliated, in fact, are the second largest religious group in the commonwealth (right after Catholics). And furthermore, Pennsylvania is considered a "more religiously diverse" state, meaning that the occurrences of interfaith marriages are much higher here than in other parts of the country.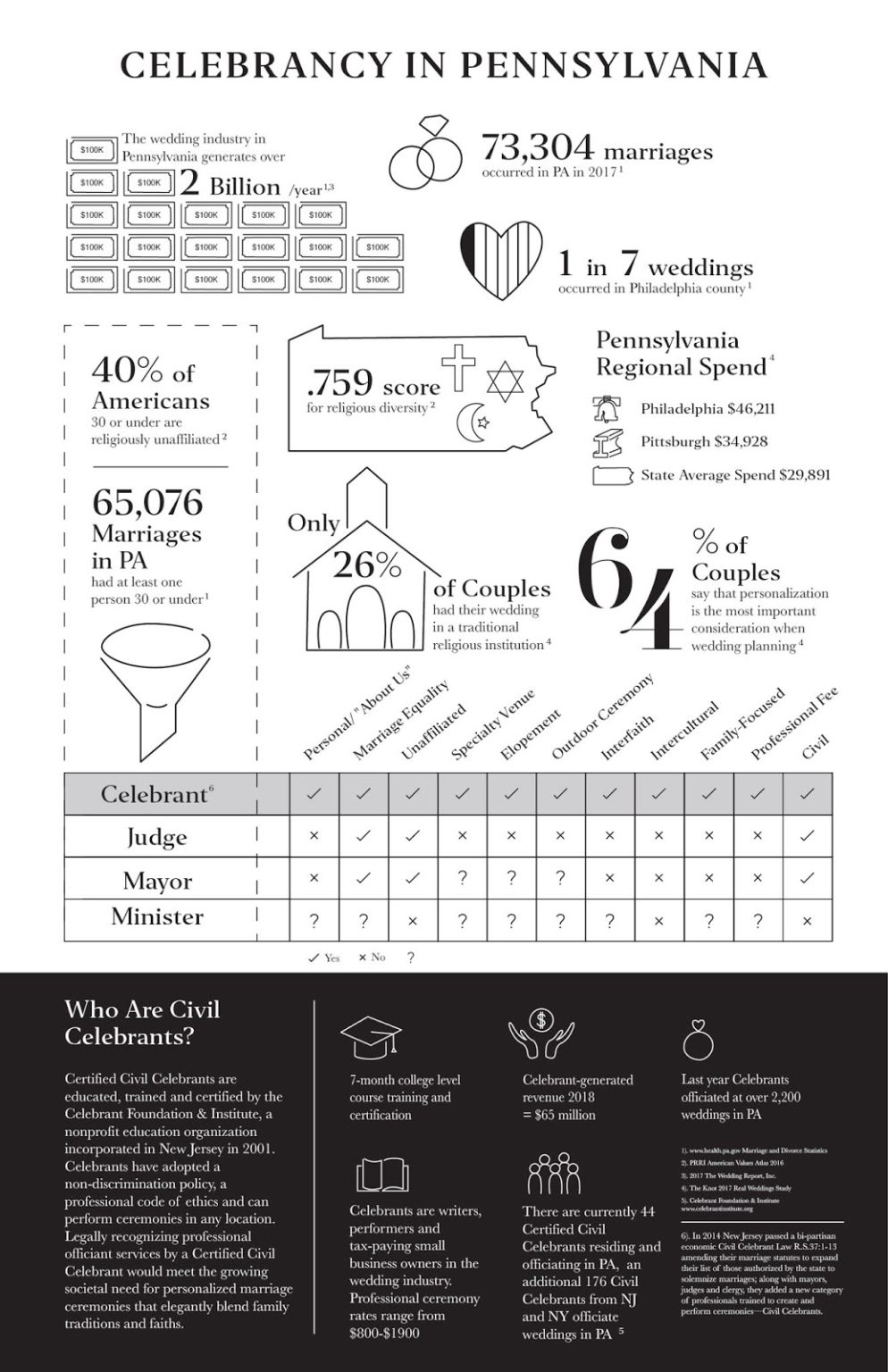 Couples who want a religion-free wedding ceremony, or a wedding ceremony that honors more than one faith or culture) are being left behind by our current marriage laws.
This is the time to reach out to your State Senator to let them know how very important the bill is to the PA wedding industry.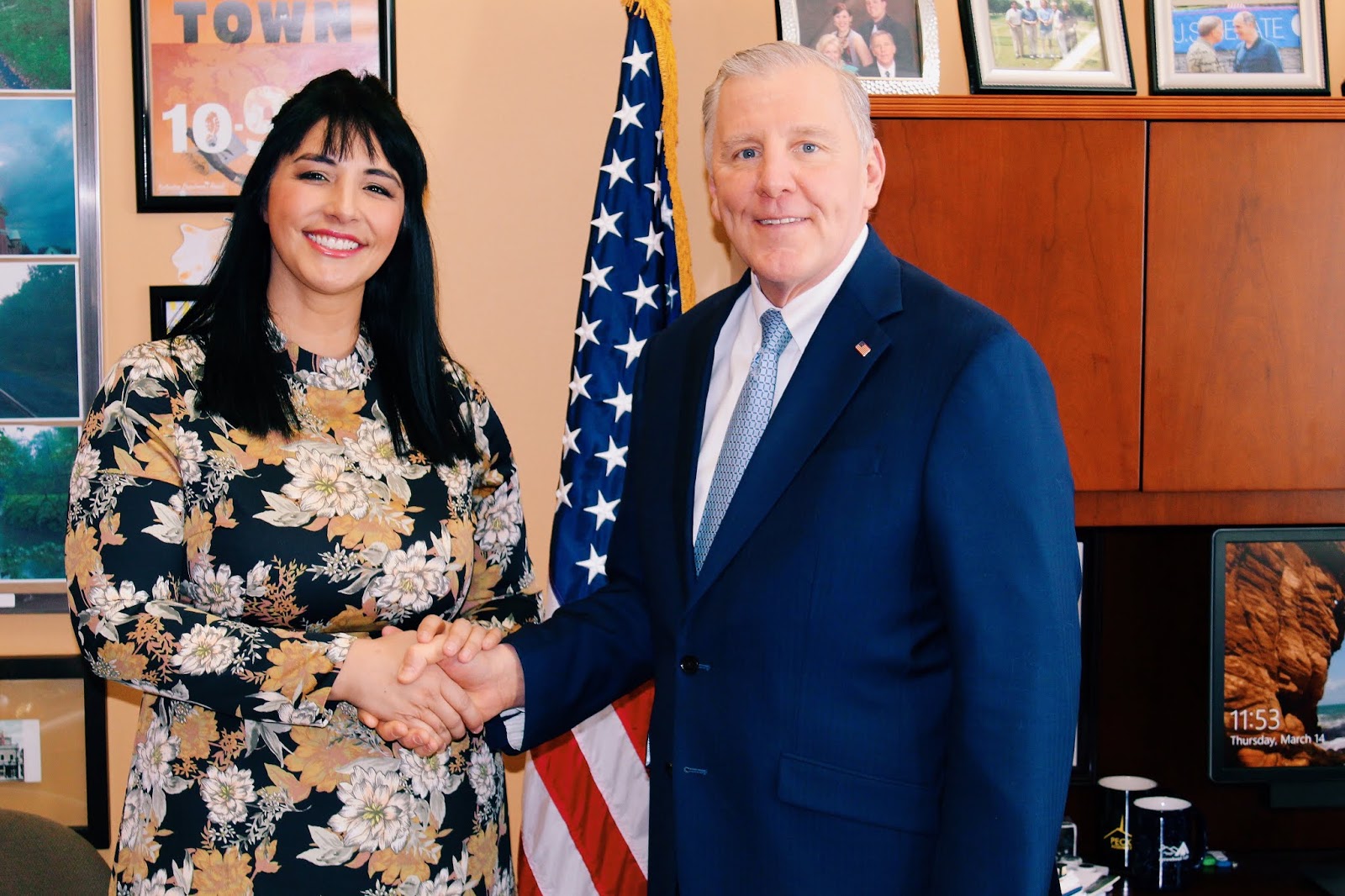 Celebrant Alisa Tongg with Pennsylvania Senator John Blake
Let's do this now! See the list attached for the PA Judiciary Committee, then please go to their websites and contact them. These are the Senators who will decide if this bi-partisan economic bill goes up for a vote.
FOR SB 833 Civil Celebrancy Bill
Senate Judiciary:
Senator Lisa Baker (R)
Lawrence Farnese (D)
Wayne Langerloc Jr.
Joseph Scarnati III
Camera Bartlotta
Scott Martin
Joe Pittman
Mike Regan
Gene Yaw
Maria Collett
Art Haywood
John Sabatina
Steven Santarsiero
Senator Tina Tartaglione
Senator Lawrence Farnese Jr. 
Senate Box 203001 
Harrisburg, PA 17120-3001
Room: 543 Main Capitol
(717) 787-5662 
FAX: (717) 787-4531
Senator Lisa Baker 
Senate Box 203020 
Harrisburg, PA 17120-3020
Room: 362 Main Capitol
(717) 787-7428 
FAX: (717) 787-9242
Senator Lisa Baker 
22 Dallas Shopping Center 
Dallas, PA 18612 
(570) 675-3931 
FAX: (570) 674-5037
Senator Lisa Baker 
2512 Route 6 
Hawley, PA 18428 
(570) 226-5960 
FAX: (570) 226-5964
Senator Wayne Langerholc Jr. 
Senate Box 203035 
Harrisburg, PA 17120-3035
Room: 187 Main Capitol
(717) 787-5400 
FAX: (717) 772-0573
Senator Joseph Scarnati III 
Senate Box 203025 
Harrisburg, PA 17120-3025
Room: 292 Main Capitol
(717) 787-7084 
FAX: (717) 772-2755
Senator Camera Bartolotta 
Senate Box 203046 
Harrisburg, PA 17120-3046
Room: 19 East Wing
(717) 787-1463 
FAX: (717) 772-2108
Senator Camera Bartolotta 
95 West Beau Street 
Suite 107 
Washington, PA 15301 
(724) 225-4380 
FAX: (724) 225-4386
Senator John Gordner 
Senate Box 203027 
Harrisburg, PA 17120-3027
Room: 177 Main Capitol
(717) 787-8928 
FAX: (717) 787-9715
Senator John Gordner 
603 West Main Street 
Bloomsburg, PA 17815 
(570) 784-3464 
FAX: (570) 784-9379
Senator Scott Martin 
Senate Box 203013 
Harrisburg, PA 17120-3013
Room: 459 Main Capitol
(717) 787-6535
Senator Scott Martin 
48-50 W. Chestnut Street 
Suite 308 
Lancaster, PA 17603 
(717) 397-1309
Senator Joe Pittman 
Senate Box 203041 
Harrisburg, PA 17120-3041
Room: 281 Main Capitol
(717) 787-8724
Senator Joe Pittman 
618 Philadelphia Street 
Indiana, PA 15701 
(724) 357-0151 
FAX: (724) 357-0148
Senator Joe Pittman 
109 South Jefferson Street 
Kittanning, PA 16201 
(724) 543-3026 
FAX: (724) 548-4856
Senator Mike Regan 
Senate Box 203031 
Harrisburg, PA 17120-3031
Room: 15 East Wing
(717) 787-8524
Senator Mike Regan 
1 East Harrisburg Street 
Dillsburg, PA 17019 
(717) 432-1730 
FAX: (717) 432-1733
Senator Mike Regan 
2151 Market Street 
Camp Hill, PA 17011 
(717) 975-1985
Senator Gene Yaw 
Senate Box 203023 
Harrisburg, PA 17120-3023
Room: 362 Main Capitol
(717) 787-3280 
FAX: (717) 772-0575
Senator Gene Yaw 
175 Pine Street 
Suite 105 
Williamsport, PA 17701 
(570) 322-6457 
FAX: (570) 327-3703
Senator Maria Collett 
Senate Box 203012 
Harrisburg, PA 17120-3012
Room: 183 Main Capitol
(717) 787-6599
Senator Maria Collett 
Gwynedd Corporate Center 
1180 Welsh Road 
Suite 130 
North Wales, PA 19454 
(215) 368-1429 
FAX: (215) 368-2374
Senator Maria Collett 
1410 West Street Road 
Suite A 
Warminster, PA 18974 
(215) 674-1246 
FAX: (215) 674-1361
Senator Art Haywood 
Senate Box 203004 
Harrisburg, PA 17120-3004
Room: 10 East Wing
(717) 787-1427 
FAX: (717) 772-0572
Senator Art Haywood 
1168 Easton Road 
Abington, PA 19001 
(215) 517-1434 
FAX: (215) 517-1439
Senator Art Haywood 
7106 Germantown Avenue 
Philadelphia, PA 19119 
(215) 242-8171 
FAX: (215) 242-6118
Senator John Sabatina Jr. 
Senate Box 203005 
Harrisburg, PA 17120-3005
Room: 457 Main Capitol
(717) 787-9608 
FAX: (717) 772-2162
Senator John Sabatina Jr. 
12361 Academy Road 
Philadelphia, PA 19154 
(215) 281-2539 
FAX: (215) 281-2798
Senator John Sabatina Jr.
8016 Bustleton Avenue 
Philadelphia, PA 19152 
(215) 695-1020 
FAX: (215) 695-1027
Senator Steven Santarsiero 
Senate Box 203010 
Harrisburg, PA 17120-3010
Room: 184 Main Capitol
(717) 787-7305
Senator Steven Santarsiero 
Building 100, Suite 121 
2003 Lower State Road 
Doylestown, PA 18901 
(215) 489-5000
Senator Steven Santarsiero 3 Terry Drive Suite 201 Newtown, PA 18940 (215) 497-9490