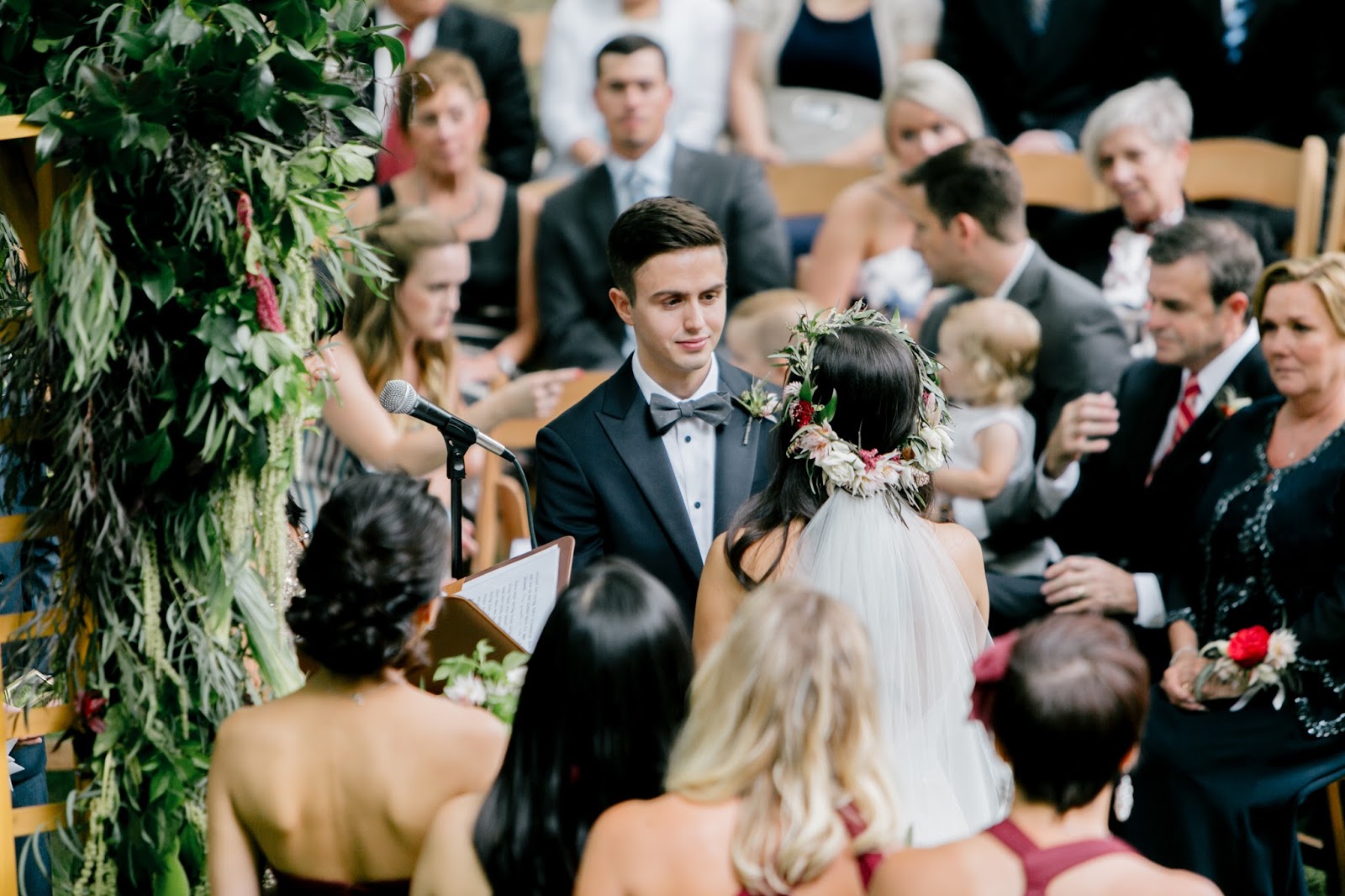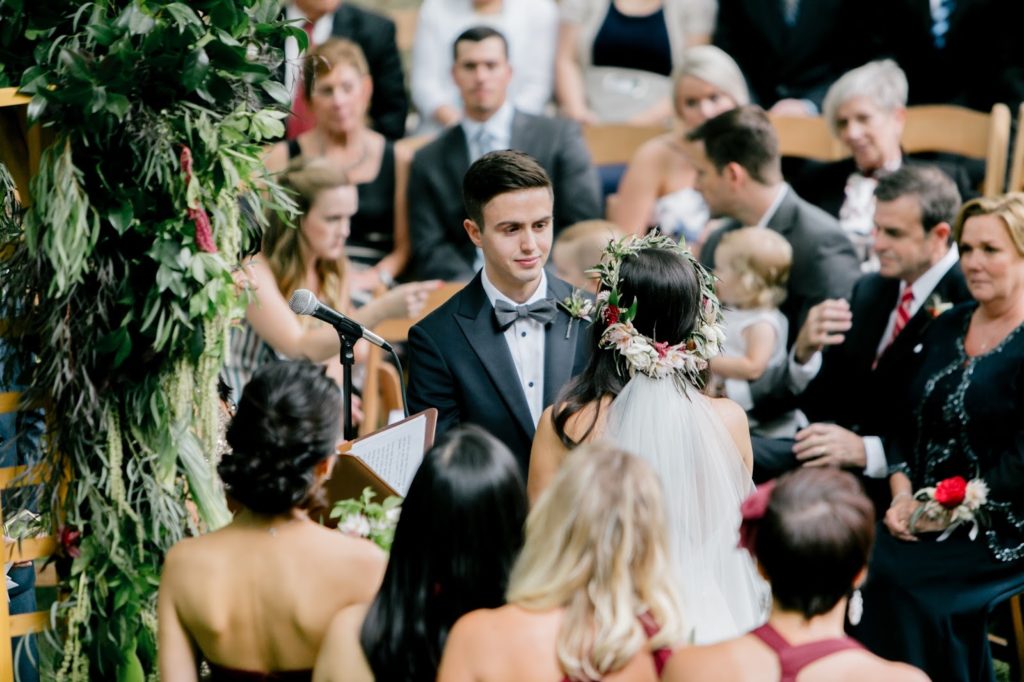 I had the pleasure of working together with Susan and Tom to create two ceremonies (a Western-style love story-centered one, as well as a traditional Chinese Tea ceremony) for their wedding celebration at Pomme at Radnor this summer. With two ceremonies comes a costume change–for the couple and the ceremony space. Susan and Tom's talented team of wedding vendors focused on design elements and details that would tell a bigger story and help to bring all the parts together enabling Tom and Susan's love to shine through…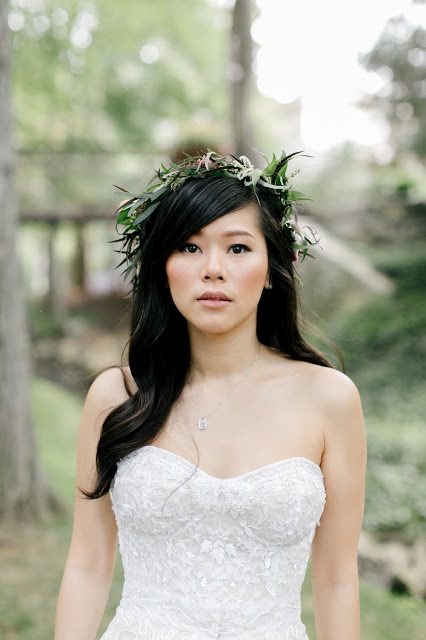 ---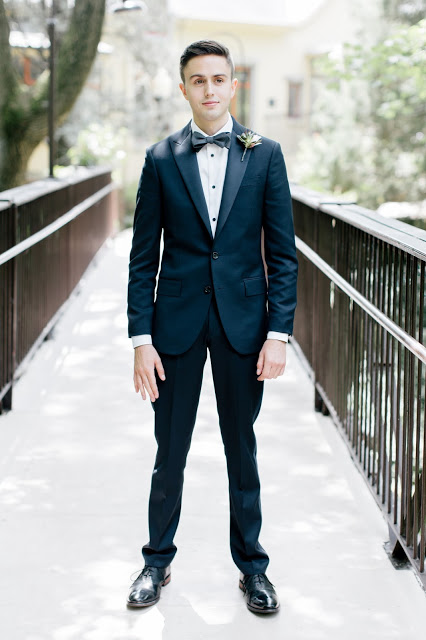 An excerpt from their ceremony Love Story (Here's where I give my first ceremony shout out to Helen Fisher)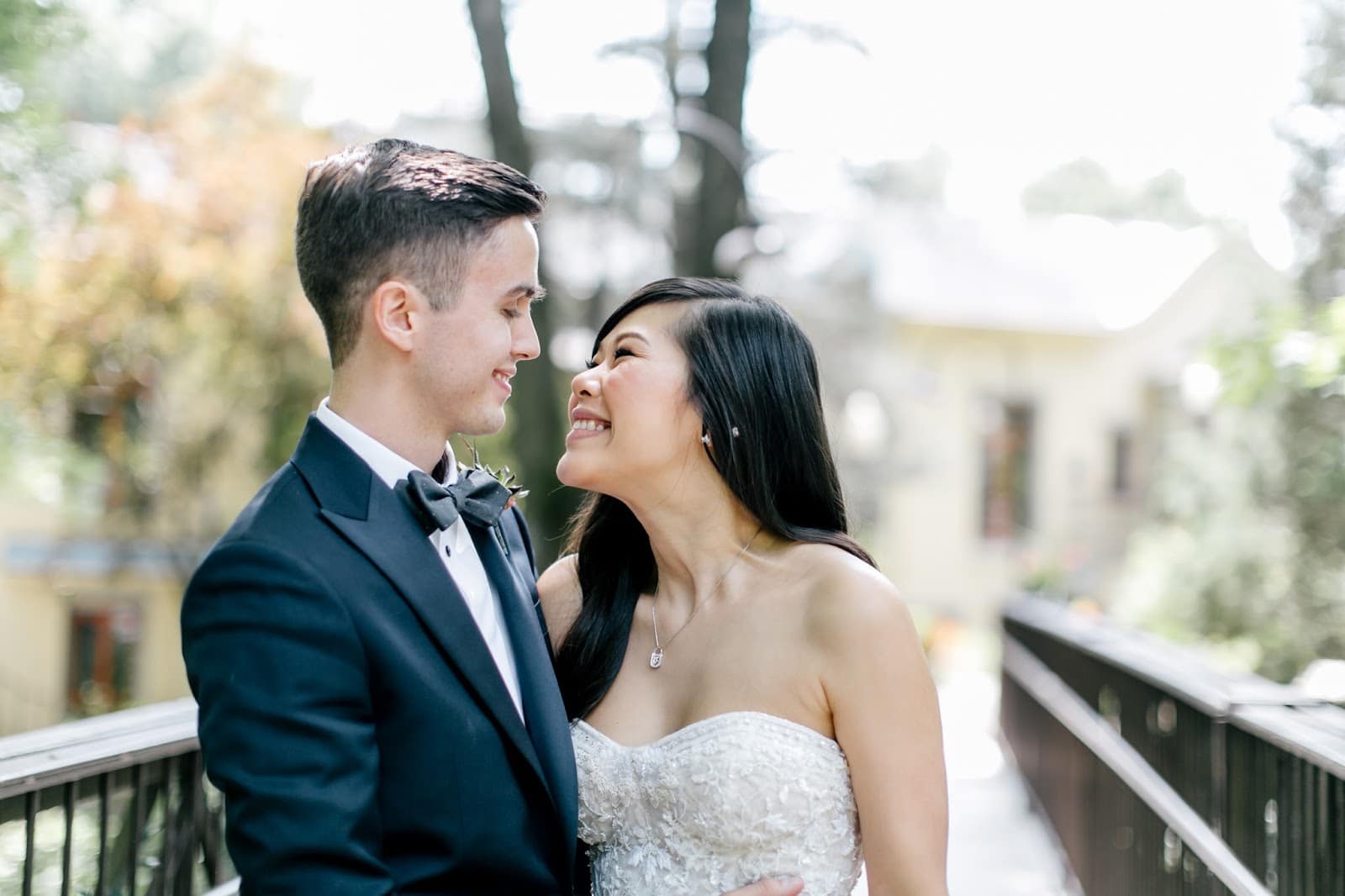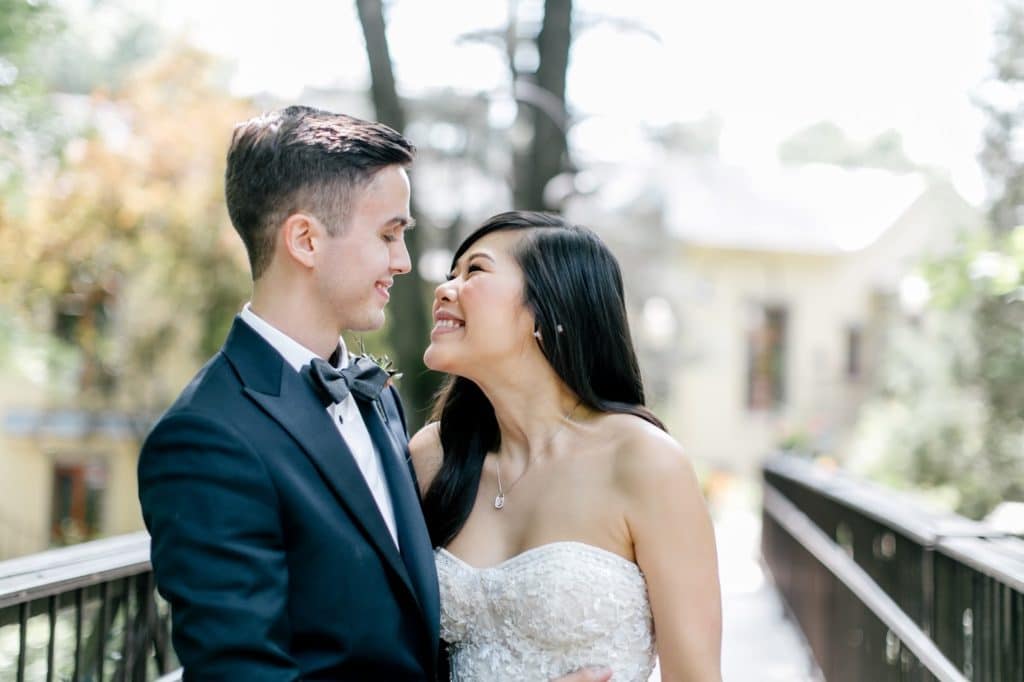 According to Rutgers University anthropologist, Helen Fisher: it only takes one second to intuitively decide if we are attracted to someone. A second or two later, as we gather more information, we might (and often) change our minds. But to help ensure that the right One doesn't get away, our bodies produce a host of physiological signals to grab our attention—our hearts race, palms might sweat, pupils dilate, we might get clumsy or tongue-tied, hormones like dopamine flood the reward center of our brains—all of these physical responses serve one purpose: to tell us in no uncertain terms, that something vitally important is happening…to pay attention to what's in front of you.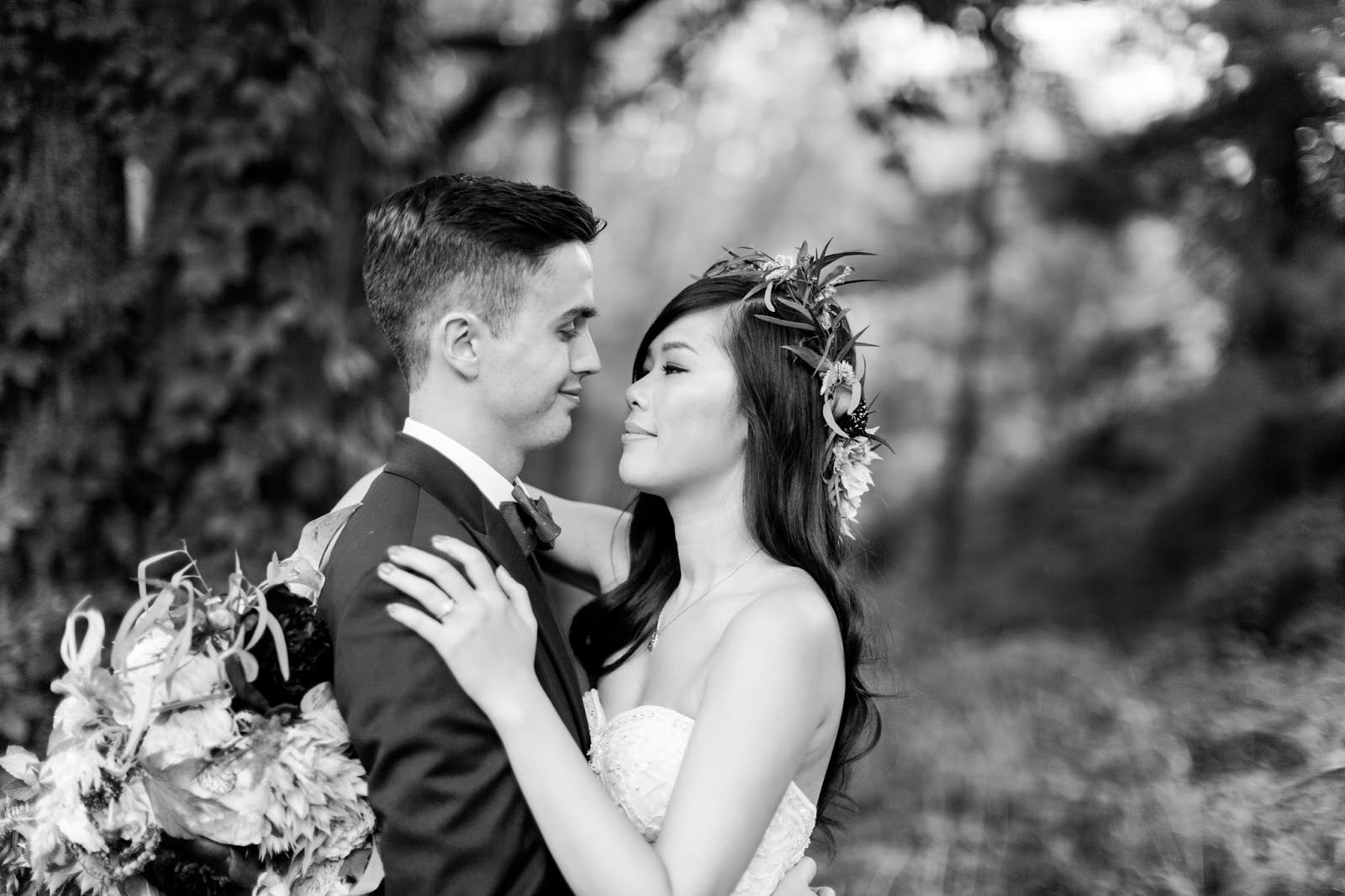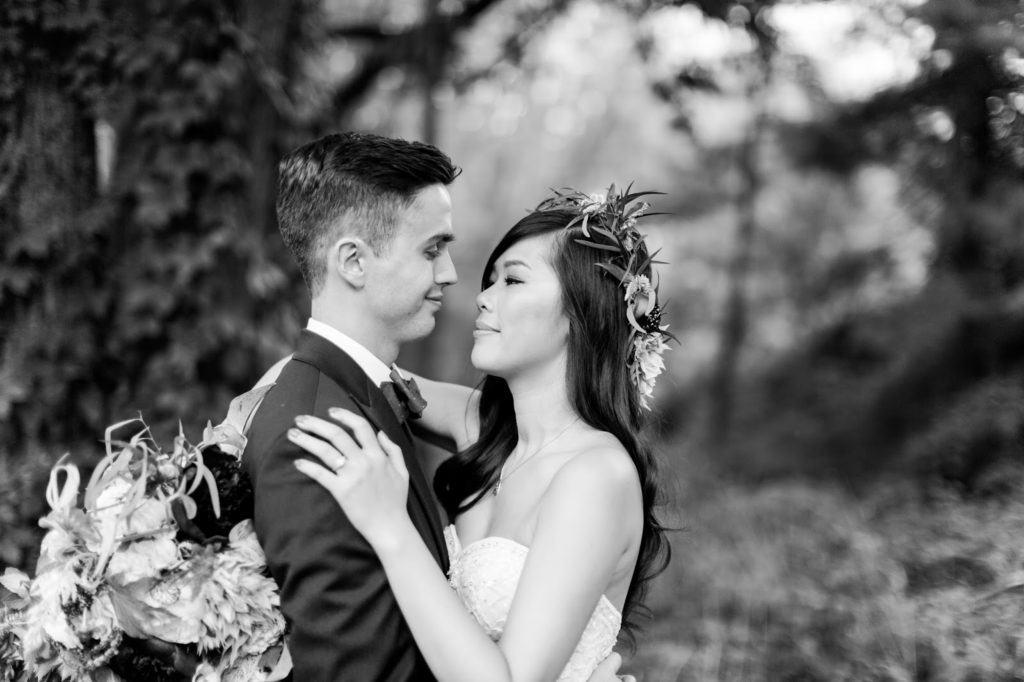 ---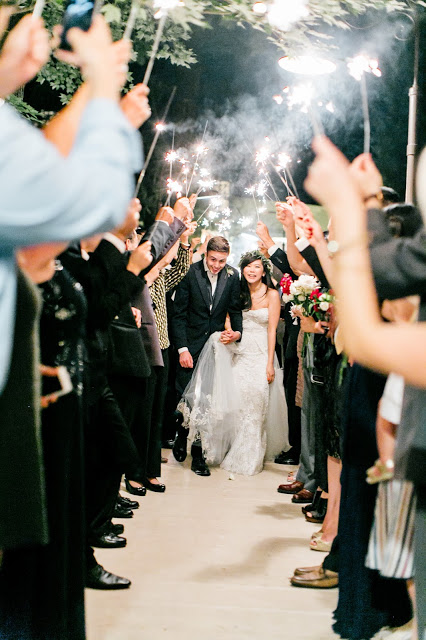 The night that Susan and Tom first met, they had the benefit of another blazing signal that they couldn't ignore—a fire alarm had gone off in their in their dormitory at Widener University. Standing outside in all of the excitement, huddled together their mutual friend Kendall made the introduction. Susan remembers that she was "attracted to Tom at first sight"…and at second and third sight too. And Tom says he "immediately liked Susan" but used all of his reserves to try to play it cool.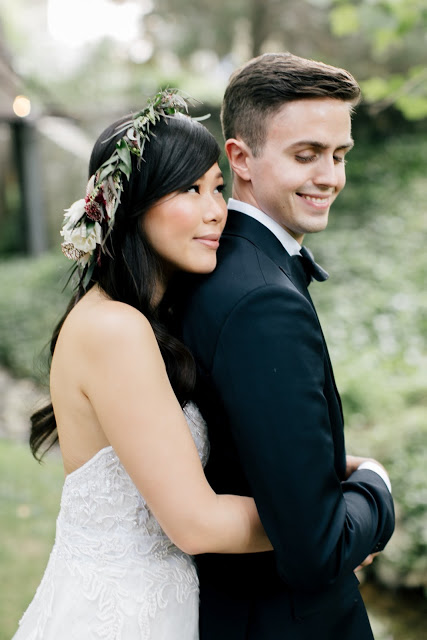 Susan and Tom became fast friends and falling in love with each other was inevitable. They'd watch movies together into the early morning and find excuses to run into each other on campus. Susan noticed how strong Tom's friendships were and how he was always there for the people in his life.
Susan says during those early days of being "head over heels", when neither of them were brave enough to admit to the other what was developing between them, during that heady time, she devoted every single wish—eyelash wishes, 11:11 wishes and her birthday wish—to capturing Tom's heart.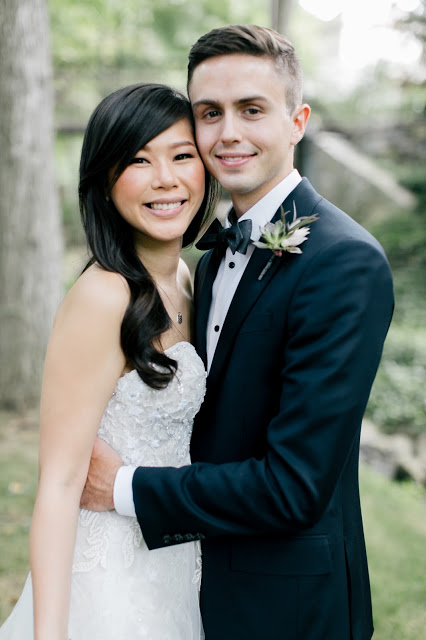 And unbeknownst to Susan…her wishes had already been granted, Tom says he fell in love with Susan quickly in their first few months of friendship, but he was young, and as a teenager, freshman year in college, he didn't have the courage to vocalize how he felt until well over a year later, when it was almost too late.
Freshman year came to an end, and Tom still hadn't told Susan how he felt about her. This actually made Susan's decision to transfer to Temple University a little easier, she would start again fresh and try to get thoughts of Tom out of her head.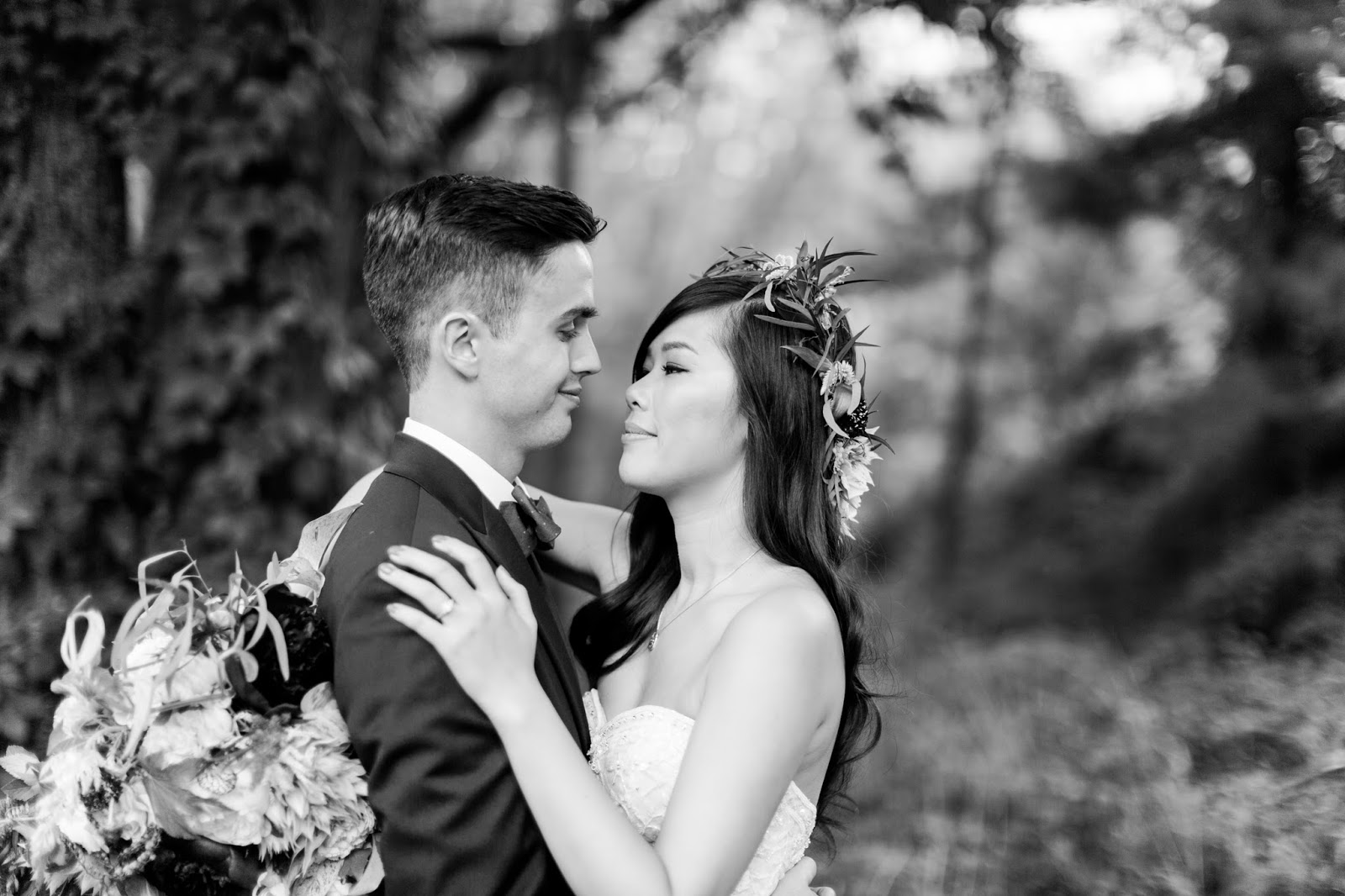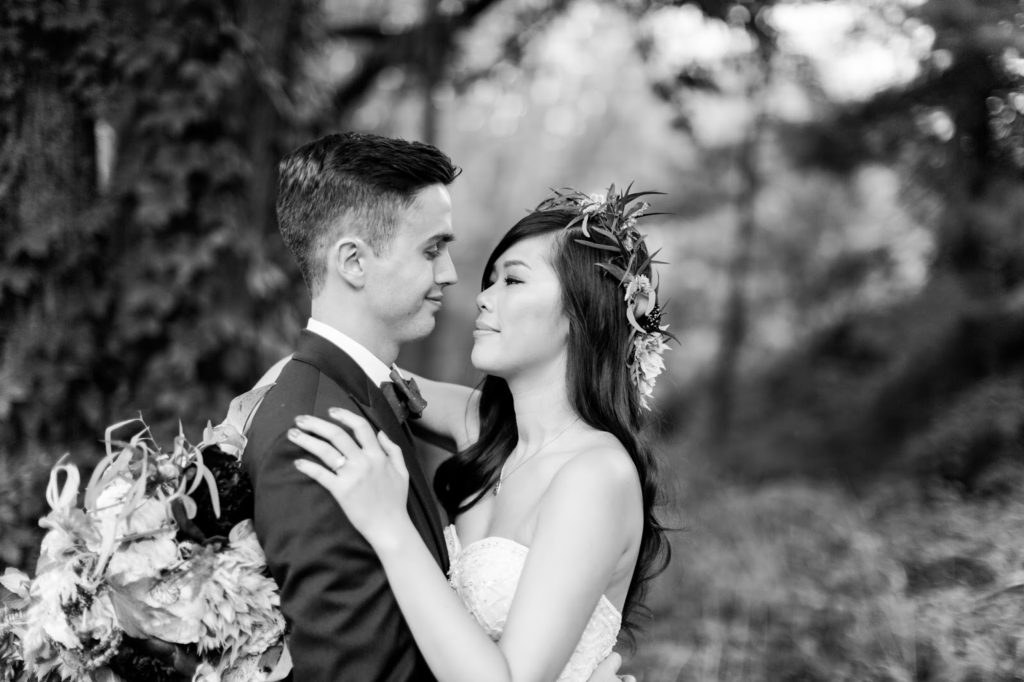 ---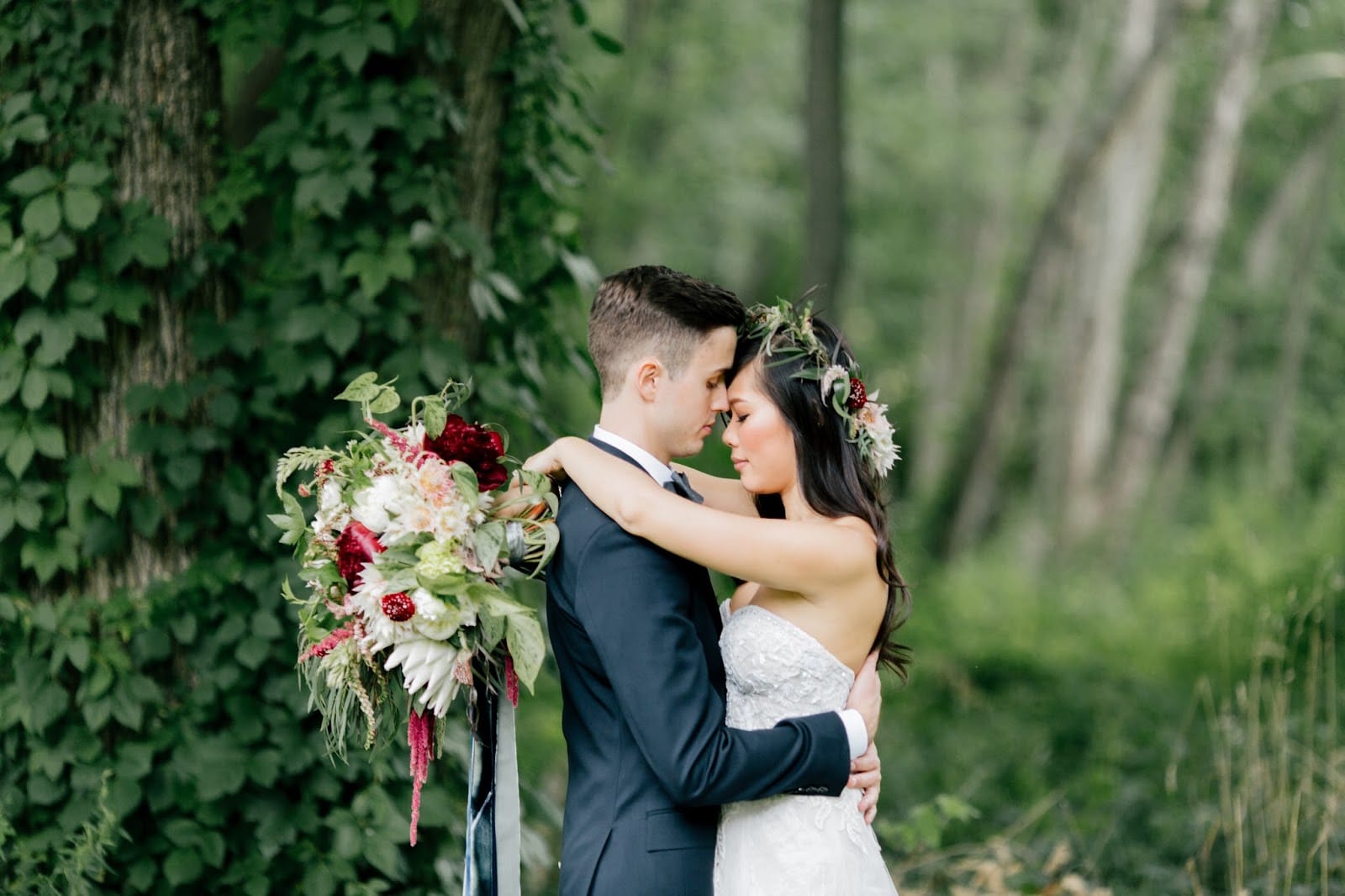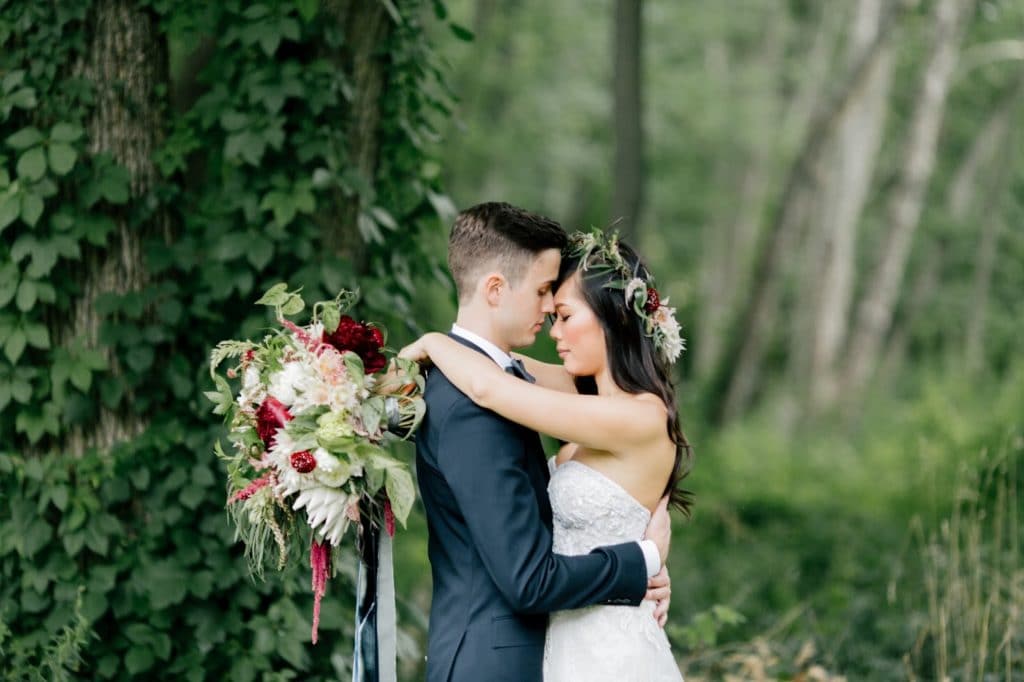 And it was during this time, while they were apart, that it became apparent to Tom, in no uncertain terms that something vitally important was happening and he needed to pay attention. He realized that "Susan was the only girl he wanted to spend his life with." He remembers, "The gravity of my love for her weighed heavily on my heart, I could feel the ache of being apart deep in my bones; a feeling that was very foreign to me, it was both frightening and exciting!"
Tom eventually mustered up enough courage to tell Susan just how he felt. It was her 20th birthday, (two years after that fateful fire drill), and at the end of the night, after making one more birthday wish, and celebrating with all their friends, Tom asked if he could walk Susan out to her car. When they were alone he told her how felt, how he'd always felt, and asked Susan if she would go out on a date with him. And after considering the offer…for a few weeks…Susan agreed. From that point on, these two have been inseparable.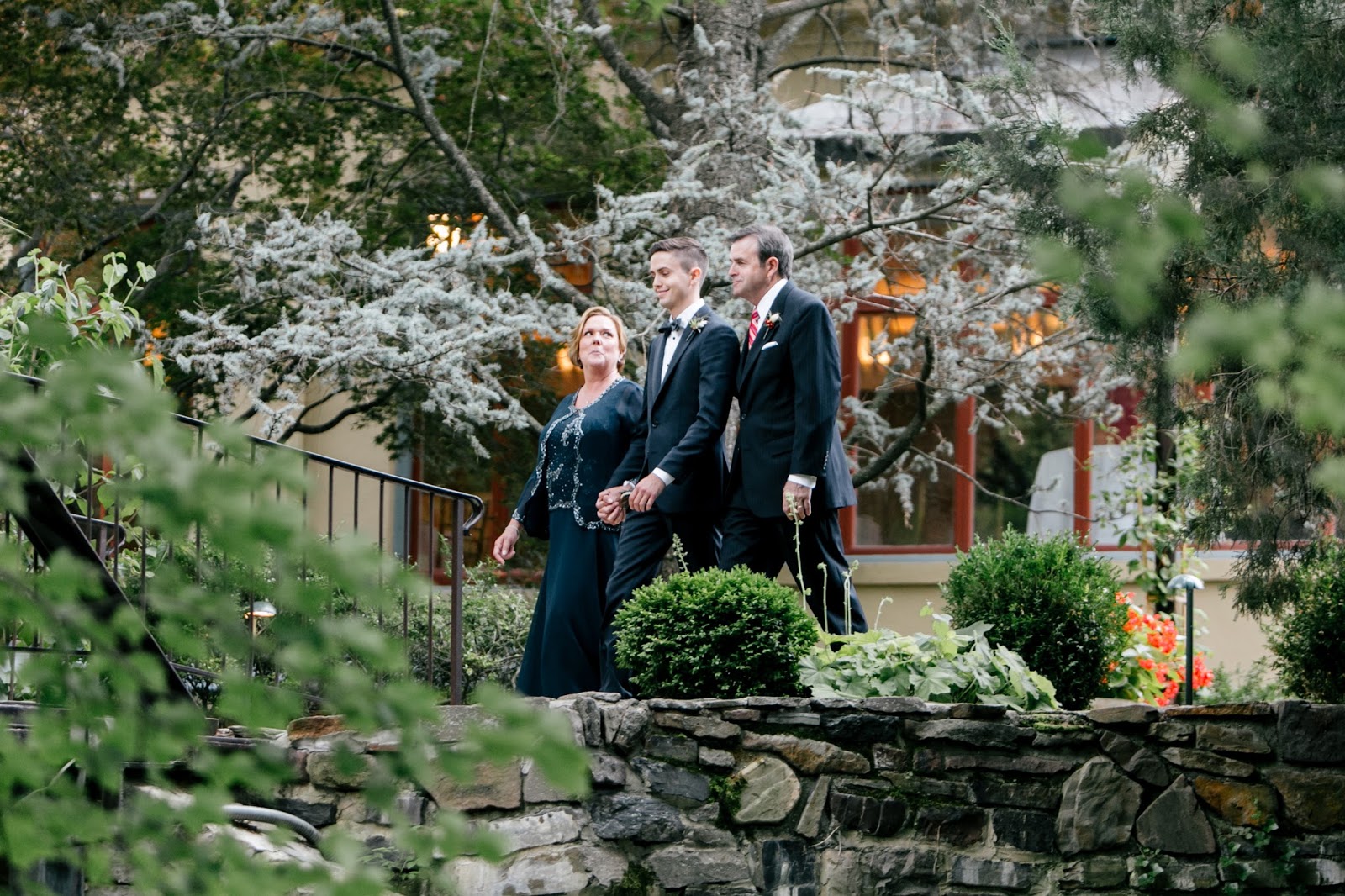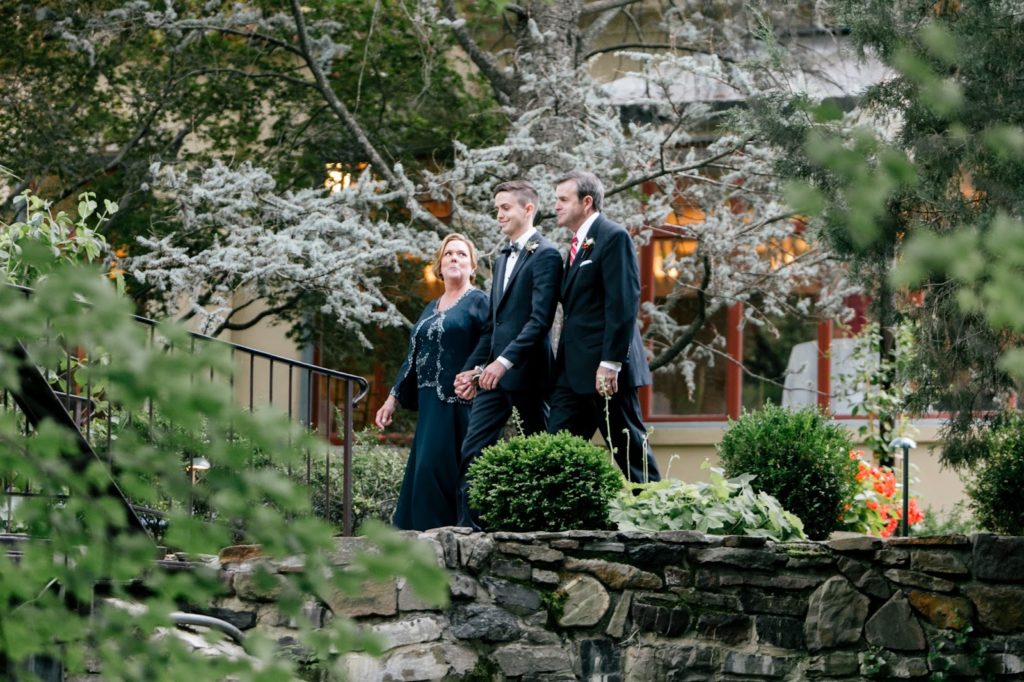 ---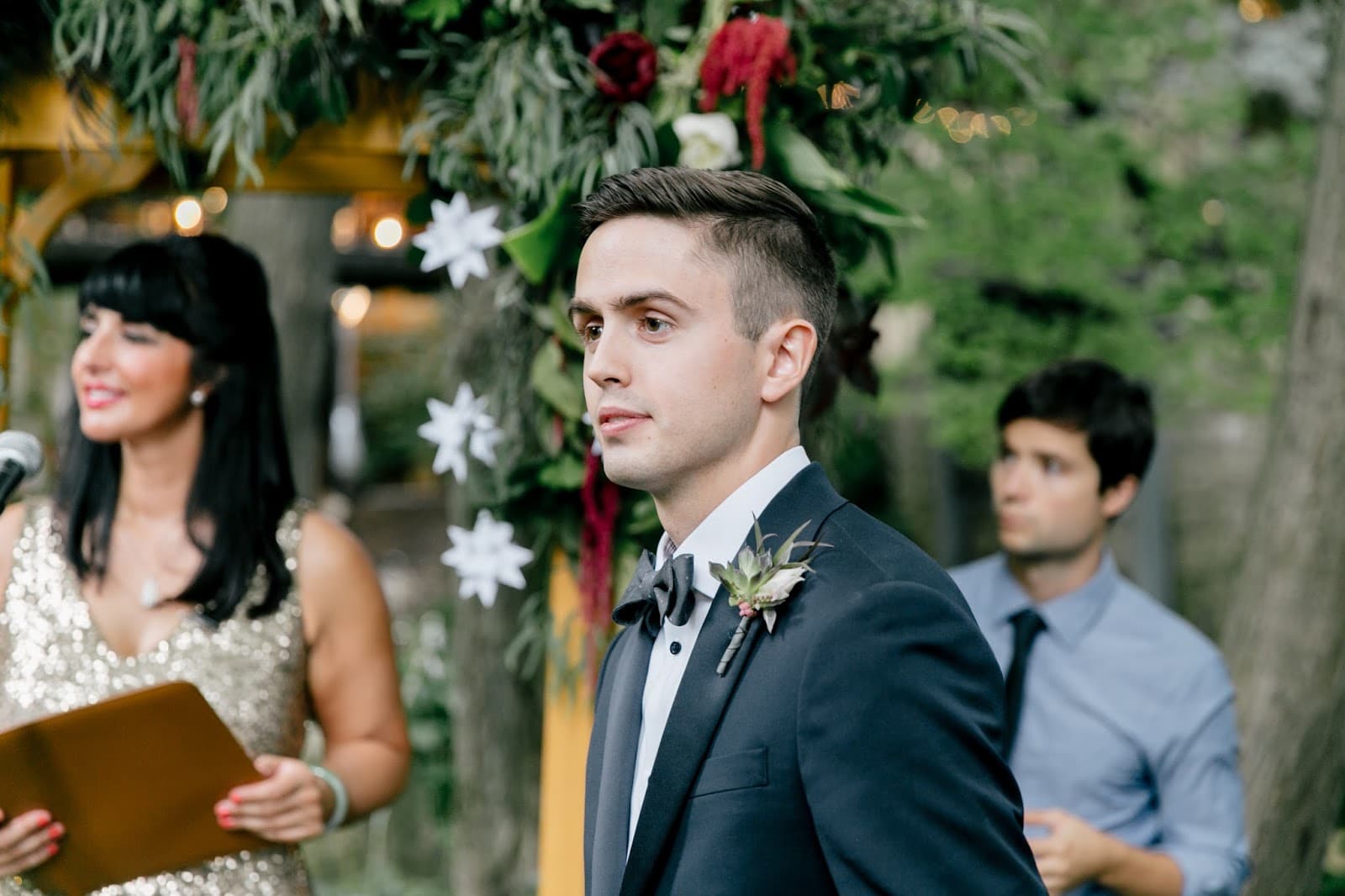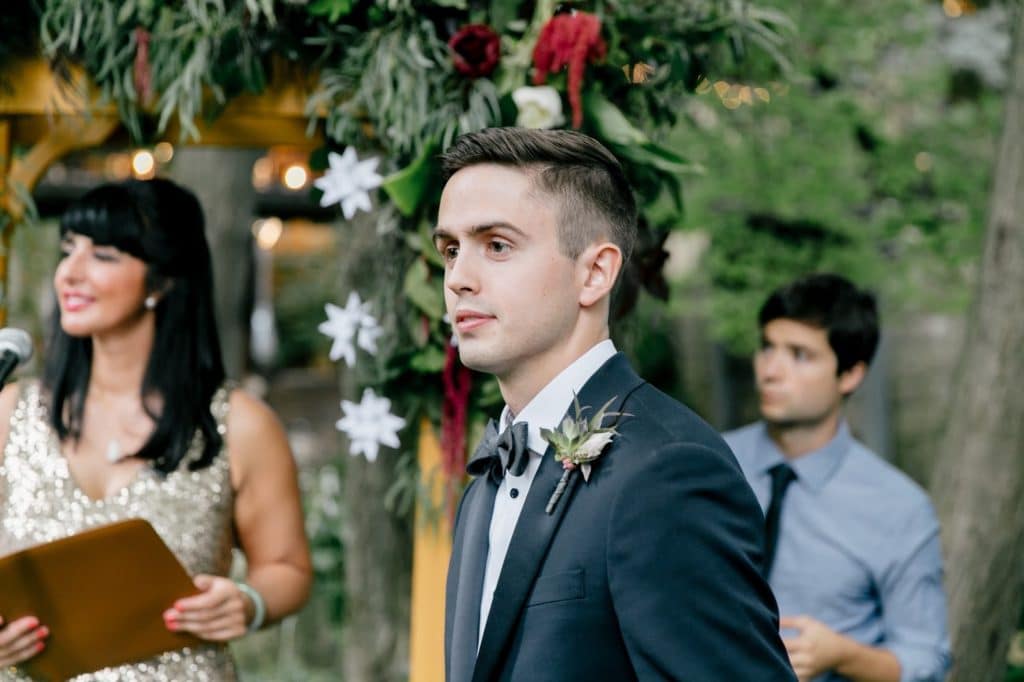 ---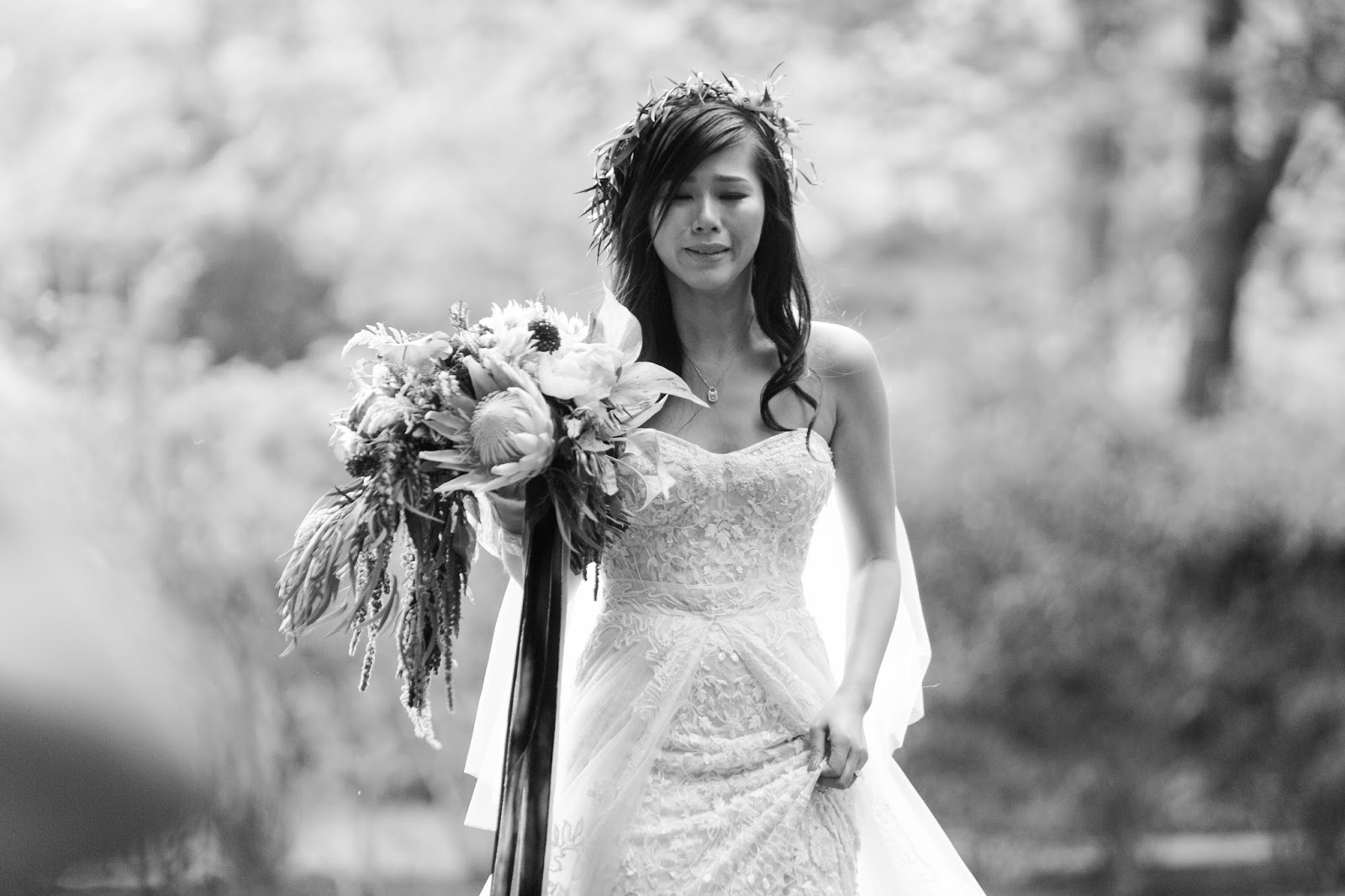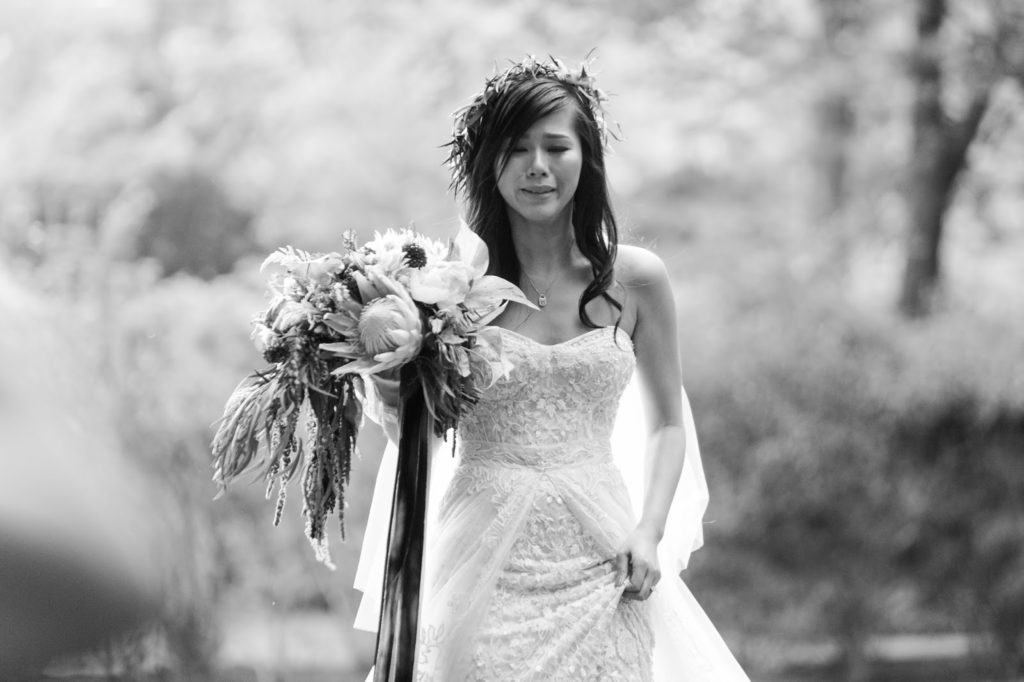 ---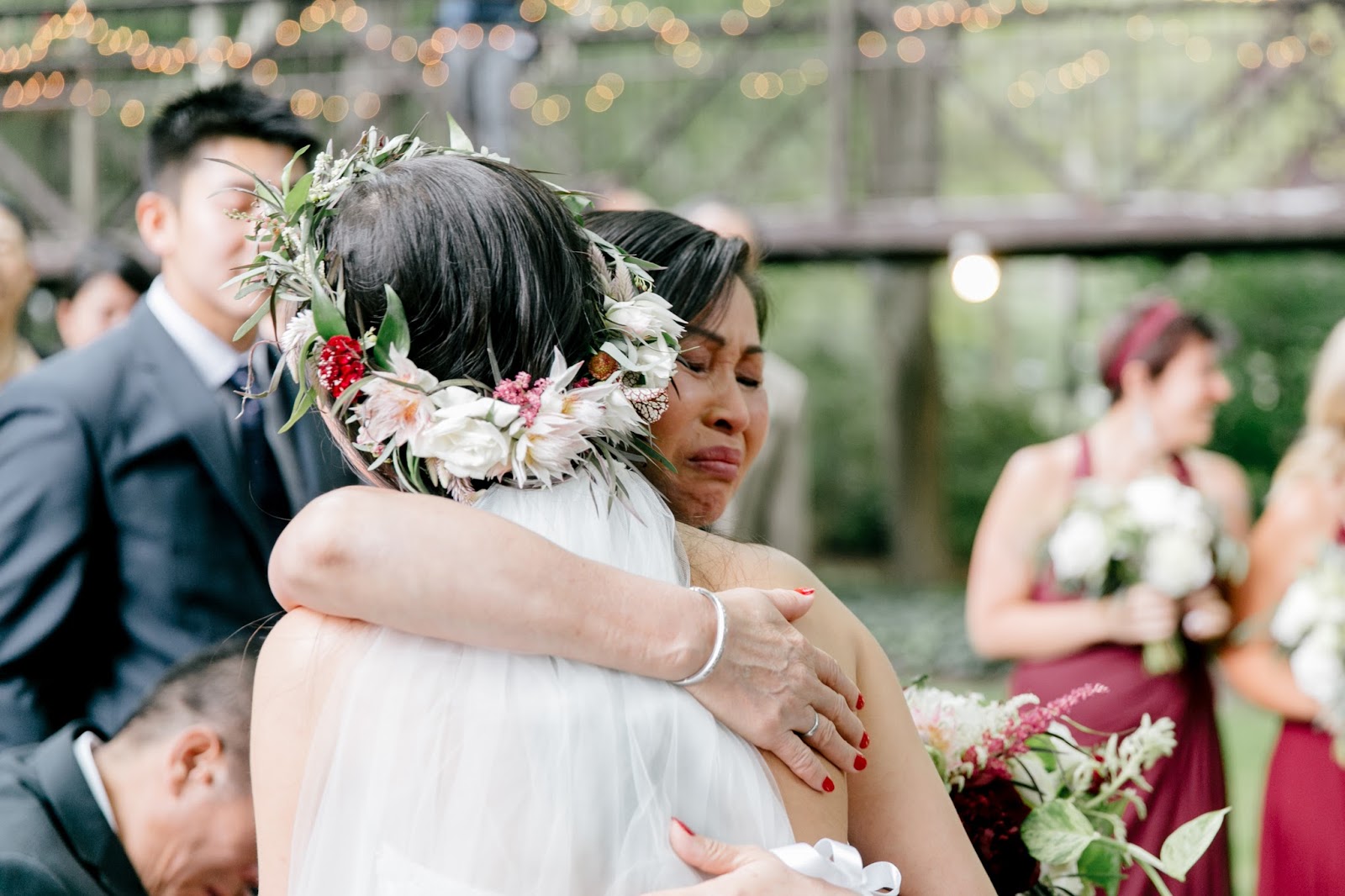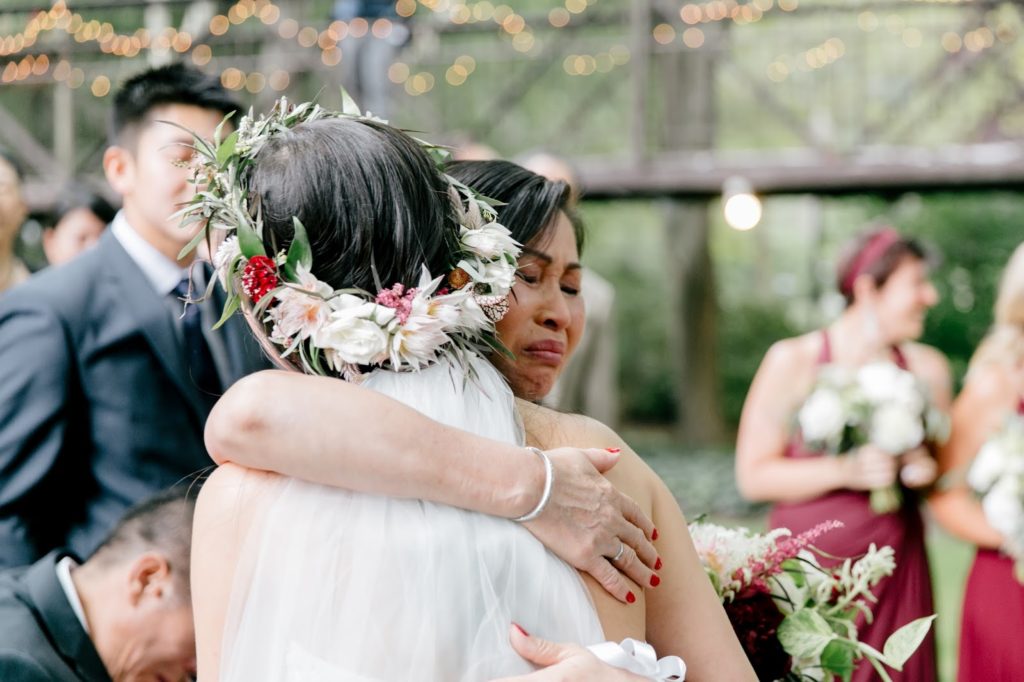 ---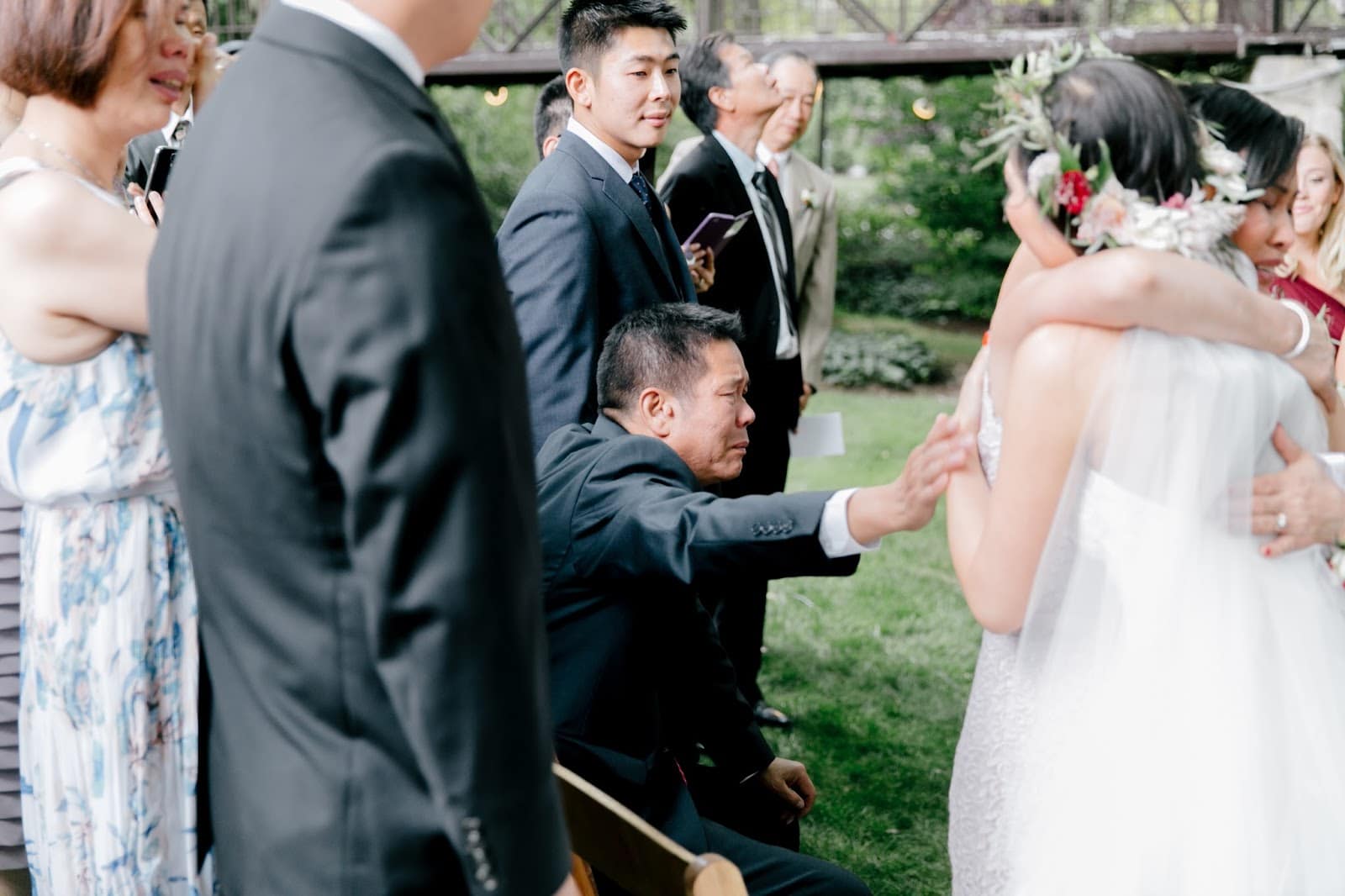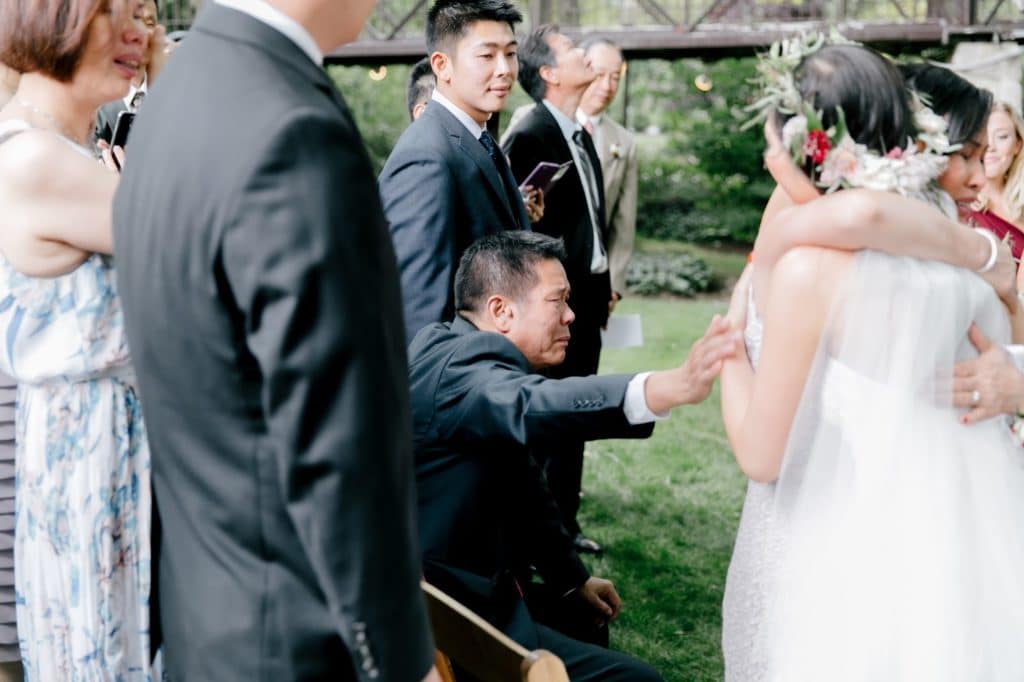 ---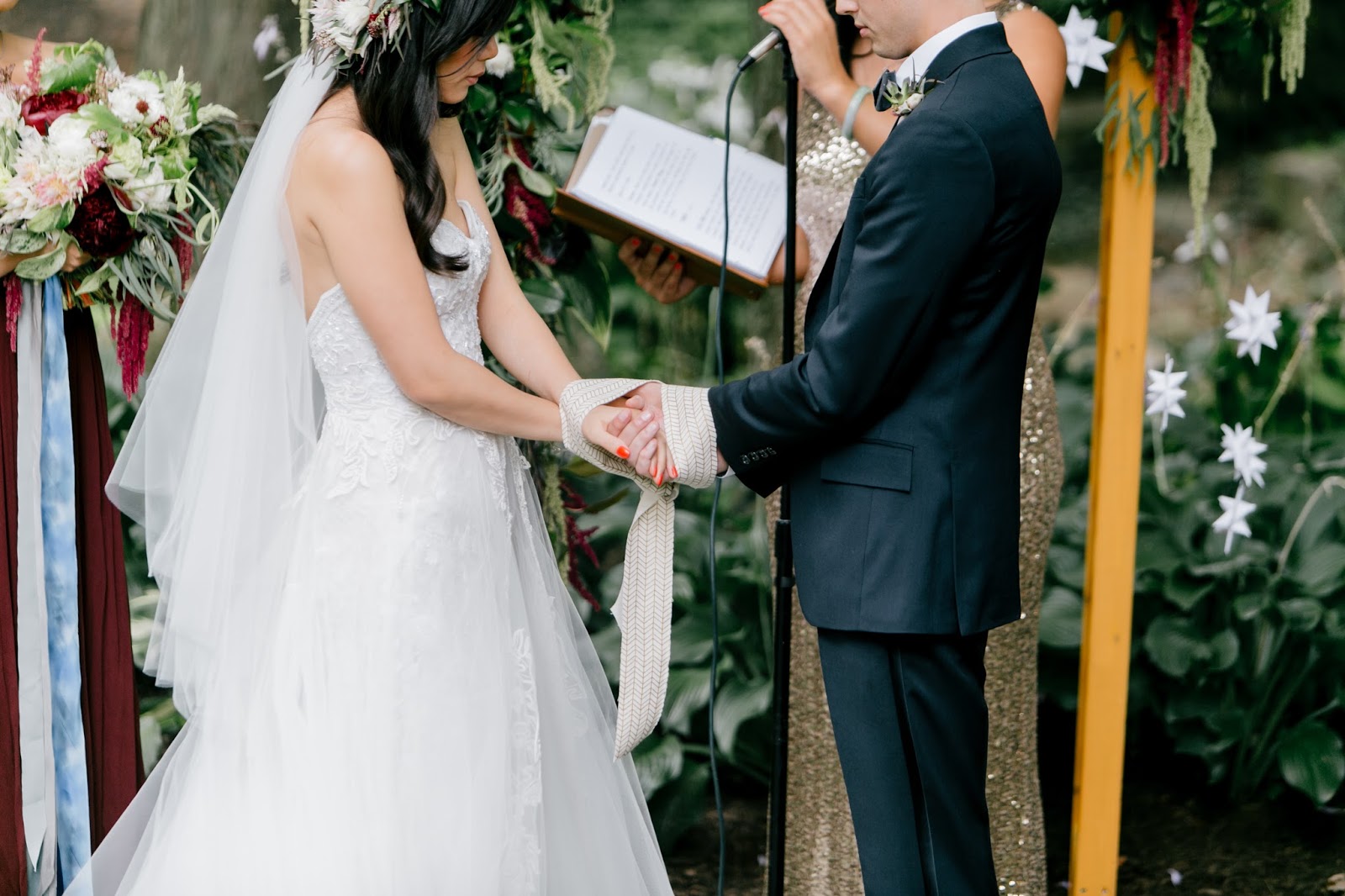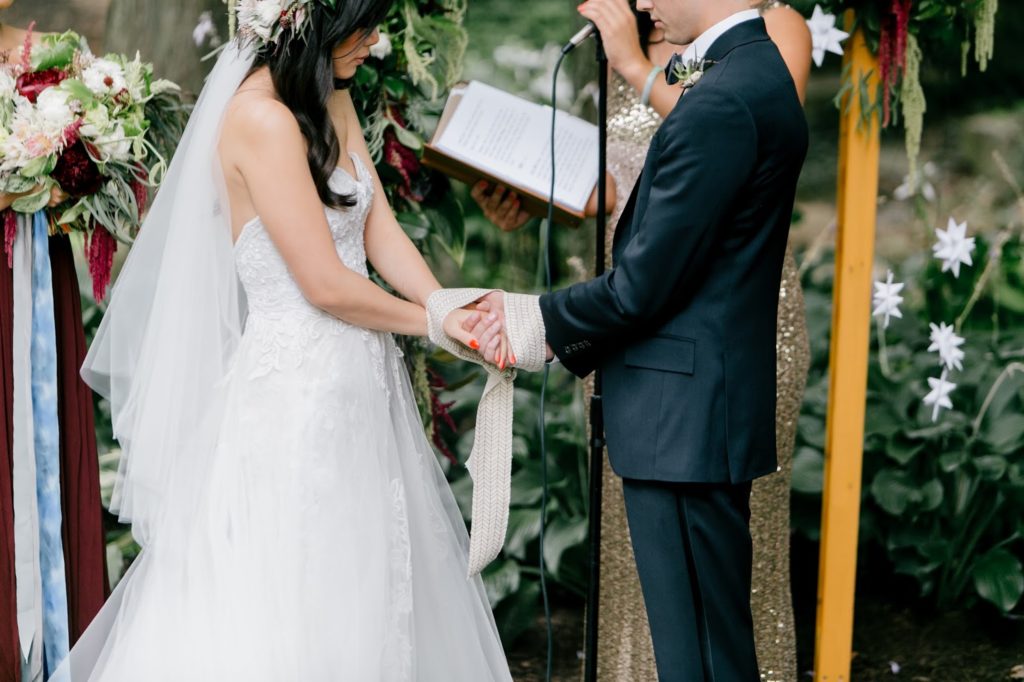 Susan asked her best friend Mike Roth to do the honors of fasting their hands together.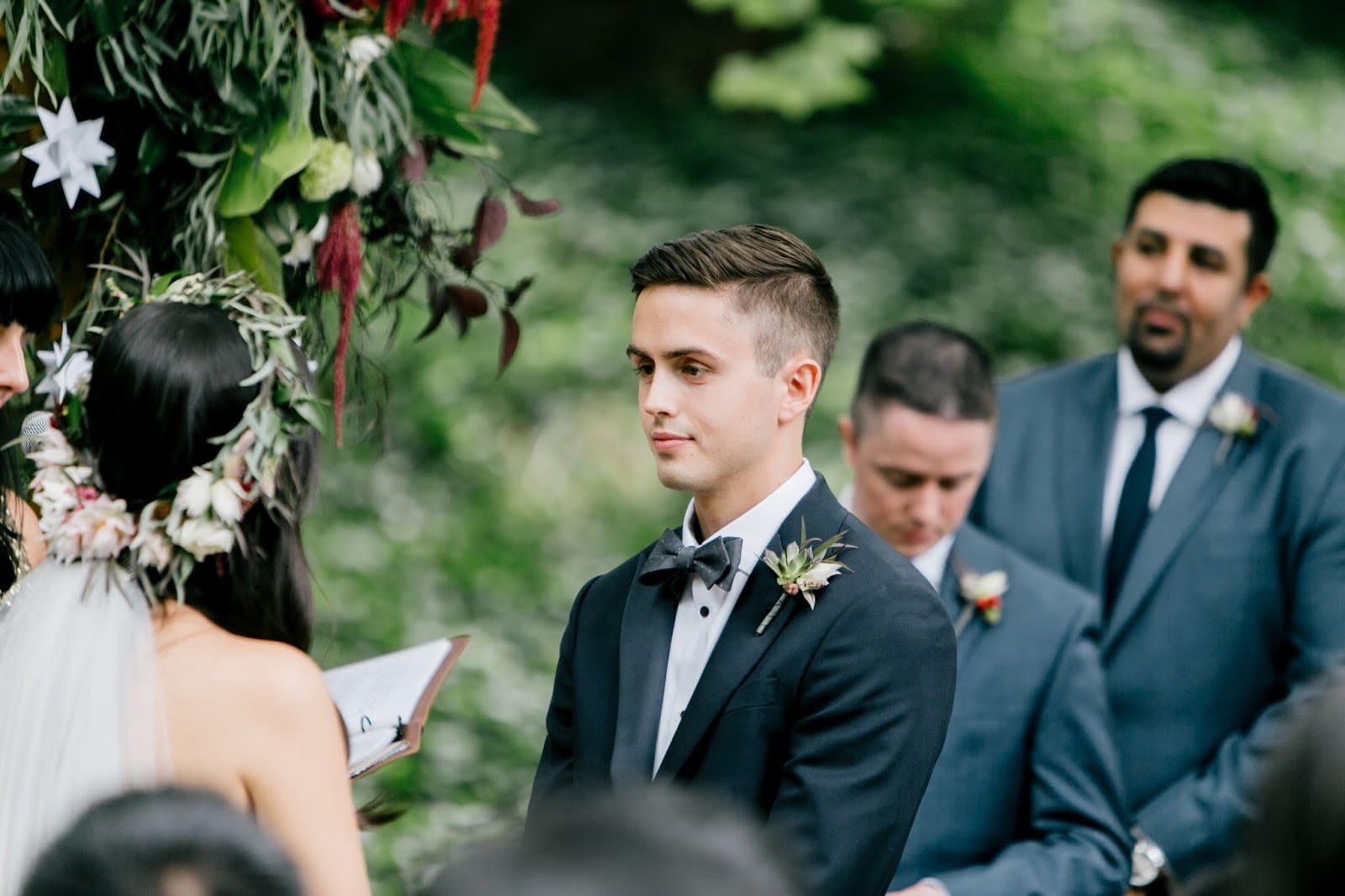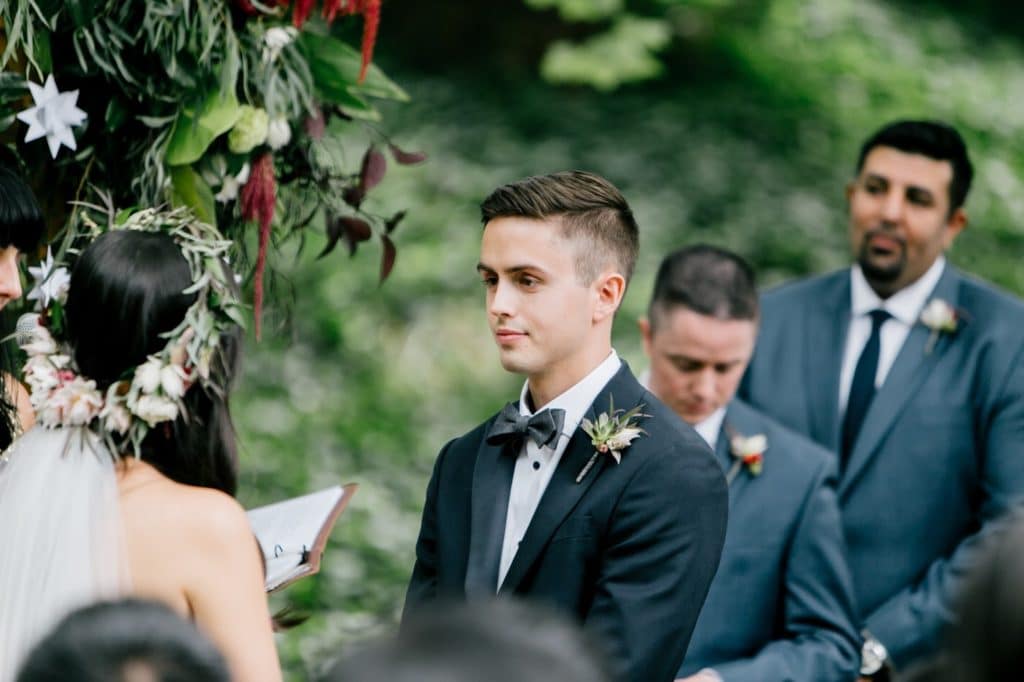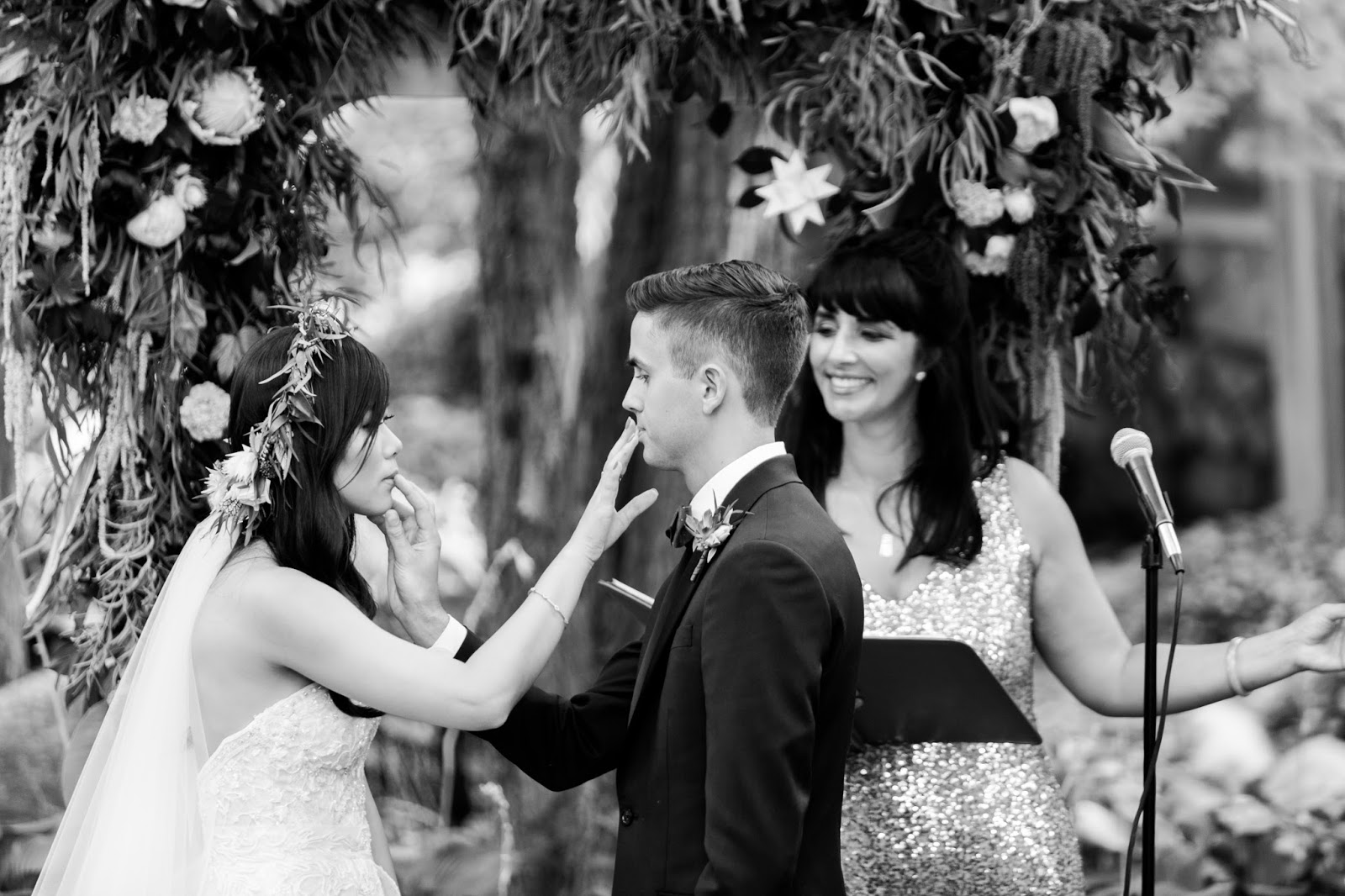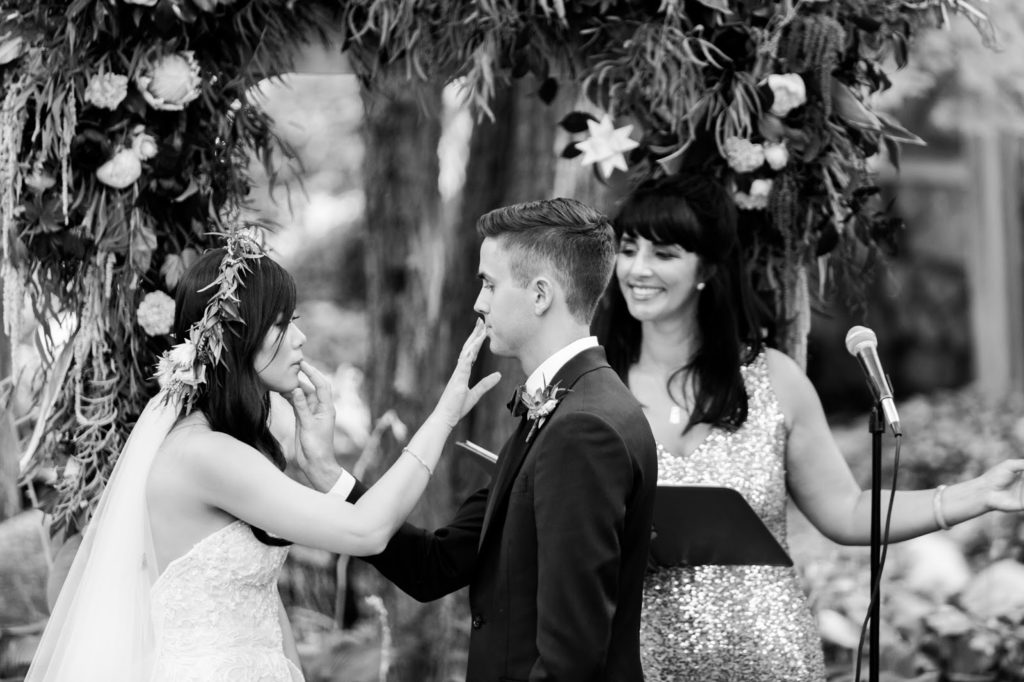 Honey Kiss—Tom says that one of the big things that gives him an unyielding confidence in their marriage, is Susan and his mindset—they are not content to "just make it work" they are committed to "making it a great one"… they share a common purpose, and that is to bring joy to and enhance each others life.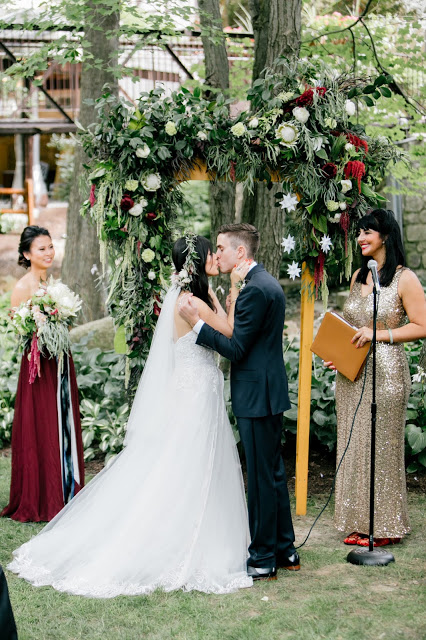 First kiss under the beautiful floral arch by Sullivan Owen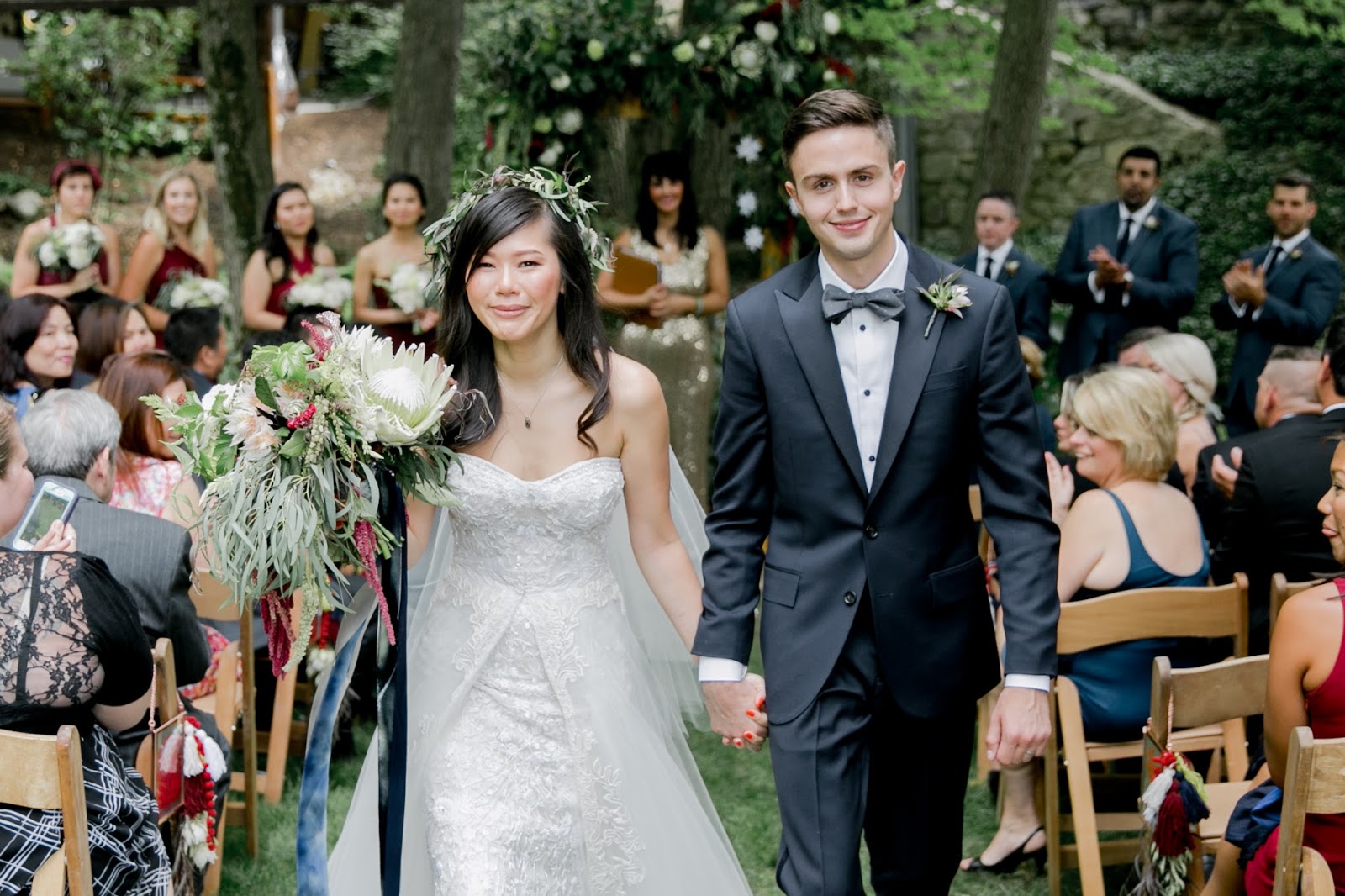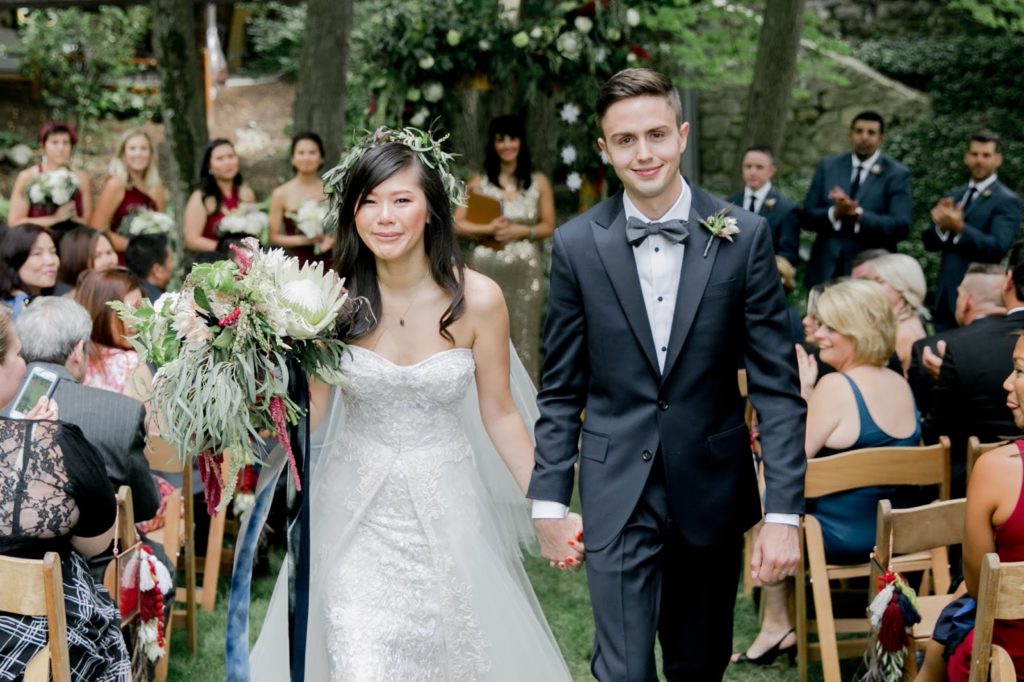 After their sweet honey kiss, it was time for a costume change. Tom put on a red bow tie and Susan changed into a traditional Chinese bridal dress. They re-entered the ceremony space, which Sara Murray of Confetti & Co. had expertly transformed, hand in hand for their Chinese Tea Ceremony. I wore a gold sequin gown, because it is a color Chinese say, "generates Yin and Yang"—it's the center of everything in Chinese culture.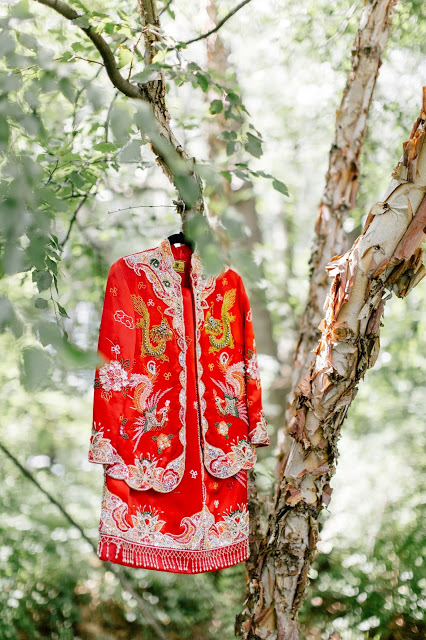 ---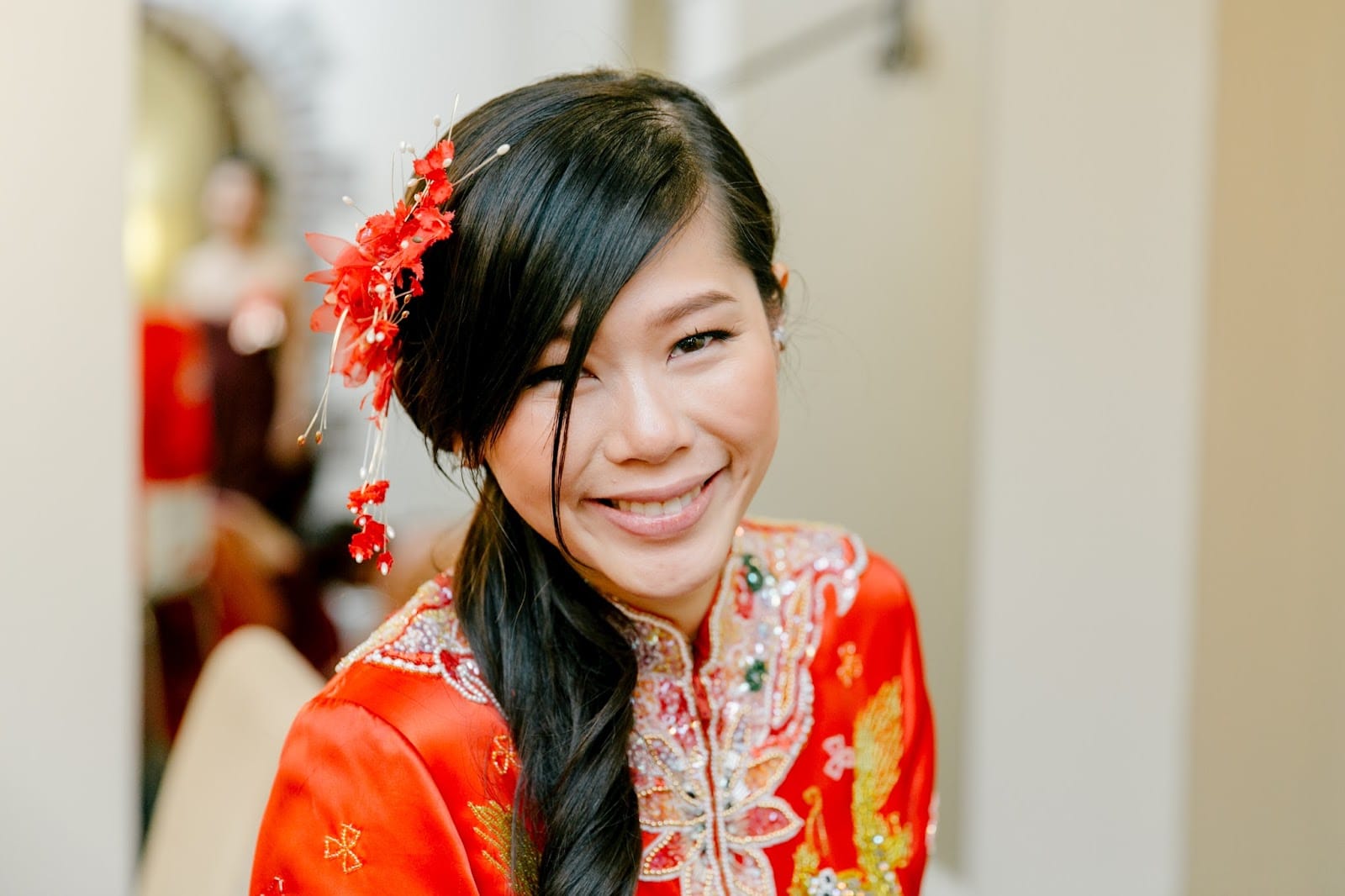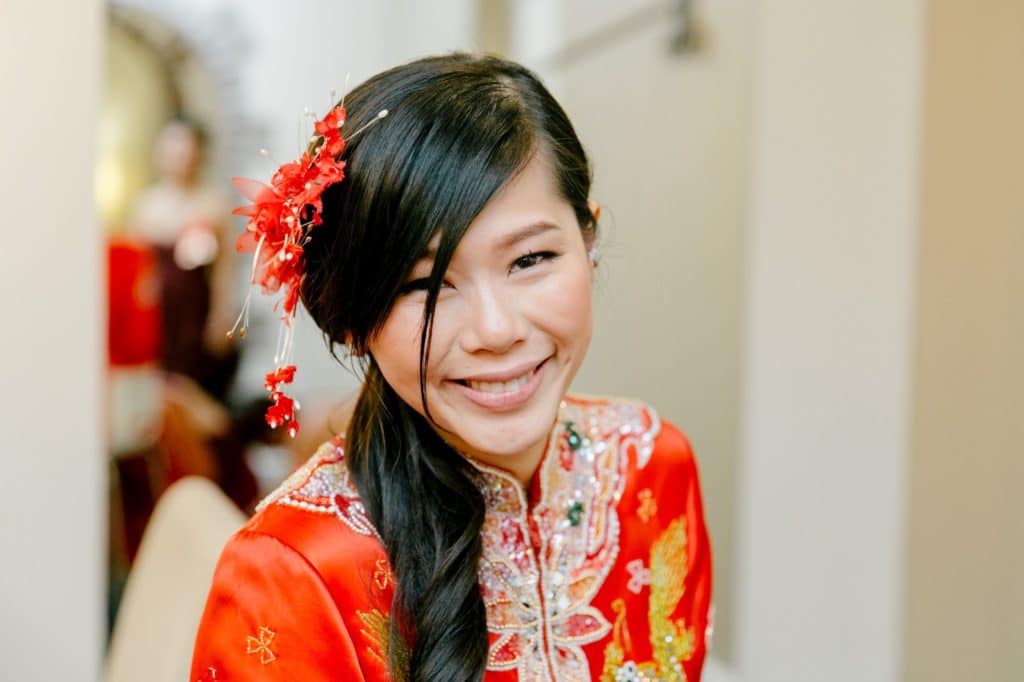 ---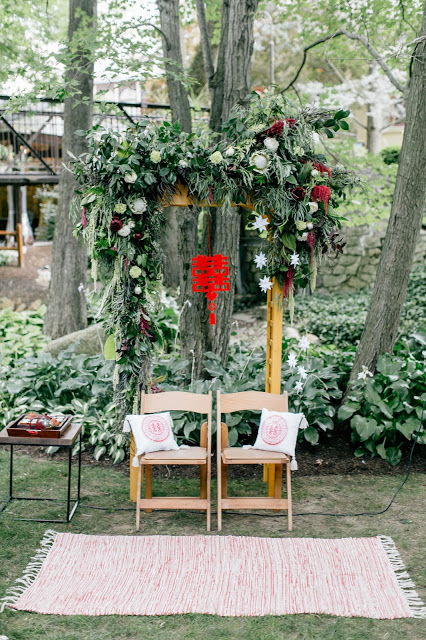 ---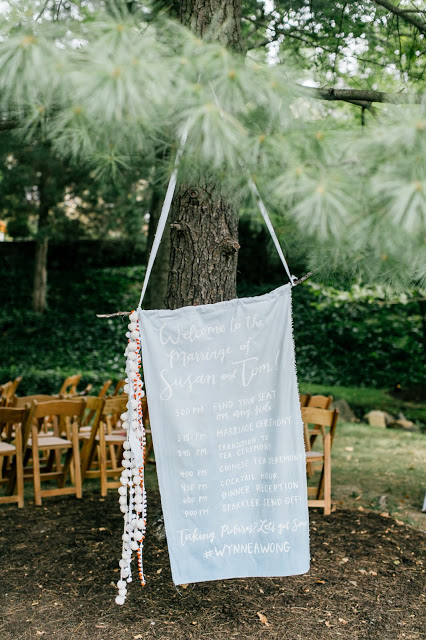 Banner wedding program, hand lettering by Ashley Wrenn of Hello Bird
In a Chinese wedding tea ceremony, the act of offering tea is meant to communicate deep respect and honor toward the newly wedded couple's eldest family members, and in old times, served as a formal introduction of the bride and the groom to their extended families. It is traditional for these honored members of the family to then present the bride and groom with a red envelope, the color red being a symbol of good luck, joy and happiness.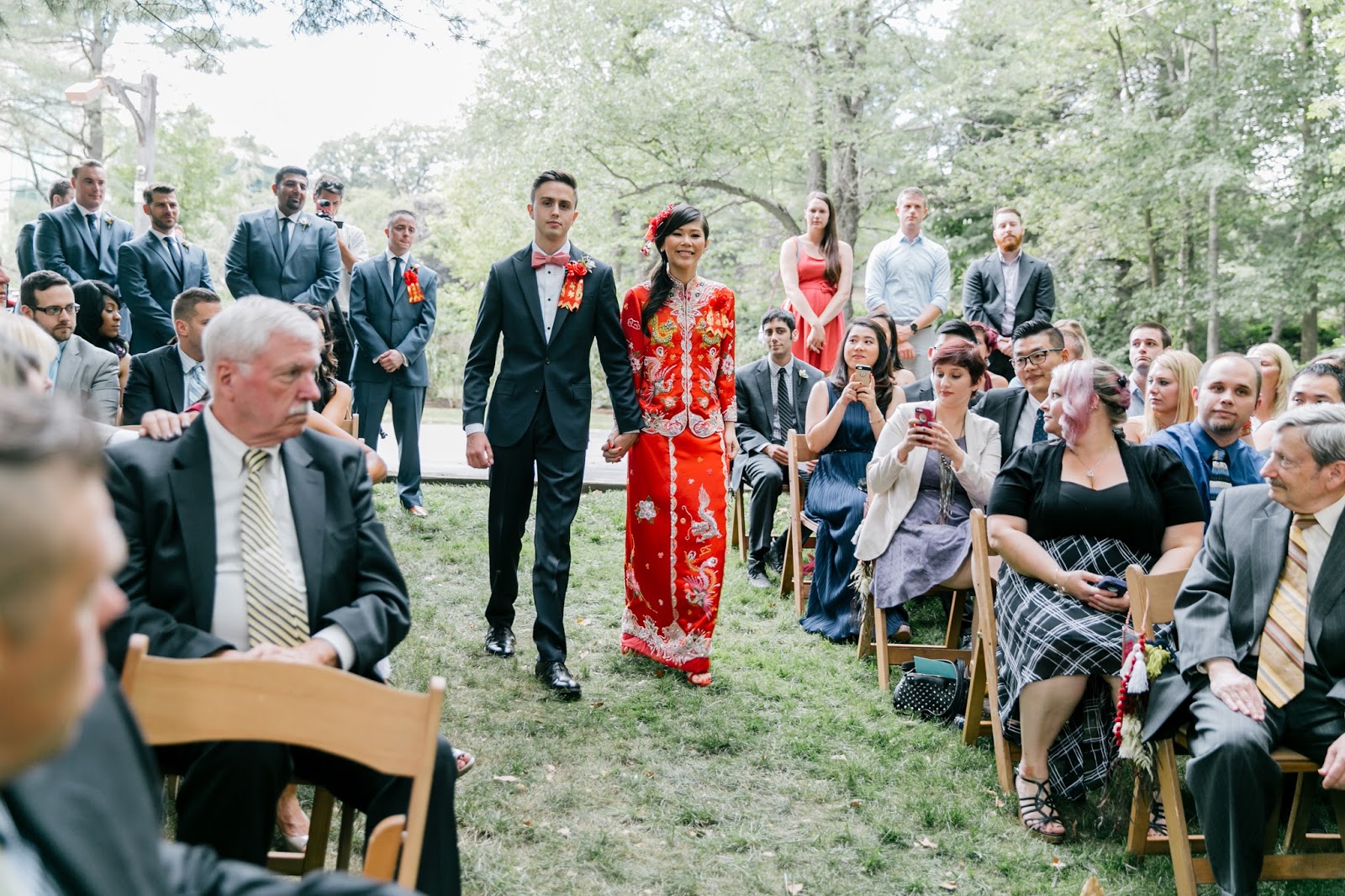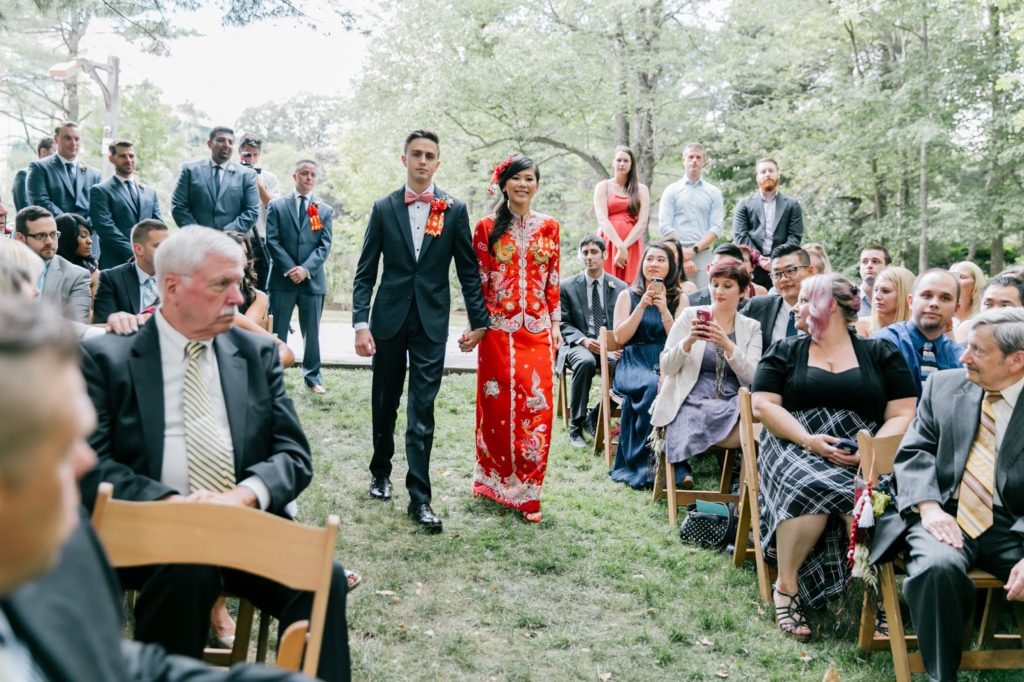 ---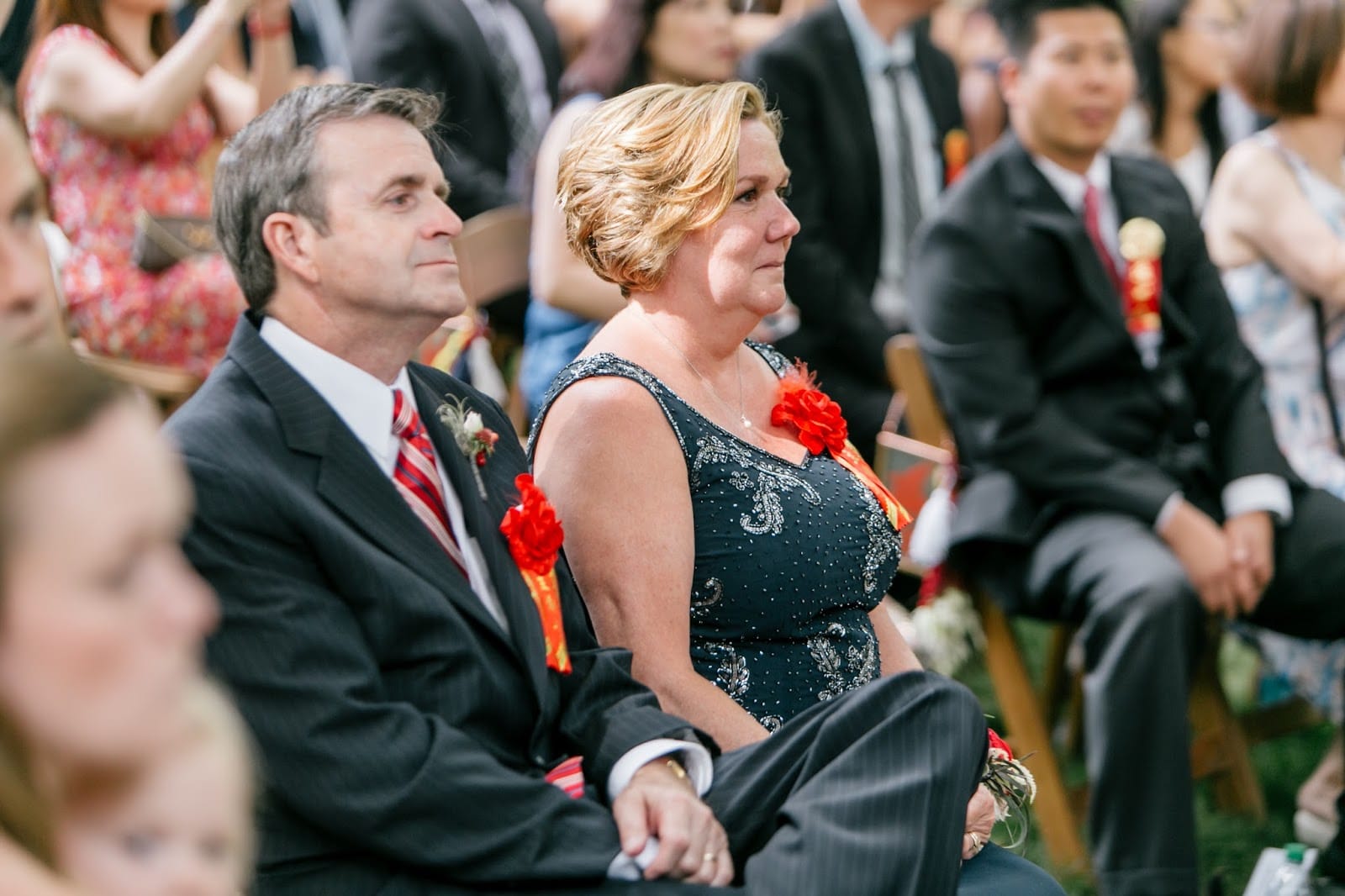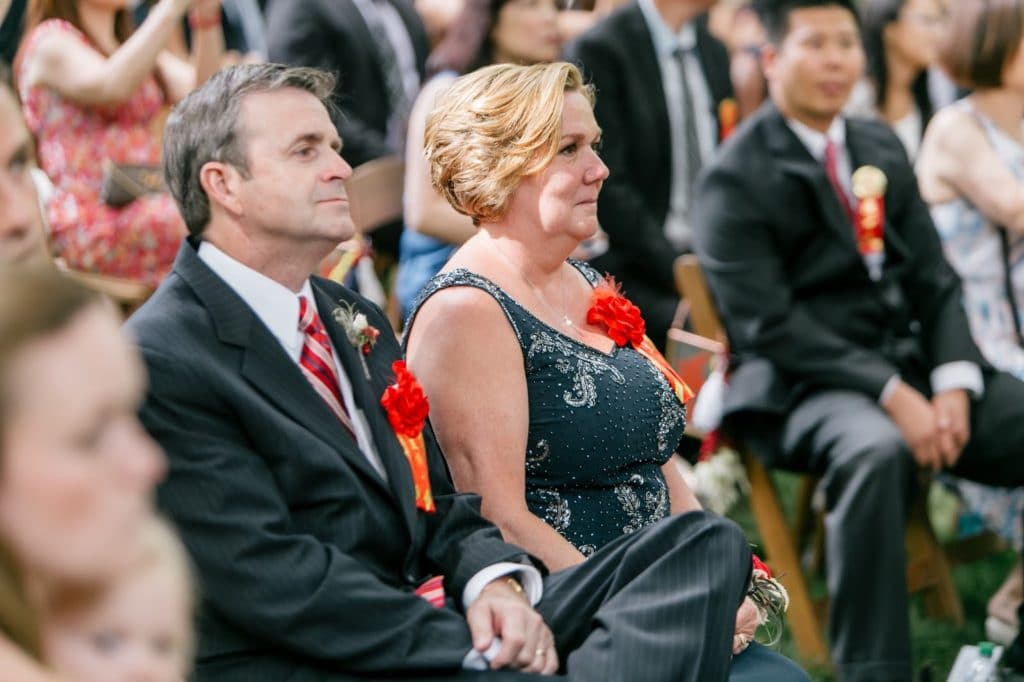 The heirloom tea set was provided by the "oldest and best friends in the United States" of Susan's parents, Jim and Christine Wei.
Susan's brother Danny and Maid of Honor Jenn served as the assistants, holding the tray of tea and collecting the red envelopes.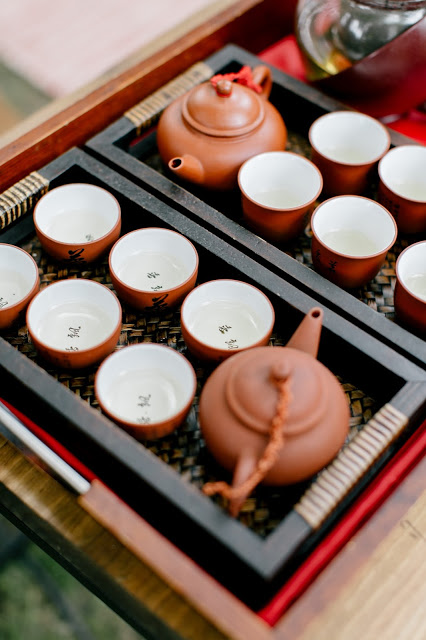 ---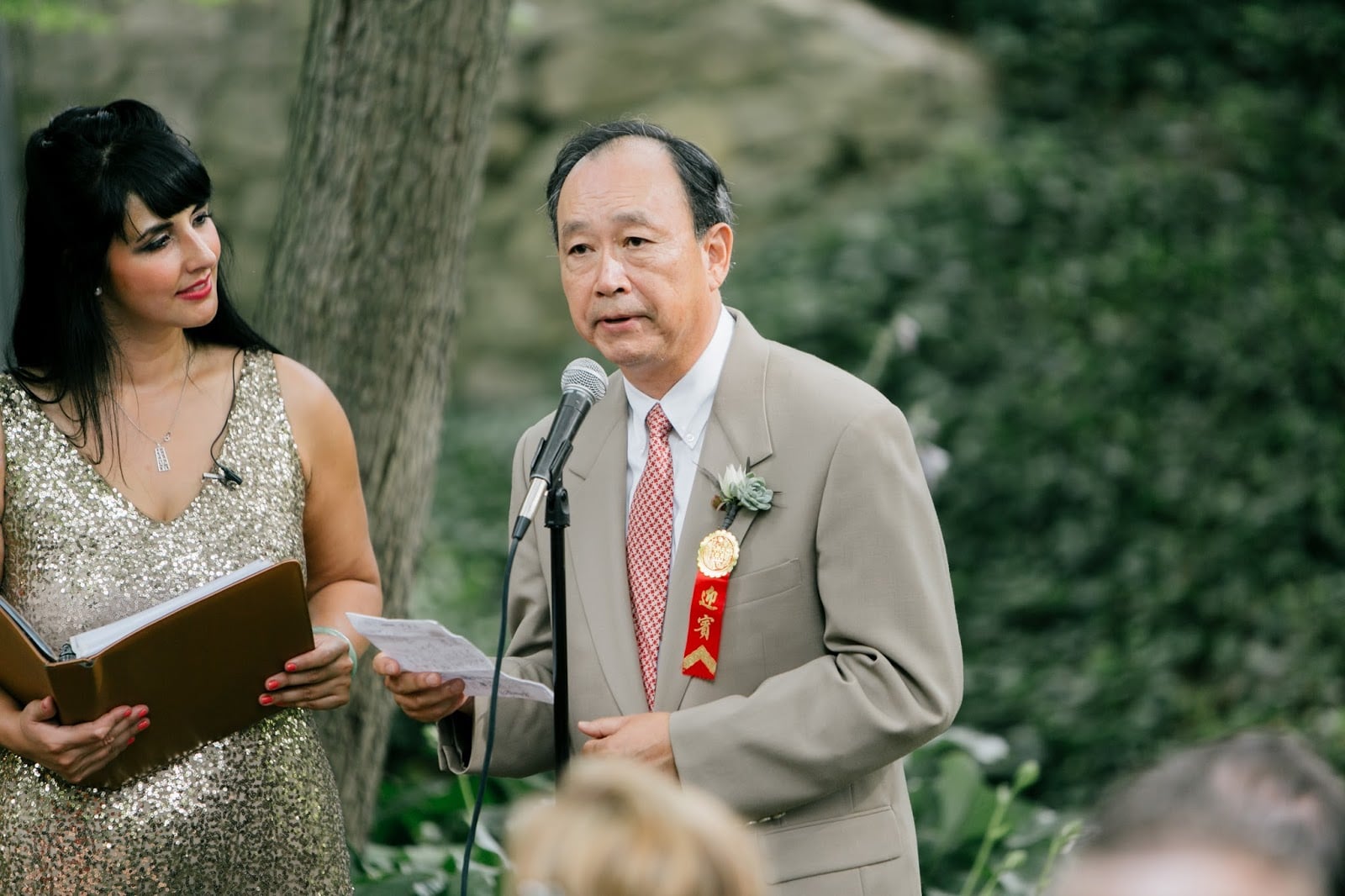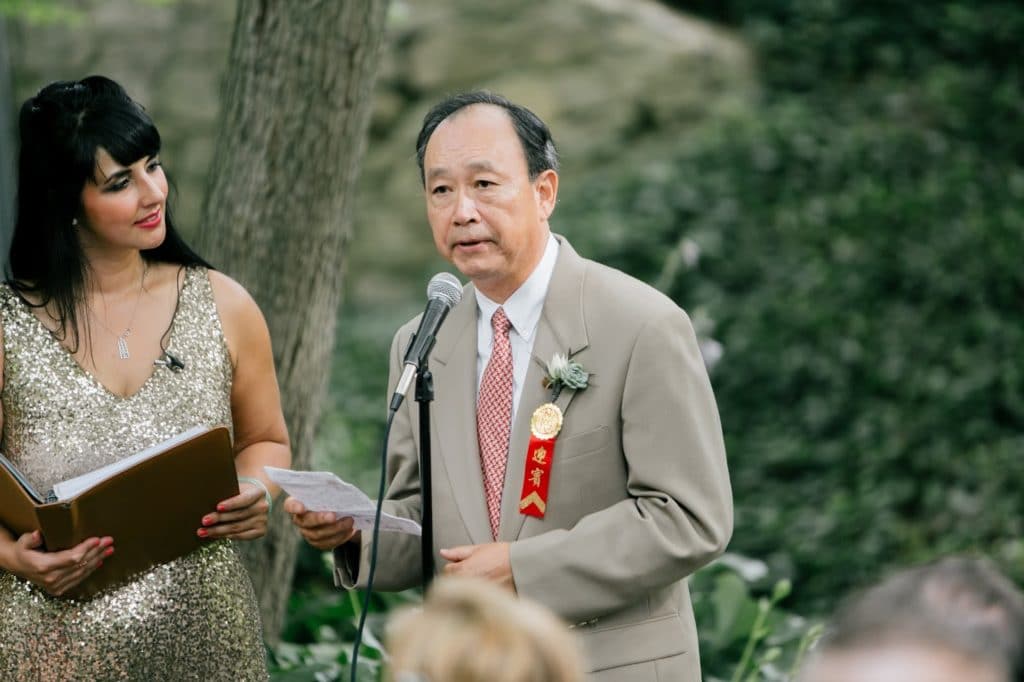 Uncle Jim Wei provides translation for the Mandarin-speaking family.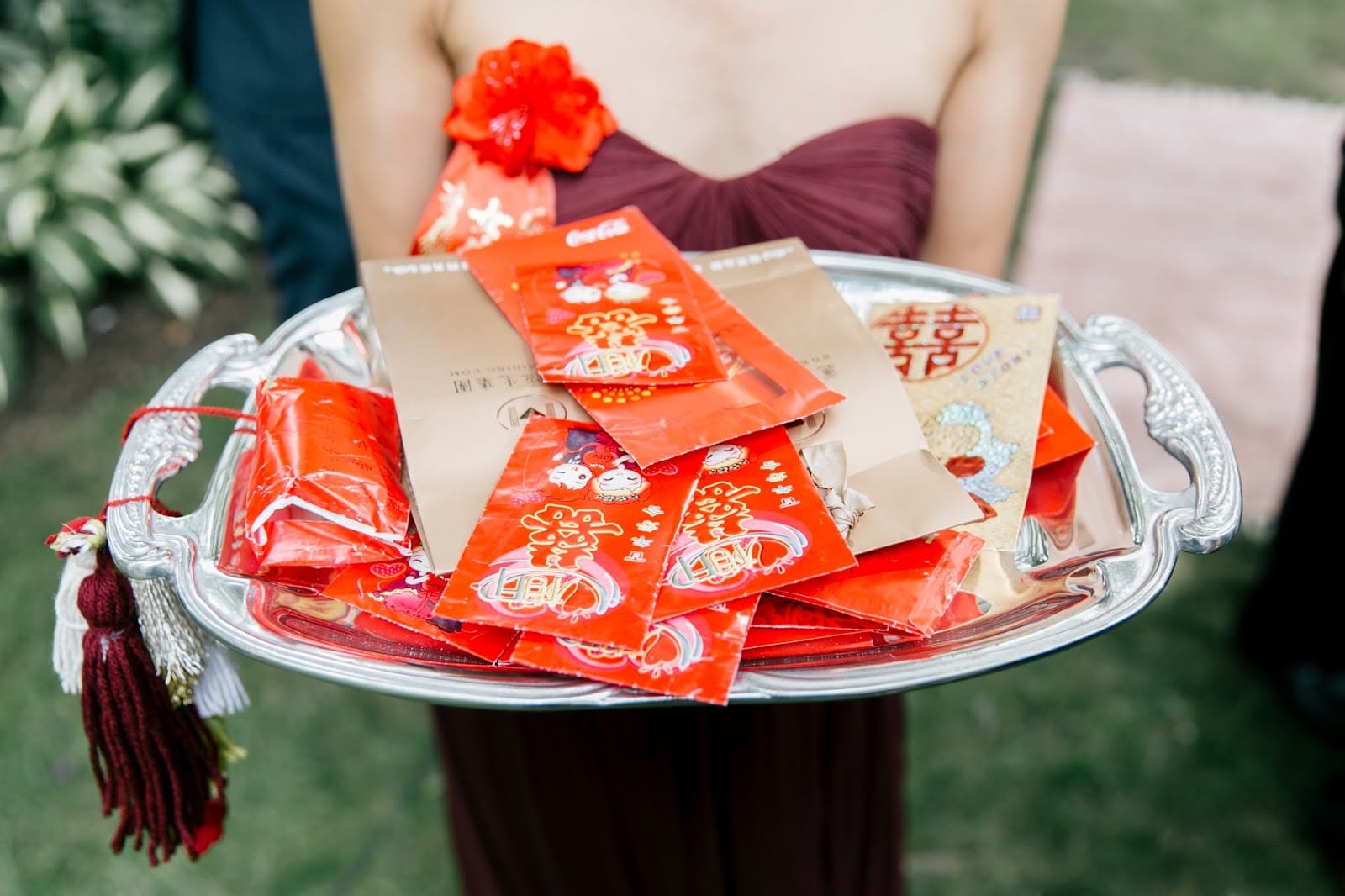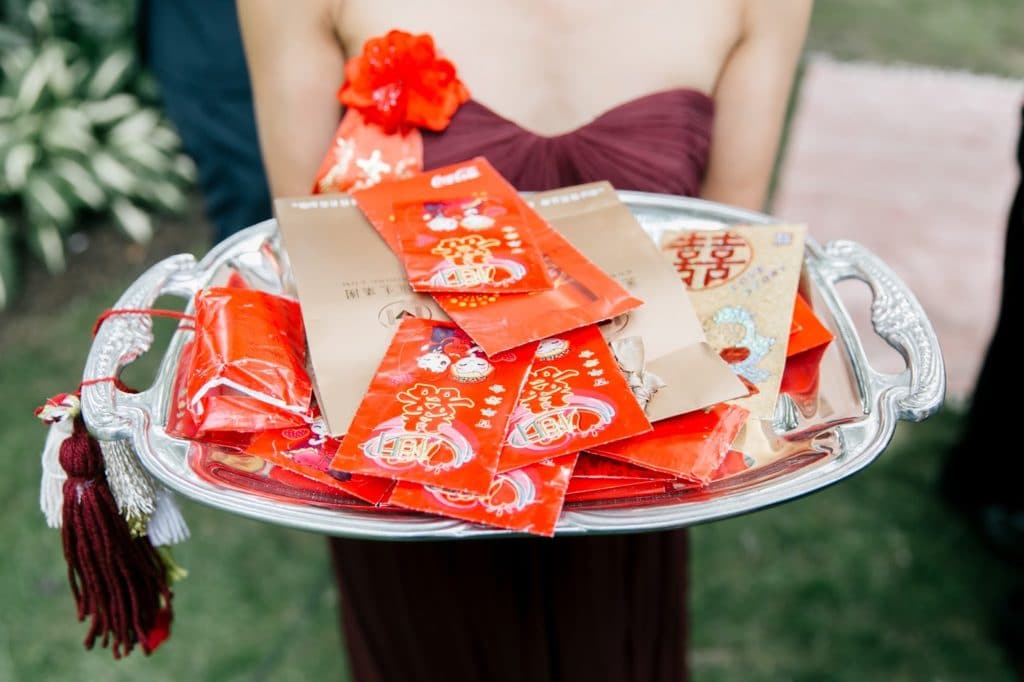 Every honoree gave the couple a red envelope.
The bride and groom then took turns serving their parents and family elders cups of tea as they exchange blessings back and forth.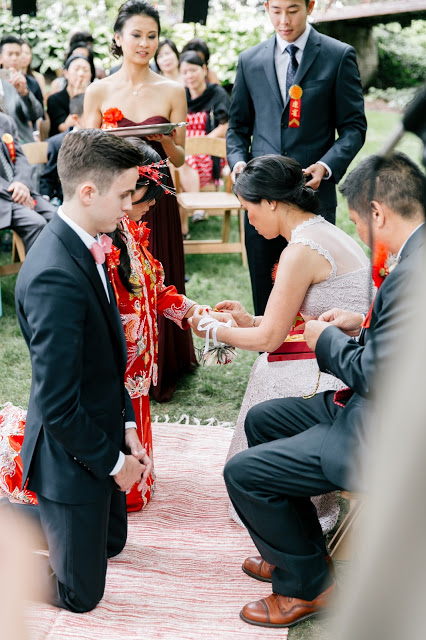 Susan's mother and father gifted the couple with jewelry, digging into their pockets many times over to adorn the newlyweds with necklaces and bracelets of gold and pearl.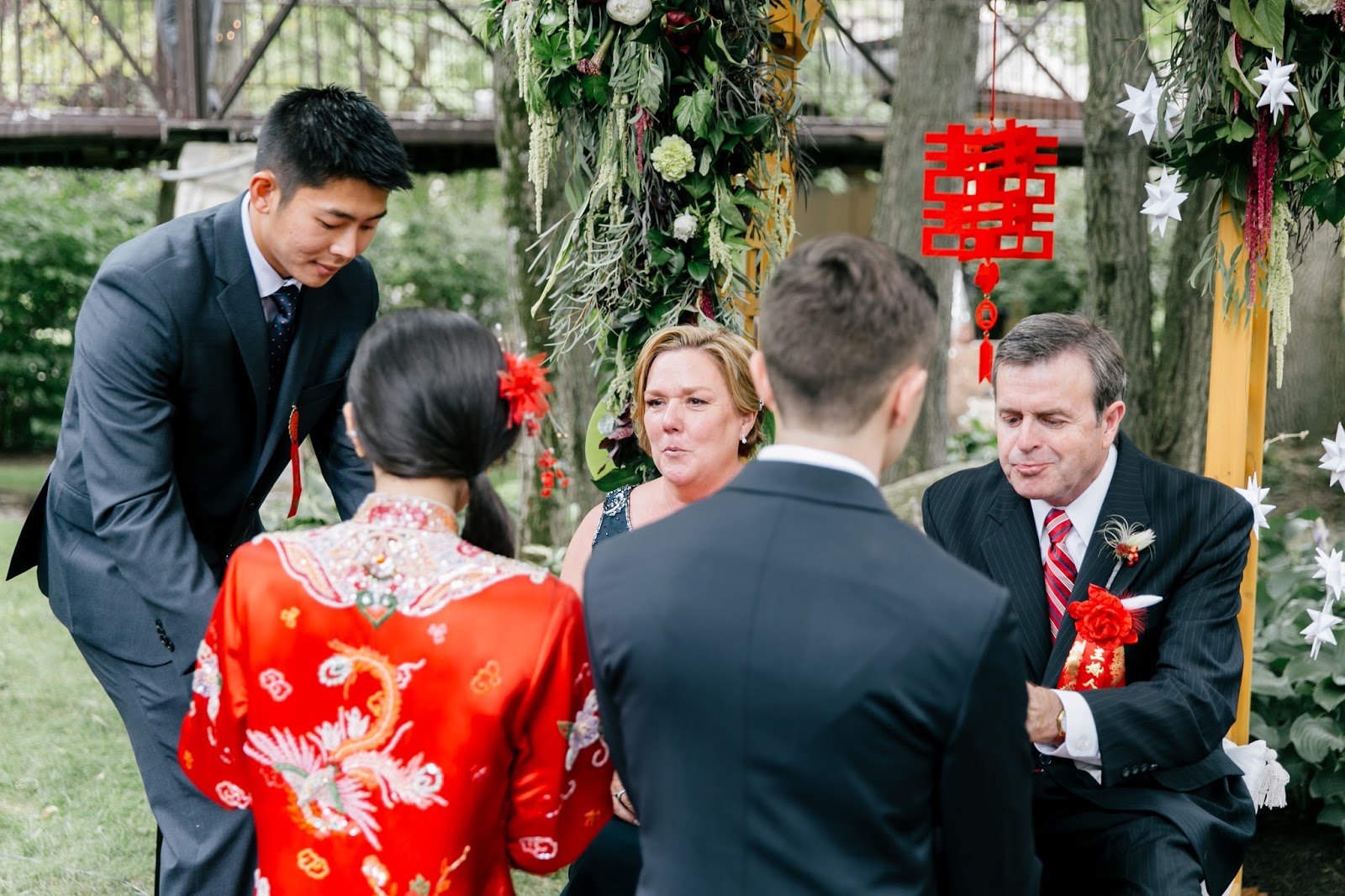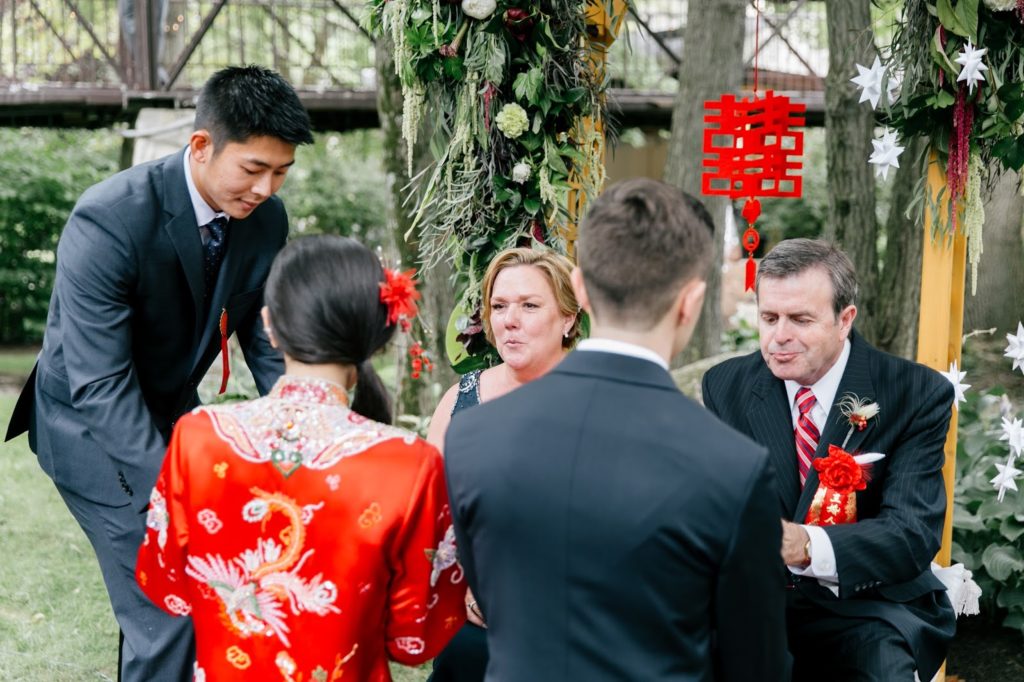 ---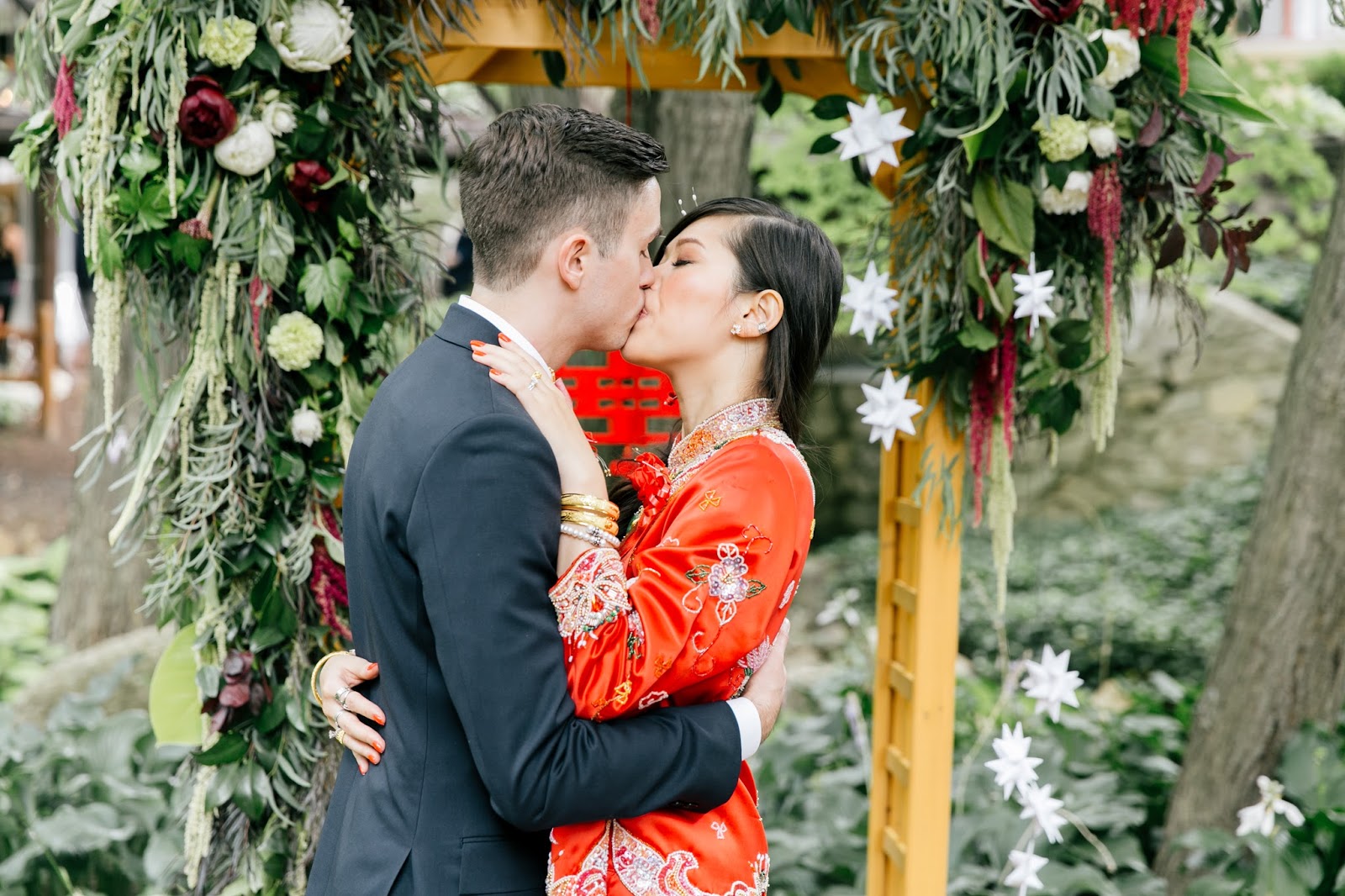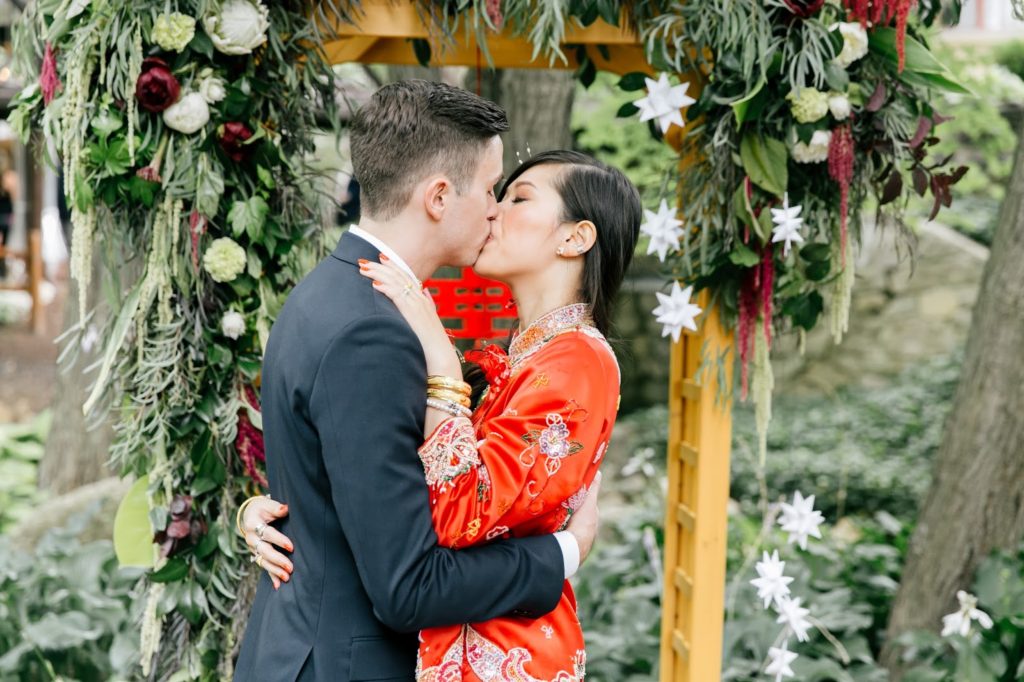 ---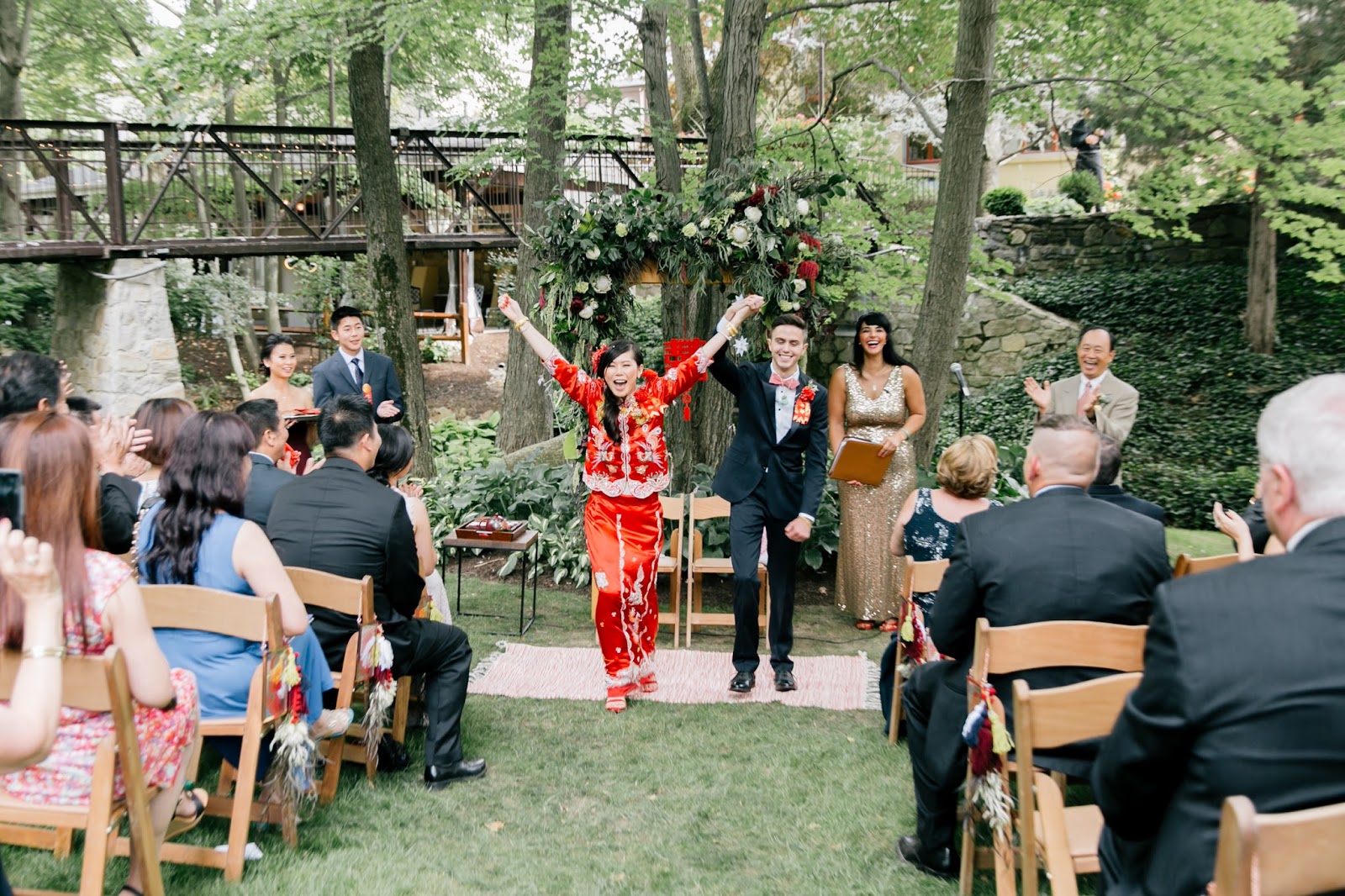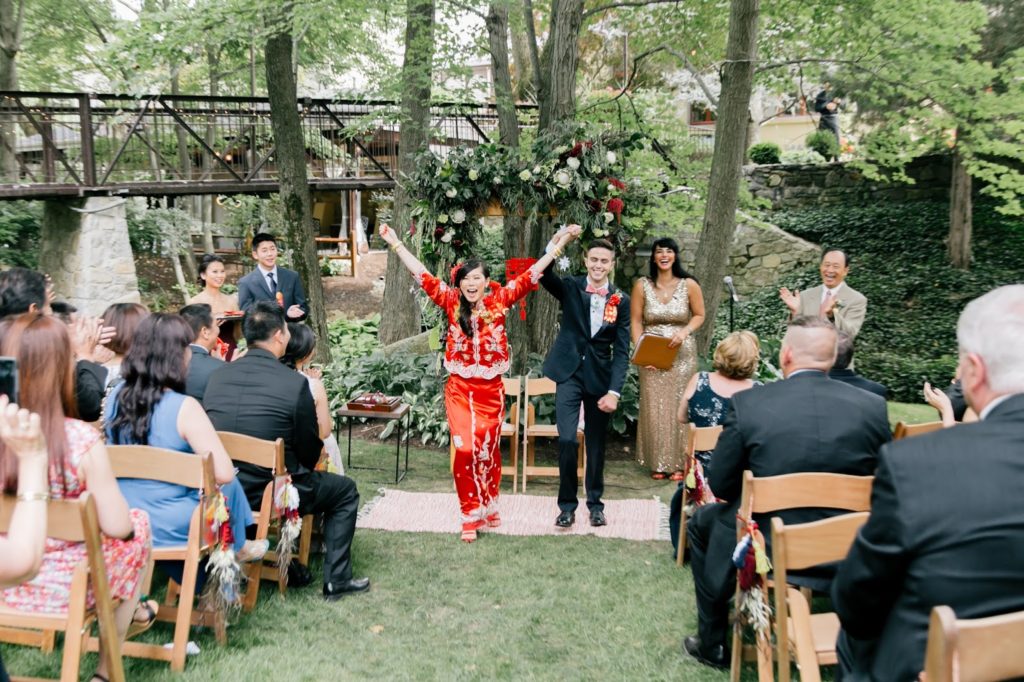 The Chinese Tea Ceremony was fun to witness, design and emcee, it served as the perfect starting point for what would turn out to be an amazing celebration. A celebration that included a team of Lion Dancers and drummers that lead the couple and their guests from cocktails into the reception.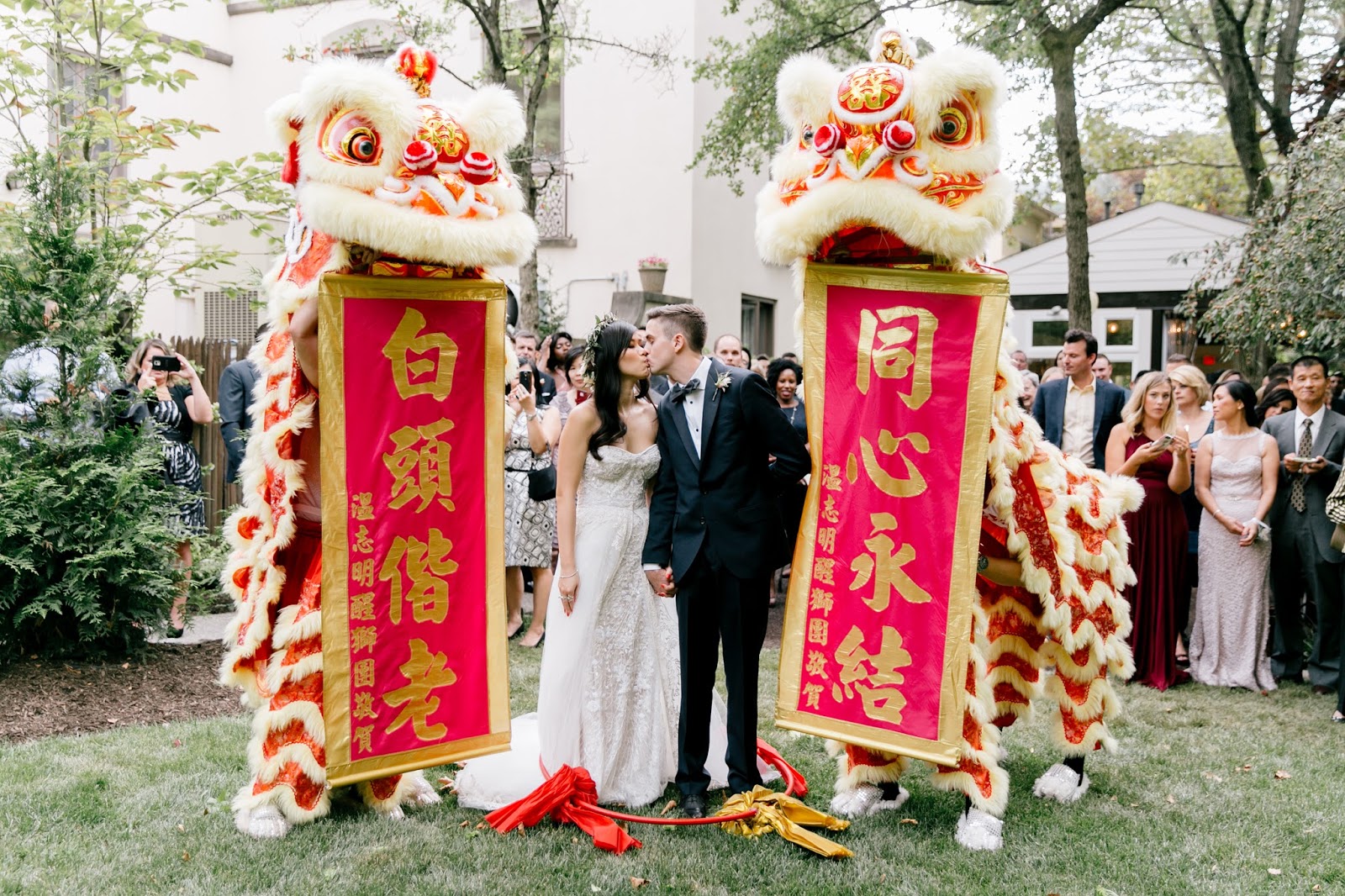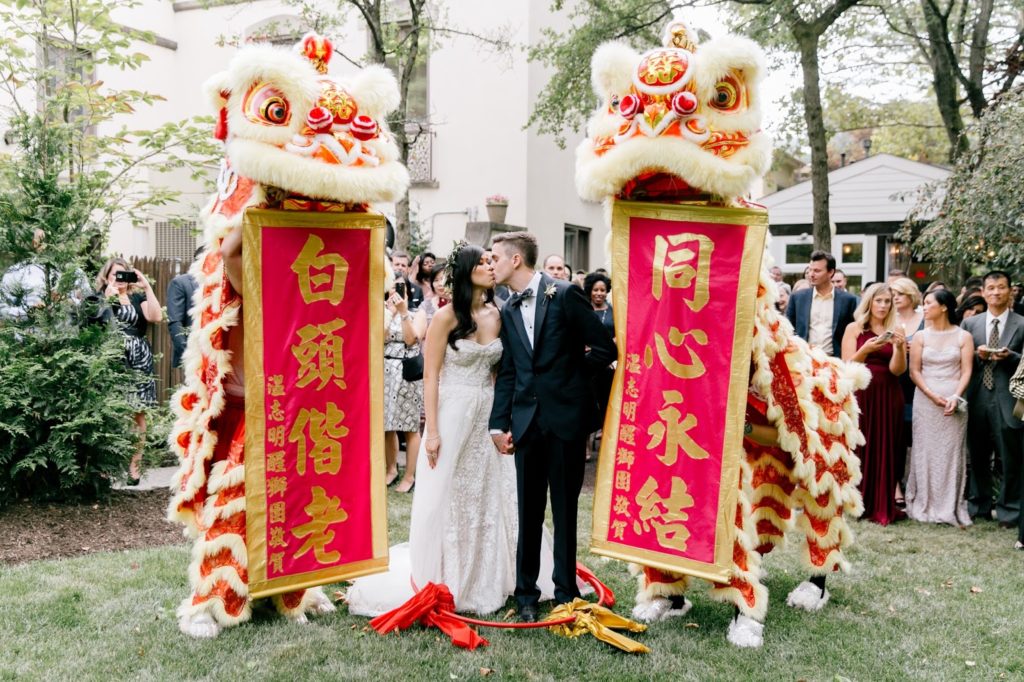 ---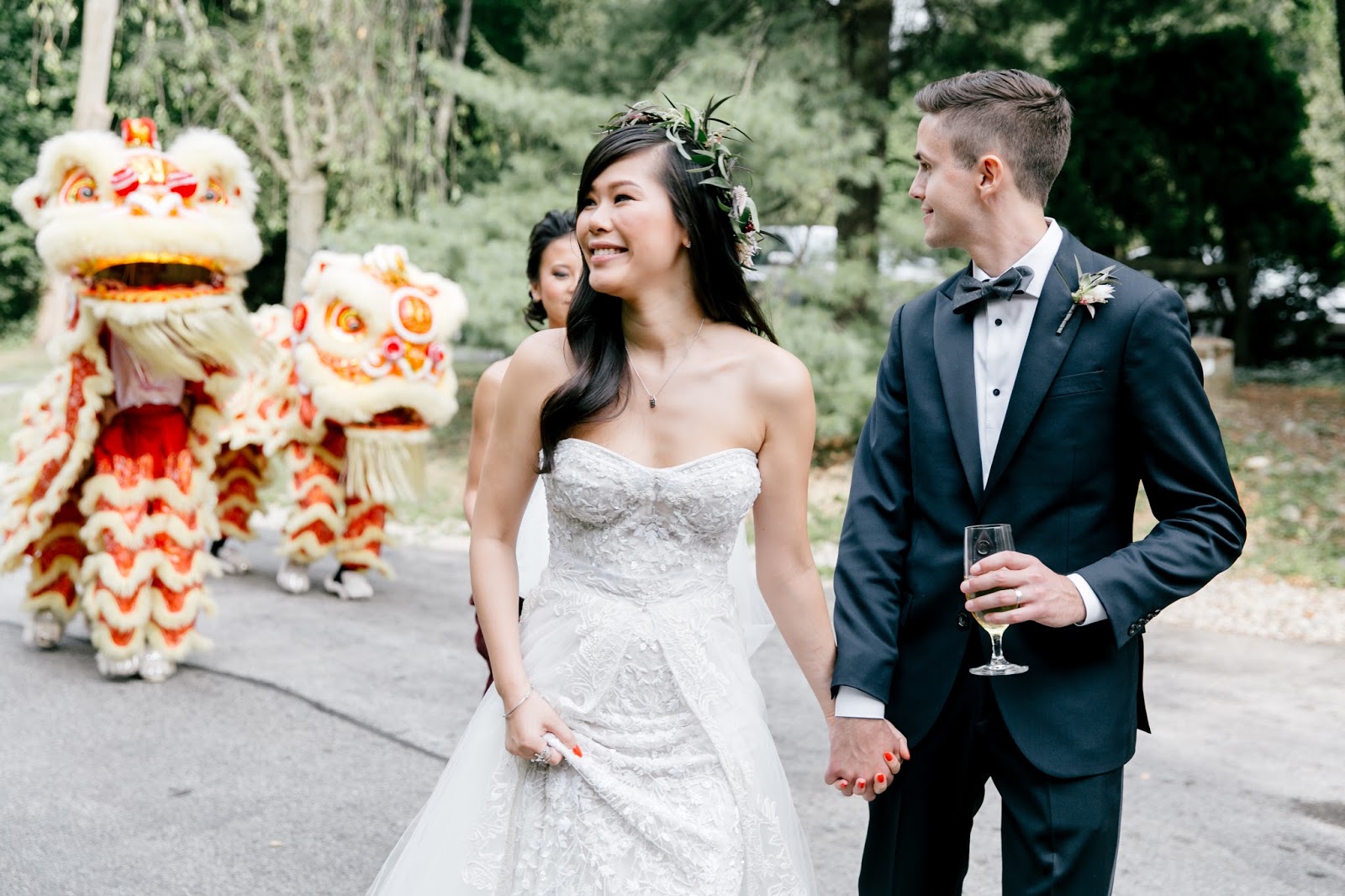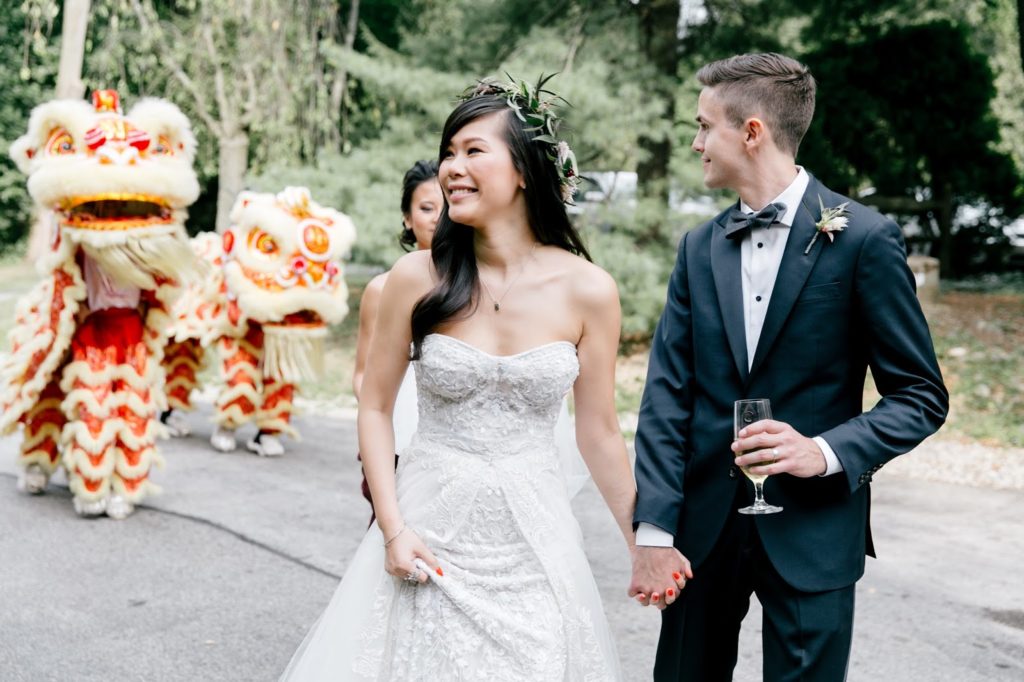 ---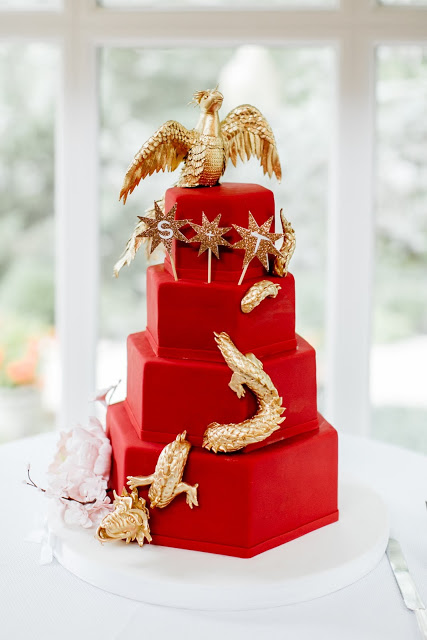 Dragon and Phoenix red wedding cake by OC Cake Studio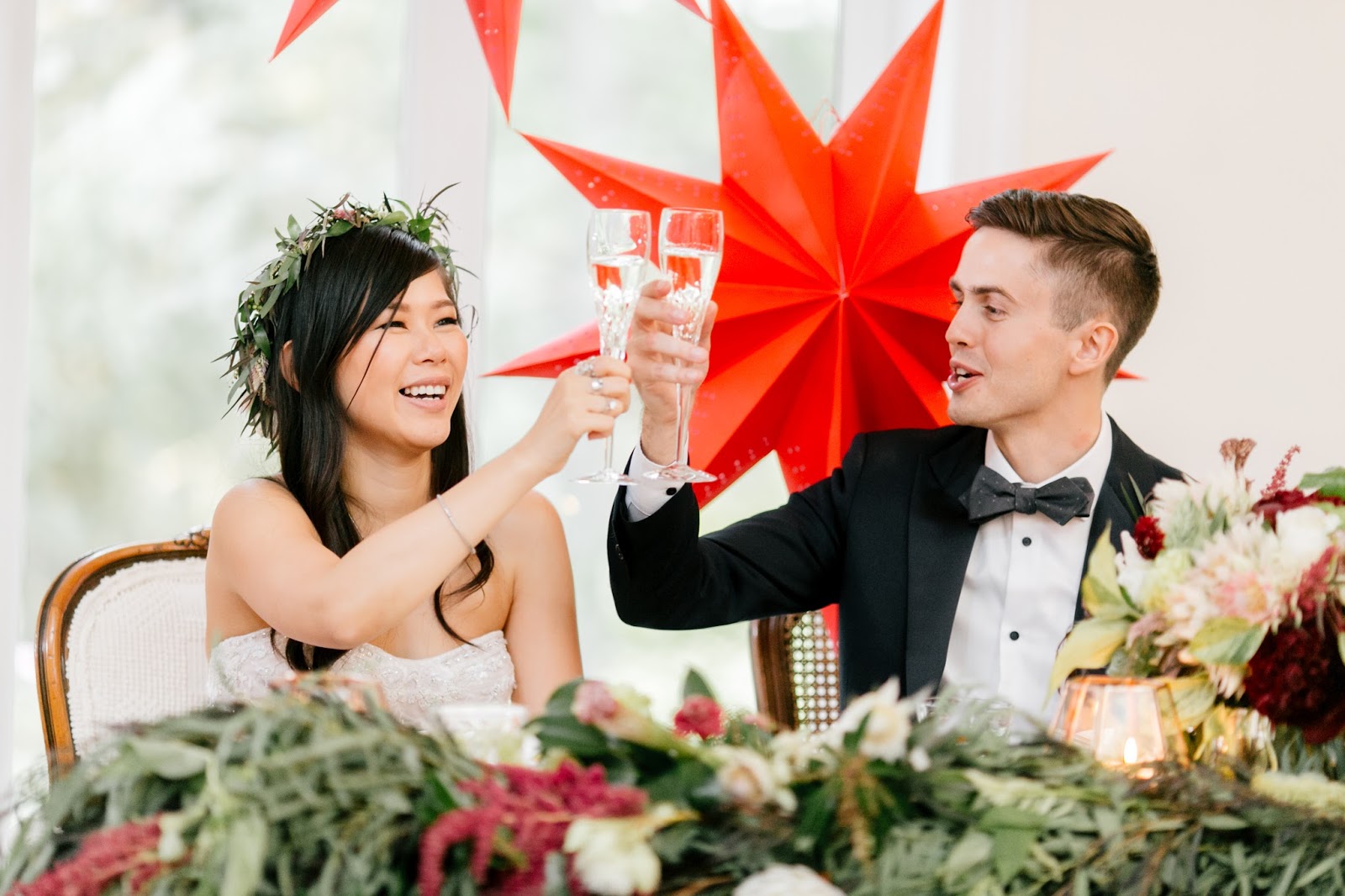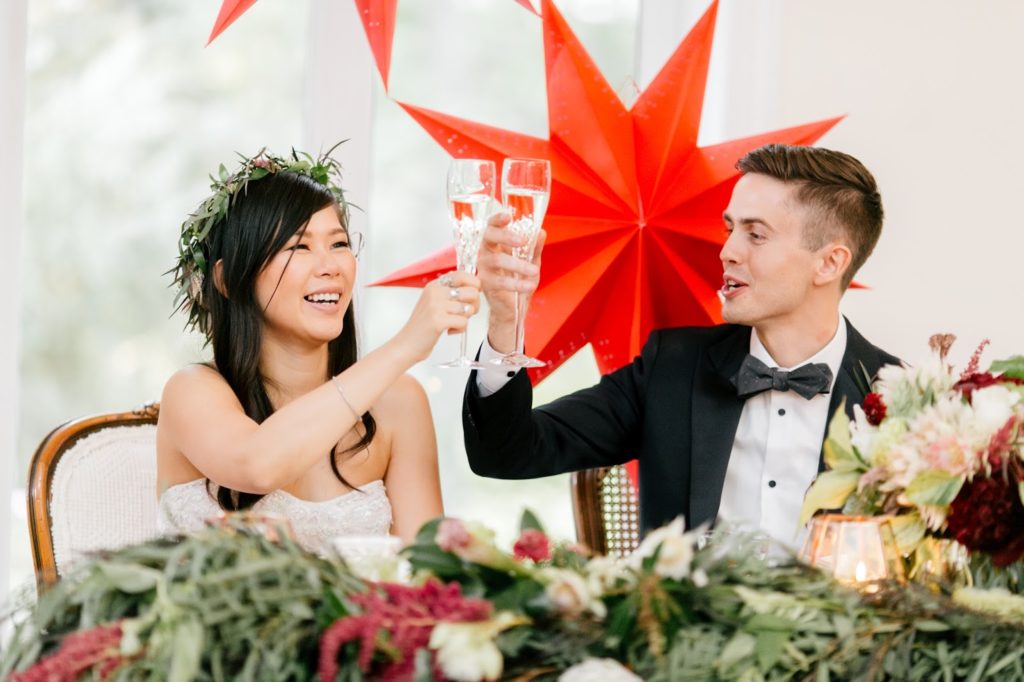 We wish Susan and Tom all the sweetness and joy in life, and congratulate them on finding and celebrating their double happiness!
When I'm fortunate enough to work with Emily Wren Photography, it is always difficult to narrow down the photographs I want to use. Because, truth be told, I want to use them all!!! Emily and her team have a way of capturing authentic and beautiful moments, and Martha Stewart Weddings agrees, check out the gallery they put together.
The other vendors, who made this celebration what it was:
Sullivan Owen Florals
Pomme at Radnor (Peachtree & Ward)
Emily Wren Photography
Confetti & Co
Maggpie Vintage Rentals
Wan Chi Ming Hung Gar Institute out of NYC
OC Cake Studio
Chinese Tea Ceremony emcee Alisa Tongg, Celebrant